Whole Wheat Bread from BBA made with "fine" whole wheat flour.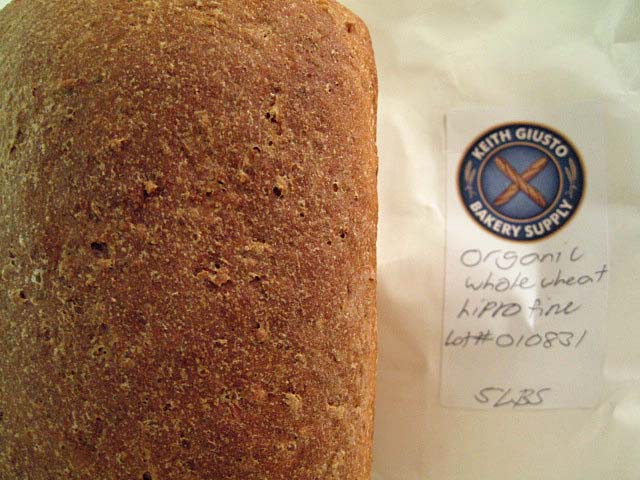 The 100% Whole Wheat Bread from Peter Reinhart's The Bread Baker's Apprentice has been one of my favorite breads for years. I love it for it's delicious honey-wheat flavor. However, it often comes out with a dense, cake-like crumb. In April, I tried making this bread using a more intensive mix, as demonstrated by txfarmer. (See Light and fluffy 100% Whole Wheat Bread) I did, indeed, achieve a less dense, more open crumb. But I felt there was some loss of flavor due to oxidation of carotenoids. 
It is difficult to make a 100% whole wheat bread with a light, airy crumb. The pieces of bran in the flour act like little knives, cutting the gluten strands that give bread crumb its "structure." I had heard of flour mills that grind the bran to a finer consistency after it has been separated during the normal milling process and then add the fine-ground bran back in, along with the other wheat components that re-constitute "whole wheat" flour. The smaller bran particles do less damage to the developing gluten during mixing.
Central Milling makes such a flour, and brother Glenn recently got some for me at CM's Petaluma warehouse. Today, I used CM's "Organic Hi-Protein Fine" whole wheat flour to make the Whole Wheat Bread from BBA. I followed the formula and procedures in my April 2, 2011 blog entry with one exception: I only mixed the dough for 12 minutes at Speed 2.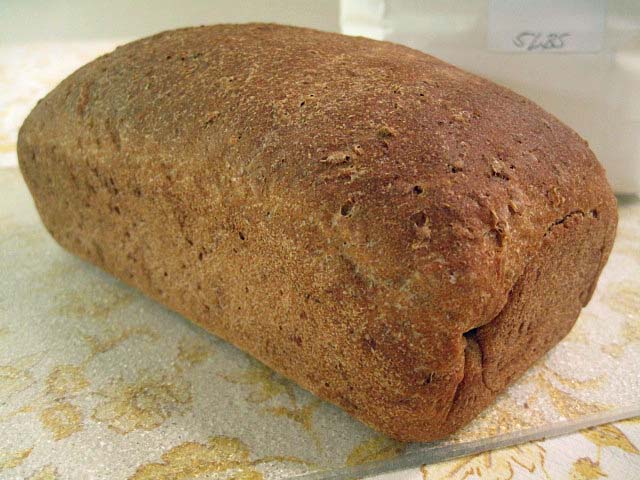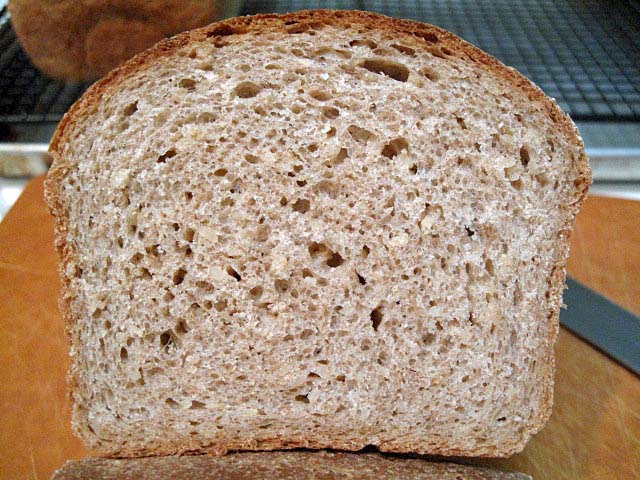 The first difference in the bread was the wonderfulness of its aroma. I can't say it was different in quality, but it just filled the house as never before. When the bread was cool and sliced, the crumb structure was even more open than I got with intensive mixing. The bread is chewy like a good white loaf and not at all cakey or crumbly. The flavor is delicious. I can't really say it is better than the flavor I've gotten with either home-milled flour or KAF Organic Whole Wheat flour, but the combination of crumb structure, texture and flavor was remarkable.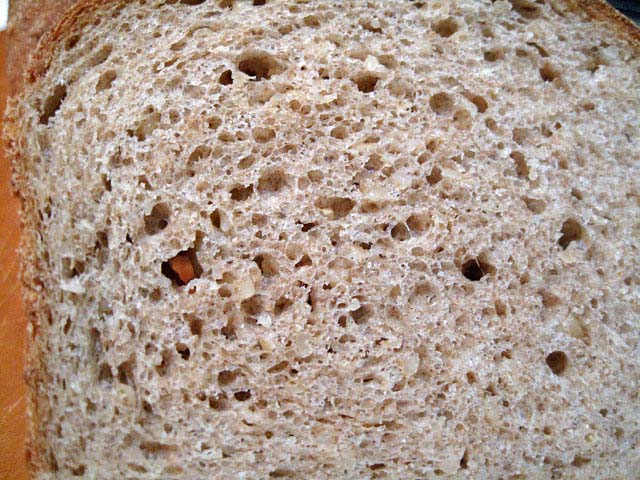 I am now eager to try using this flour with other breads, for example the Tartine "Basic Country Bread." Stay tuned.
David
Submitted to YeastSpotting