Light Rye Sourdough with Goji Berry and Pine Nuts - full of good stuff
Sending this to Yeastspotting.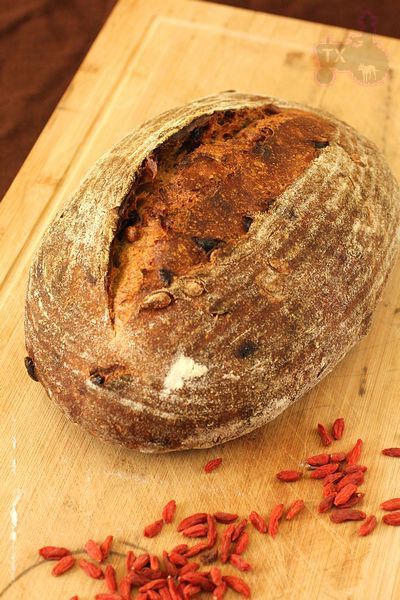 Often used in Chinese cooking, Goji berries are known to have all kinds of health benefits. I often have dried Goji berries on hand to make soup, congee, or even tea with.They are good for me and pretty looking, but don't really have any strong taste, so I combined them with pine nuts in this loaf to jazz up the flavor.
Light Rye Sourdough with Goji Berry and Pine Nuts
Note: makes a 730g loaf

- levain
medium rye, 136g
water, 110g
rye starter (100%), 7g
1. Mix together and leave at room temp for 12 hours.
- final dough
bread flour, 295g
medium rye, 23g
water, 207g
salt, 8.5g
levain, 245g
dried Goji berries, 57g, soaked in water for 20min then drained
pine nuts, 57g
2. Mix together flour, water, and levain, autolyse for 20 to 60min, add salt, mix @ medium speed for 3-4 min until gluten starts to develope. Add Goji berries and pine nuts, mix @ slow speed until evenly distributed.
3. Bulk rise at room temp (~75F) for about 2.5hrs. S&F at 30, 60, 90min.
4. Shape into batard .
5. Proof face down in basket until the dough spings back slowly when pressed, about 90min in my case.
6. Bake at 450F with steam for the first 15min, lower the temperature to 430F, keep baking for 30 min.
My rye starter is VERY fast, please adjust fermentation schedule to fit your own starter if you decide to give it a try.
Goji berries add visual interests, while pine nuts made it so fragrant.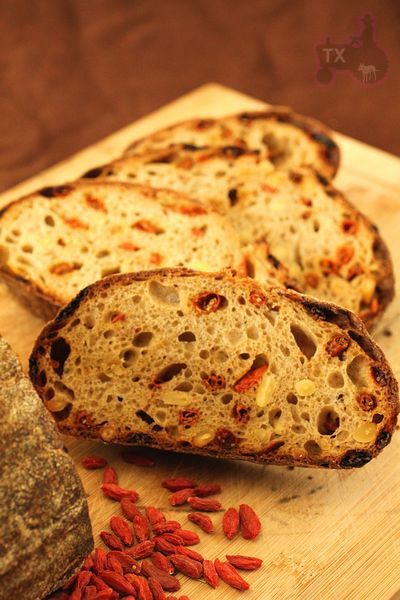 Nutty and fragrant, it's perfect with some PB.