August 22, 2011 - 11:48am
Whole Wheat Croissant with Sourdough Starter - add savoury fillings in case it's not rich enough
Sending this to Yeastspotting.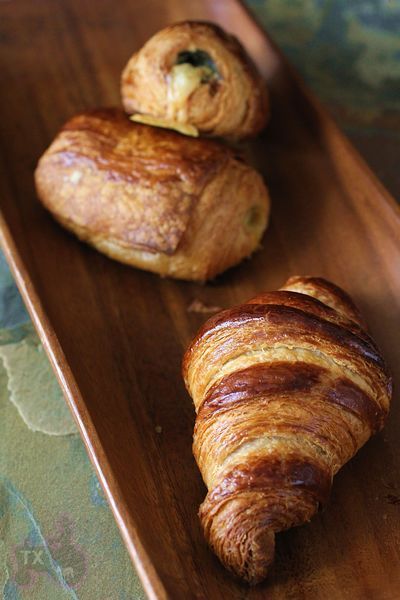 This is inspired by the ww croissant formula from "AB&P", but I used sourdough starter to make a levain, rather than the original sponge. Also adjusted the liquid ratio (as well as a lot of other things), the original formula was a bit too wet, the dough was too soft and went "faster" than the butter block when rolled out. Yolk and milk in the formula do a good job of tenderising the ww dough,croissants were beyond delicate. Gotta say the ww flavor went perfectly with the the rich buttery taste, add sourdough on top, it's my favorite croissant dough so far! "AB&P" suggests that it would go well with savoury fillings, and they are right. I used some for sandwich, also made a few ham/cheddar & spinach/feta croissants, both were heavenly.
WW Croissant with Natural Starter (adapted from "AB&P")
Note: makes 12 croissants
Note: for details and tips, please see this post
Note: for more tips on making croissants in warm weather, see here
-Levain
100% starter, 30g
water, 48g
bread flour, 89g
1. mix and let mature for 12 hours.
-Final Dough
bread flour (KAF), 309g
ww flour (KAF), 103g
milk, 187g (before adjustment, it was 195g of water)
egg yolk, 43g
sugar, 53g
salt, 7g
osmotolerant instant yeast (SAF gold), 4g, 1tsp+1/4tsp
butter, 25g, softened
levain, all
roll-in butter, 287g
1. Mix everything but the roll-in butter, knead until gluten starts to form. In my KA mixer, 3min at first speed, 5 min at 3rd speed.
2. Then following the procedure illustrated here to make normal ones. For ham/cheese, spinach cheese ones, cut dough into 5.25inchX9inch pieces, lay ham and cheese(or spinach and cheese) on top near bottom, roll along the short edge twice with seam on the bottom. Cut the roll into 3 pieces, each 3inch wide.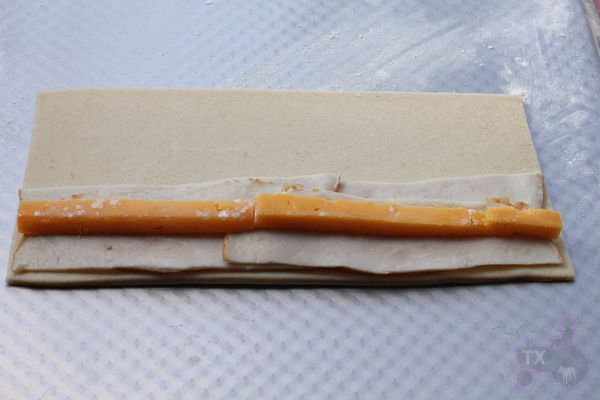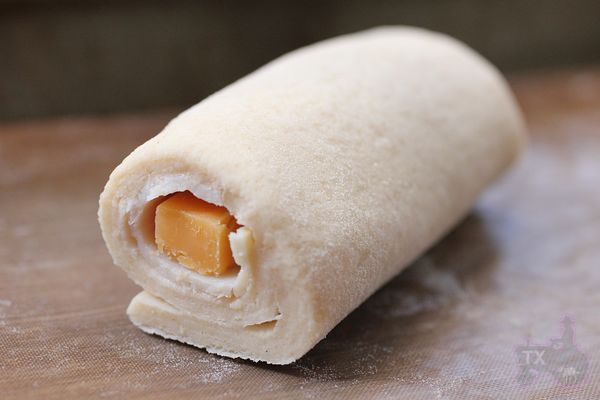 First batch, before adjusting liquid, the dough was a tad too soft. Crumb was still nice and open, but a little "messy", walls of the "holes" were not crisp.
After adjusting the liquid, structure was more crisp. The difference was not huge, probably just obvious to my own picky eyes.
With liquid amount adjusted, but rolled out a bit thinner than usual to get more layers. The "holes" are clean and separated, however, a bit too small, I probably won't roll the dough out so thin next time, even though some of my tasters liked this version.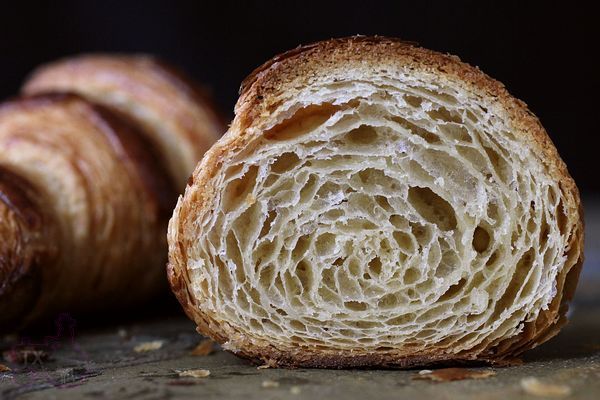 Makes a GREAT sandwich, I love how this cut surface looks. It shows a different perspective on the crumb structure.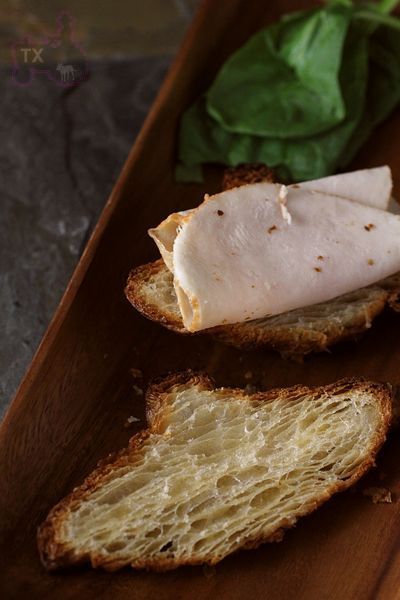 Of course the ones with filling rolled in were super yummy too, look at the leaking cheese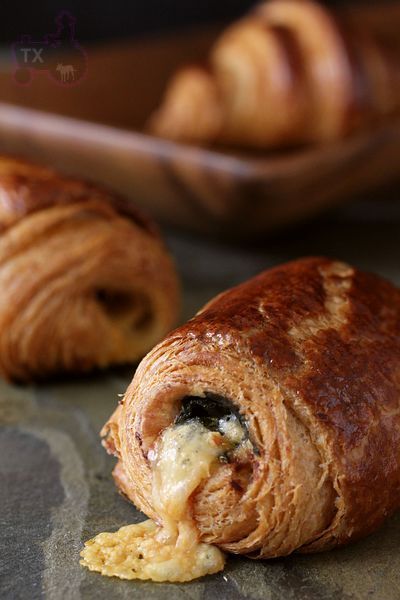 However you make them, I highly recommend this formula!