August 15, 2011 - 12:51pm
Sourdough Chocolate Marble Loaf - MUST. LAMINATE. CAN'T. STOP.
Sending this to Yeastspotting.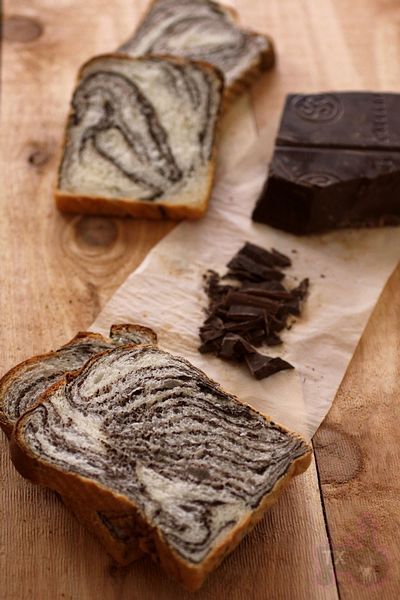 In reply to my soft chocolate sandwich loaf post, lumos tossed me a bone, and I took the bait immediatly. Hey, it involves chocolate and lamination, two of my many bread related obsessions. Essesntially it's a technique popoular in Japan a while ago: a sheet of chocolate laminated into an enriched soft dough, displaying random but cool looking marble effect, and a subtle chocolate taste. You can use ANY lightly enriched dough for this, I used the classic Sourdough Hokkaido Milk Loaf, but any of the following would work as well (click for detailed formulas):
Some notes:
- It's still a soft shreddy bread, so you still have to do the intensive kneading required, no shortcuts here.
- Use the same dough/flour amount as a normal sandwich loaf. For my Chinese pullman loaf pan, I used 250g of total flour just like the Sourdough Hokkaido Milk Loaf post specifies, for a 8X4inch loaf tin, you can either increase the flour amount to 280g or leave it at 250g, depending on how tall you want the loaf to be.
- I got the chocolate sheet recipe online, but later lumos sent me a very similar one, thanks!
Sourdough Chocoate Marble Loaf
- Chocolate sheet
Dark chocolate, 50g
butter, 20g
bread flour, 20g
cocoa powder, 10g
corn starch, 5g
milk, 60g
sugar, 20g
egg white, one
1. Melt chocolate and butter seperately
2. Mix and shift bread flour/corn starch/cocoa, add milk and sugar, mix until blend
3. Add melted chocolate then melted butter, mix thoroughly
4. Put on low heat, stir constantly, until the mixture thickens and clears the side and bottom of the pot.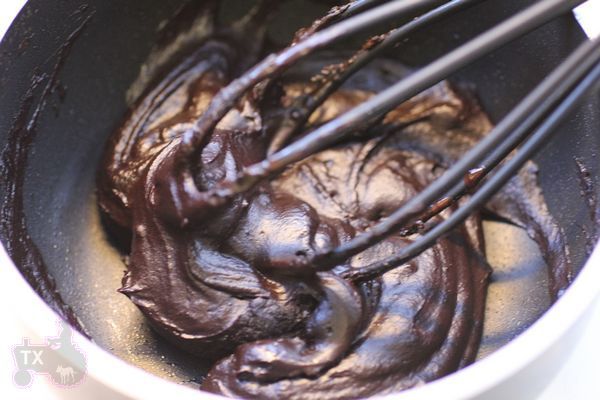 5. Put the mixture between two sheets of plastic, roll to a 18CMX18CM square, freeze until use.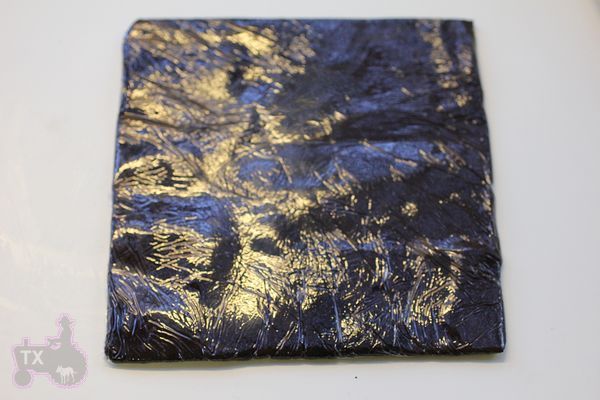 - Sourdough Hokkaido Milk Loaf dough enough for your tin (or similar soft white enriched dough), after first rise and put in fridge overnight.
- Assembling:
1. Take the dough out of fridge, press flat, let rest at room temp for one hour.
2. Roll out to 25X25CM square, put the frozen chocolate sheet in the middle
3. Seal the chocolate sheet in, roll out again to 18X36CM, do a single book fold (i.e. fold in thirds, envelope fold, three-fold)
4. Roll out to 18X36CM and do the single book fold again (may need to rest dough for 10-20min before rolling out )
5. Roll out to 18X36CM and do the single book fold for the third time (may need to rest dough for 10-20min before rolling out )
6. Rest dough for 20min, roll out to be slightly longer and wider than the loaf tin, cut in 3 stripes with one end connected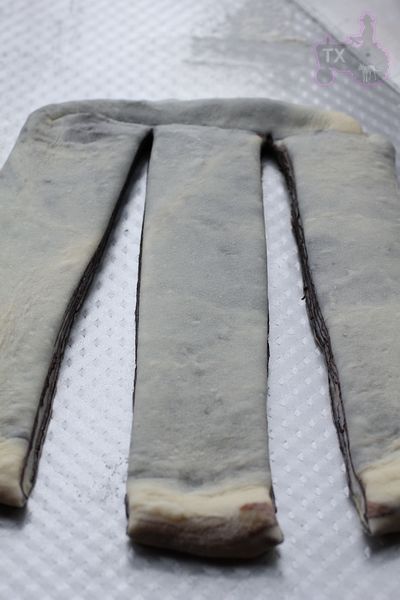 7. Braid and put in oiled loaf tin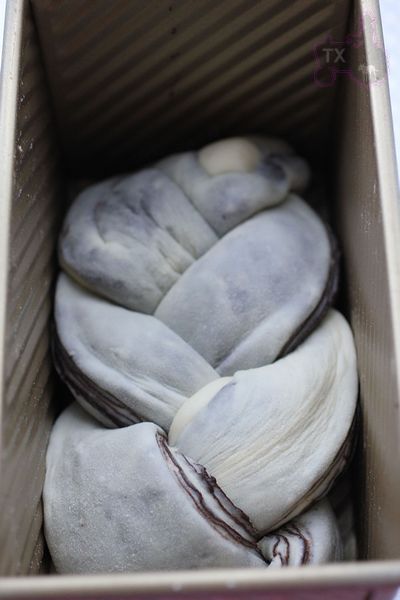 8. Proof and bake as the original dough formula requires, in this case it took 6.5 hours to proof, and 40min at 375min to bake.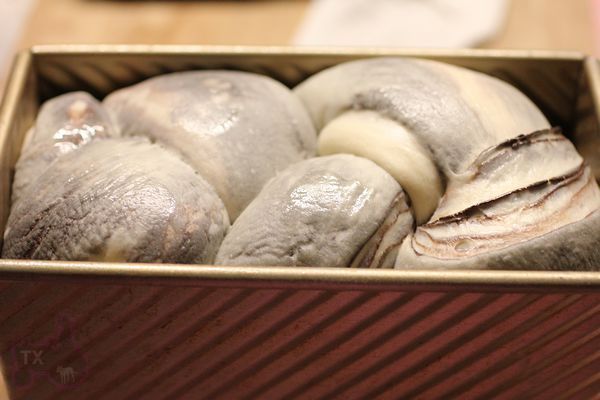 Marble effect inside out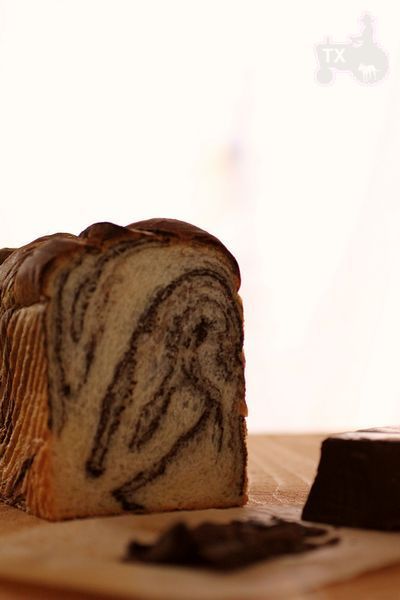 Do note that this is not a dessert-like sweet bread, it's a typical Asian soft loaf - slightly sweet, shreddably soft, with subtle chocolate flavors.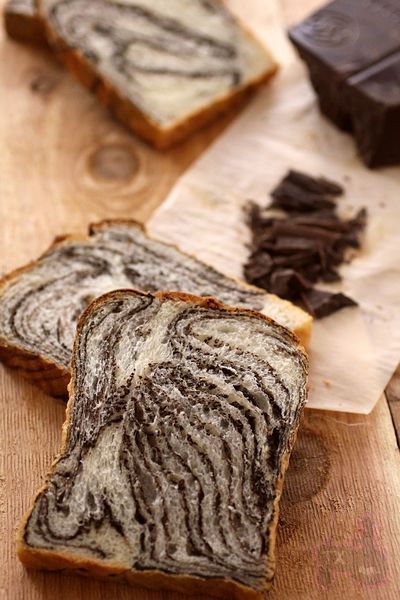 Oh yeah, it's A LOT easier than making croissants, the chocolate sheet is not easy to melt.