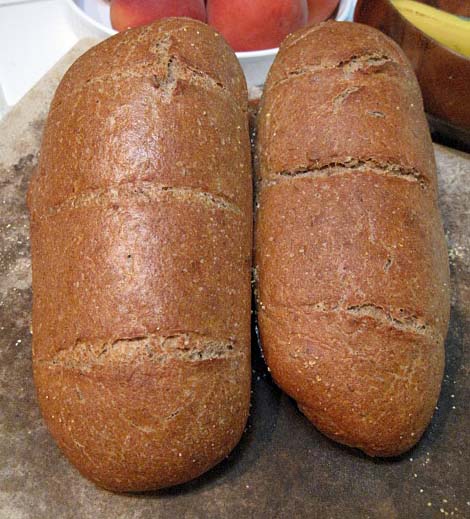 It has been a while since I last made Jewish Sour Rye, but it is still a favorite of mine. Learning to make this bread, which I could no longer get locally, was a major reason I started baking bread again 4 or 5 years ago. I use a formula based on that in George Greenstein's "Secrets of a Jewish Baker." In 2008, I worked out the ingredient weights. Greenstein gives only volume measurements. The formula for my version can be found here: Sour Rye Bread from George Greenstein's "Secrets of a Jewish Baker"
Traditional Jewish Sour Rye is made with white rye flour and first clear flour. Once I started making more German and Russian style rye breads, the flavor of white rye became less appealing to me. I started making a version of Jewish Sour Rye using dark rye instead.
Today's bake was made with a rye sour built from my stock sourdough, which is kept at 50% hydration and is fed with a 70:20:10 mix of AP:WW: Dark rye. I went through 3 builds at 12 hour intervals, doubling the volume of sour with each build. The first two were fed with BRM Dark Rye. The final build, which contained approximately half the total rye flour, was fed with a nice, finely milled medium rye flour from nybakers.com. I kept the half-ripe, final sour build refrigerated overnight and let it warm up for an hour before mixing the dough. The first clear flour I used was also from nybakers.com. I also added a half cup of altus – German-style pumpernickel (baked 5 months ago and frozen) cut in cubes and soaked overnight in cold water, then wrung out before adding to the dough. 
I needed to add an additional 1/2 cup or so of first clear flour during mixing to get the dough consistency I wanted. I suspect this was necessary because of the additional water in the altus. This dough is very slack and very sticky as it comes out of the mixer, but it shapes well with judicious flour dusting and a light touch when handling it. I divided the dough into three 528g pieces and shaped as logs. For the first time, I proofed this rye on a linen couche. This stuff is magic. Even these sticky loaves released with no dough sticking to the linen. I transferred the loaves to a sheet of parchment on my peel, because I didn't want the cornstarch glaze getting on it. The bake was as described in my previous blog entries.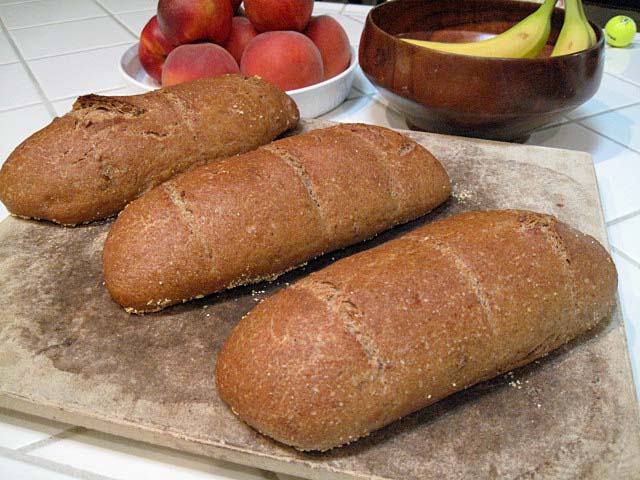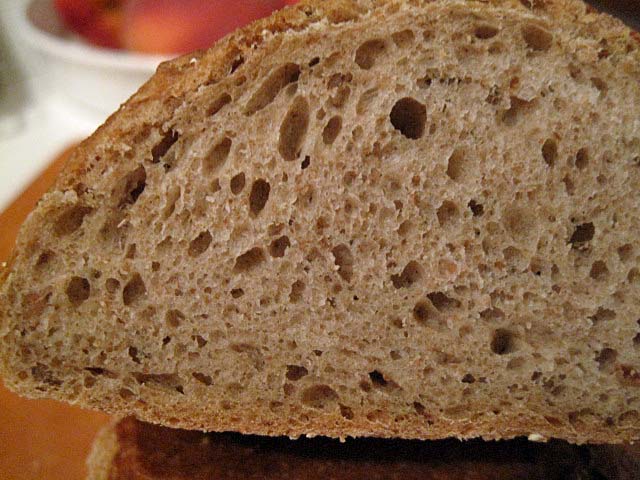 I sliced and tasted the bread about 3 hours after it came out of the oven. I feared I had somewhat over-proofed the loaves. They had less oven spring than usual. However, I was very happy with the crumb structure and the texture of the crumb. It has a delicious rye with caraway flavor. It was moderately sour. The pumpernickel altus added a depth of flavor, as well as a different texture due to the cracked rye berries in in the pumpernickel dough.
This bread is still a favorite.
David
Submitted to YeastSpotting