7/5/11 - Last Bake 'til Fall (Drying Sourdough Starter)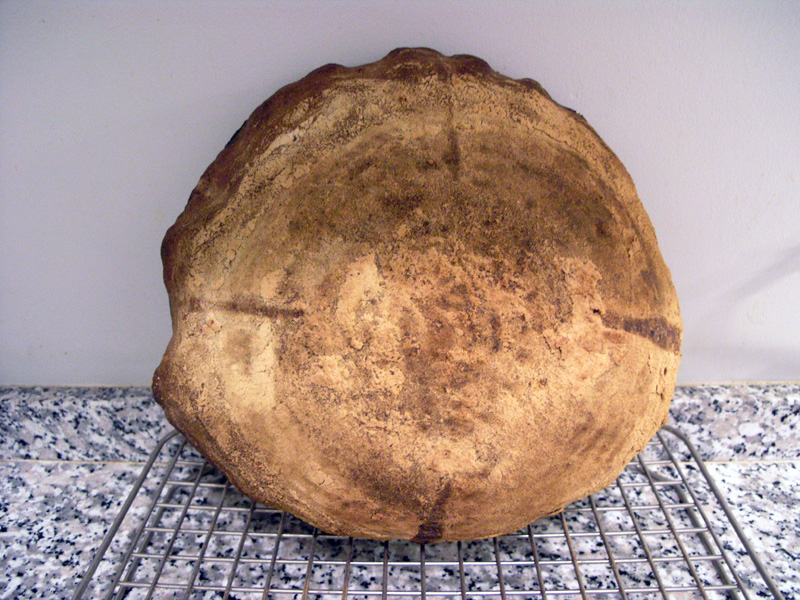 Hey All,

It's getting hot and sticky here in NYC, so I have decided to do one last bake and then dry up my sourdough starter so I don't have to keep feeding and discarding until fall when it cools down.

Tim

Stiff Levain
50g AP
50g WW
50g Organic Rye Flour
80g water
156g SD starter (whatever I had left in the fridge 50% hydration)
386g Total

9:15pm - Mix starter, knead until all combined, form into ball, cover and let rest.
10:00pm - Divide 300g, form into ball, cover and let rest.  With the remaining 86g or so, on a floured surface, divide into 4 pieces, roll out really thin with a rolling pin, and dry.  When dry, store in a tightly covered container.  I will test this starter out in the fall to see if I can revive it…  Fingers crossed. 
This starter has treated me very well leavening extremely reliably.  I believe it is about 2 years old.  It started out as a liquid starter and was converted to a stiff starter, back to a liquid, and then finally back to a very dry starter kept at 50% hydration in the refridgerator.  It was fed on an odd schedule every 3 to 5 days varying proportions of AP, WW, and organic rye flour, kneaded, left out for 30 minutes to 1 hour depending on the temperature, and then refrigerated...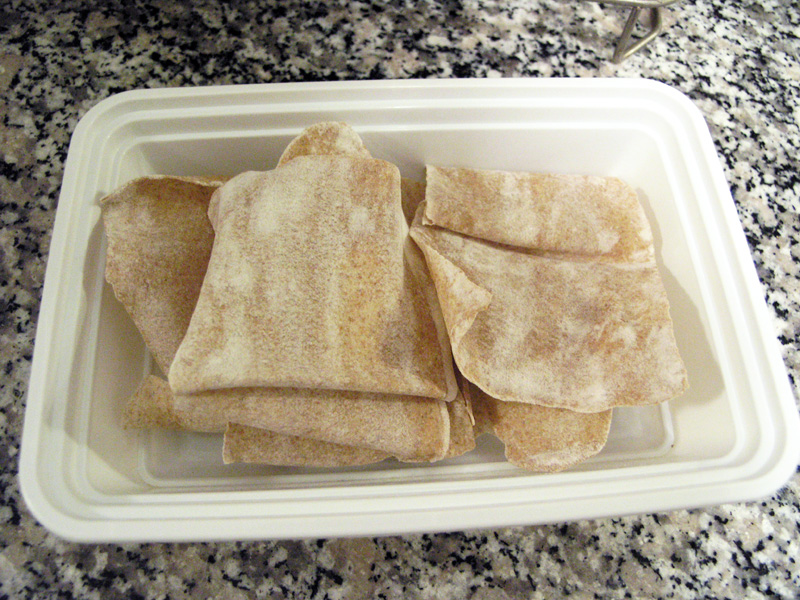 Final Dough
600g AP
50g WW
480g water
16g Kosher salt
300g of above stiff leaven
1446g Total

11:45pm - In a large mixing bowl, add the water, leaven, flour, and salt.  Mix with a rubber spatula until a shaggy down forms.  Cover and let rest.
7/6/11
12:15am - Knead briefly (30 seconds or so with the stretch and fold method).  Cover and let rest.
12:30am - Stretch/fold, cover and let rest.
12:45am - Stretch/fold, cover and let rest.
1:00am - Shape into boule, place into a well floured linen lined banneton, flour top of dough, cover with kitchen towel, place into large plastic bag, and into refrigerator on top shelf overnight.  Go to bed.
9:15am - I over slept.  Dough has slightly overflowed the banneton.  Leave in refrigerator.  Clean off baking stone, place on bottom rack, arrange steam pan with lava rocks and water on top rack.  Preheat to 550F with convection.
9:45am - Turn off convection, turn oven down to 500F.  Take banneton out, turn out onto floured peel, do not slash as it seemed overproofed…  Place directly onto baking stone.  Back 500F for 15 minutes, take out steam pan, turn down oven to 450F and bake for 50 minutes.  Let loaf cool completely on wire rack before cutting, at least 12 to 24 hours.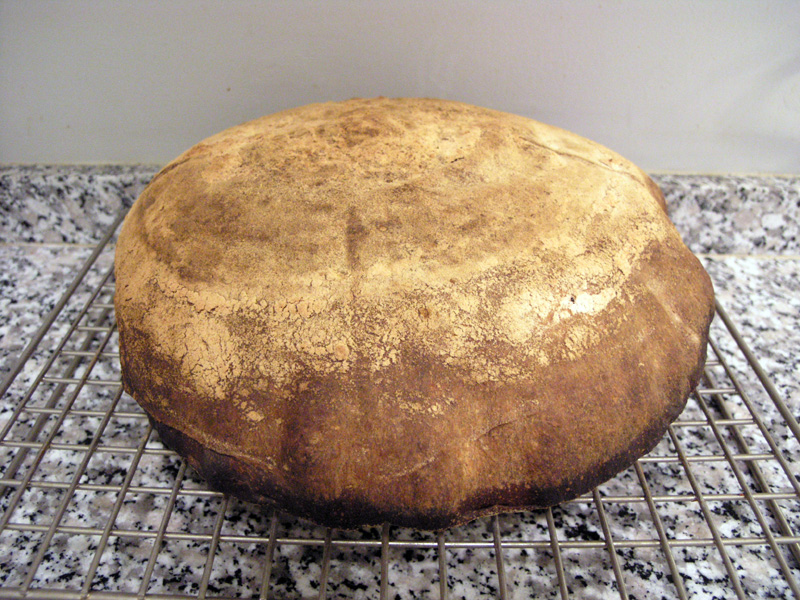 Notes:  300g of stiff levain for 650g of final dough flour when it is warm is too much for an 8 hour refrigerated proof.  Or, my rising basket is too small for 1446g of dough...

Happy Summer!