Sourdough Pan de Horiadaki from "A Blessing of Bread"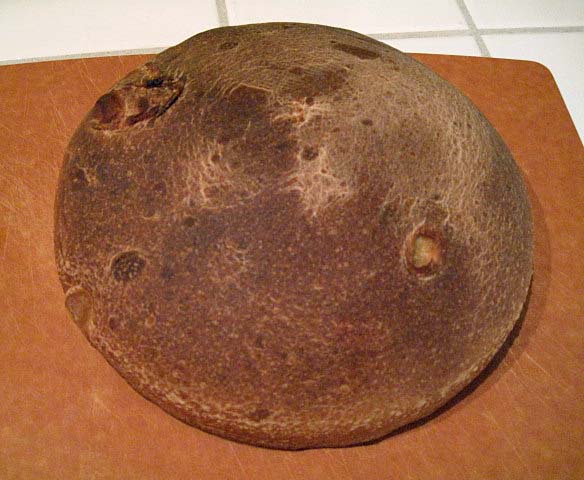 Pan de Horiadaki
Maggie Glezer describes this Greek Country Bread as the "daily bread" of the Jewish community of Thessaloniki, almost all of whom were deported to Auschwitz by the Nazis during WW II. Glezer got the recipe from Riva Shabetai, who was a Holocaust survivor. Thessaloniki is currently the second largest city in Greece. It was settled by Jews expelled from Spain in 1492 and thrived for almost 500 years. Its culture had many Spanish influences in language, cuisine and customs.
The dough is 67% hydration and is enriched with sugar and olive oil. It is formed into boules, then, after bulk fermentation, it is proofed and baked in oiled cake pans, a technique I have not seen used except with Greek breads. Glezer provides both a yeasted and a sourdough version of Pan de Horiadaki. I made the sourdough version. The method is remarkable in that the bulk fermentation is short relative to the proofing time.
| | | |
| --- | --- | --- |
| Levain | Wt. | Bakers % |
| Firm starter | 30 g | 22 |
| WFM Organic AP Flour | 135 g | 100 |
| Warm water | 80 g | 59 |
| Total | 245 g | 181 |
Disperse the starter in the water, then add the flour and mix until fully incorporated.

Ferment at room temperature for 8-12 hours 
| | | |
| --- | --- | --- |
| Final dough | Wt. | Bakers % |
| WFM Organic AP Flour | 875 g | 100 |
| Warm water | 595 g | 68 |
| Salt | 20 g | 2 |
| Olive oil | 30 g | 3 |
| Granulated sugar | 30 g | 3 |
| Levain | 170 g | 19 |
| Total | 1720 g | 195 |
Method
The night before baking, mix and ferment the levain.

Mix the flour and water and autolyse for 20-60 minutes.

Add the starter in pieces and mix at Speed 2 until the dough is smooth for 10-15 minutes. The dough should clear most of the sides of the bowl after about 5 minutes. If needed, at 1-2 T of flour.

Add the salt, sugar and oil and continue mixing until fully incorporated. The dough should be sticky but smooth and should yield a nice window pane.

Transfer the dough to a lightly oiled bowl and ferment, covered, for 2 hours. (I did a stretch and fold in the bowl after 1 hour.)

Oil two 8-inch cake pans generously with olive oil. (I did not have two 8 inch pans, so I used 9 inch pans. As a result, I'm sure my loaves were flatter than if proofed in the smaller pans.)

Divide the dough into two equal pieces and form each into a tight boule.

Roll each boule in the oiled pans and leave them, seam side down, in the pans.

Cover the pans with plasti-crap or place in food safe plastic bags.

Proof for 5 hours or until tripled in volume and risen above the pan sides. Glezer says to proof until the dough stays indented when poked with a finger. This was at 3 hours for me.

An hour before baking, pre-heat the oven to 500ºF.

Bake at 400ºF for 50-55 minutes until deeply browned. Rotate the pans, if needed for even browning, after 35 minutes.

Remove the loaves to a cooling rack, and cool completely before slicing.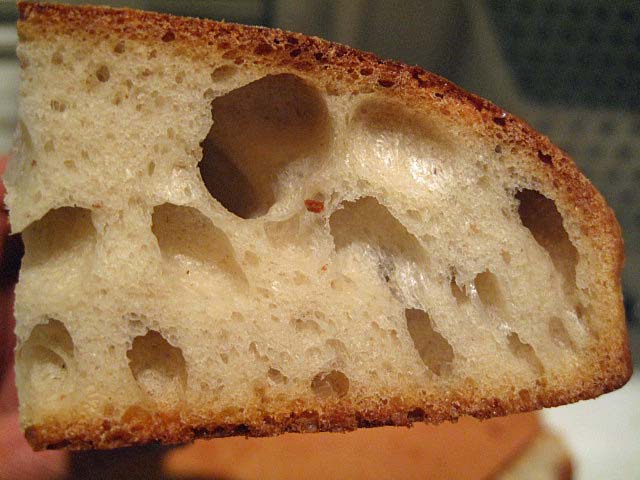 Pan de Horiadaki crumb
Note the dull (not shiny) crust. This is from baking without steam, as Glezer specifies. I personally prefer a somewhat shinier crust, so I may bake this bread with steam next time.
The crust is relatively thick from the long bake and very crunchy. The crumb is chewy. The flavor is exceptional, enhanced I'm sure by the sugar and olive oil. There is no detectible sourdough tang, just a sweet, wheaty flavor. I expect this bread to make outstanding toast and sandwiches, but it is delicious just as is.
Note to brother Glenn: If you liked the other Greek bread I made, you will love this one. I don't suppose it would be a crime to coat it with sesame seeds either, but the flavor is so nice as it is, it would be almost a shame to mask it with other strong flavors.
David
Submitted to YeastSpotting