Baguette Tradition after Phillip Gosselin
I don't know how many different formula's for baguettes I've tried, but the one with the best flavor was that for the Pain à l'Anciènne of Phillip Gosselin. (See: http://www.thefreshloaf.com/node/8524/philippe-gosselin039s-pain-à-l039ancienne-according-peter-reinhart-interpretted-dmsnyder-m).
During our recent visit to Paris, one of the breads we had was Gosselin's Baguette Tradition, and it was very similar to the Pain à l'Anciènne I had made. The differences were that the crumb was more open, chewier and had a mild sourdough tang. I don't know whether Gosselin makes his Baguette Tradition using the same long cold retardation as employed in his Pain à l'Anciènne, but I suspect he does.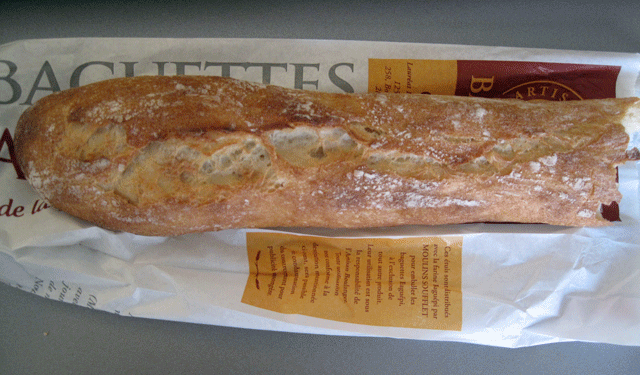 Gosselin's Baguette Tradition from the bakery on Rue Caumartin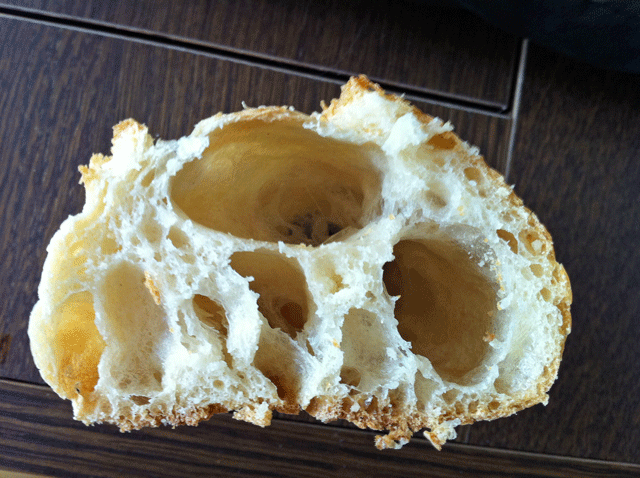 Gosselin's Baguette Tradition crumb


Today, I made baguettes using the Gosselin technique, but I substituted a liquid levain for the yeast … well, I did also spike the dough with a little instant yeast to better control the fermentation time.
| | | |
| --- | --- | --- |
| Ingredients | Wt. | Baker's % |
| WFM Organic AP Flour | 400 g | 100 |
| Ice Water | 275 g | 69 |
| Salt | 8.75 g | 2 |
| Liquid Levain | 200 g | 50 |
| Instant yeast | ¼ tsp |   |
| Total | 883.75 g | 221 |
Note: Accounting for the flour and water in the levain, the total flour is 500 g and the total water is 375 g, making the actual dough hydration 75%. The actual salt percentage is 1.75%.
Method
The night before baking, mix the flour and levain with 225 g of ice water and immediately refrigerate.

The next morning, add the salt, yeast and 50 g of ice water to the dough and mix thoroughly. (I did this by hand by squishing the dough between my fingers until the water was fully incorporated.)

Place the dough in a lightly greased bowl with a tight cover.

Ferment at room temperature until the dough has about doubled in volume. (3 hours for me) Do stretch and folds in the bowl every 30 minutes for the first two hours.

An hour before baking, pre-heat the oven to 500ºF, with baking stone and steaming apparatus in place.

Divide the dough into 4 more or less equal pieces and stretch each into a 12-14 inch long "baguette."

Score and bake immediately at 460ºF, with steam for 10 minutes, and for about 20 minutes total.

Cool on a rack before eating.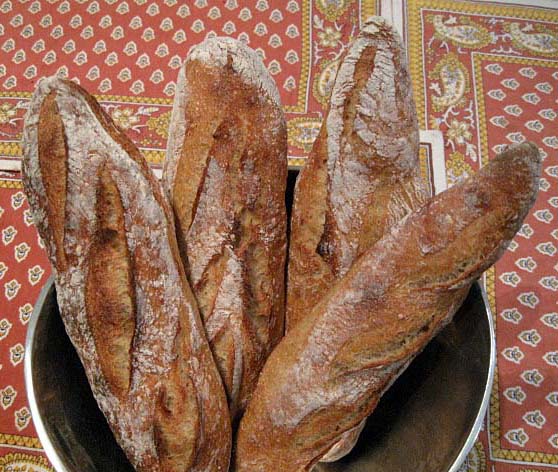 Baguettes Tradition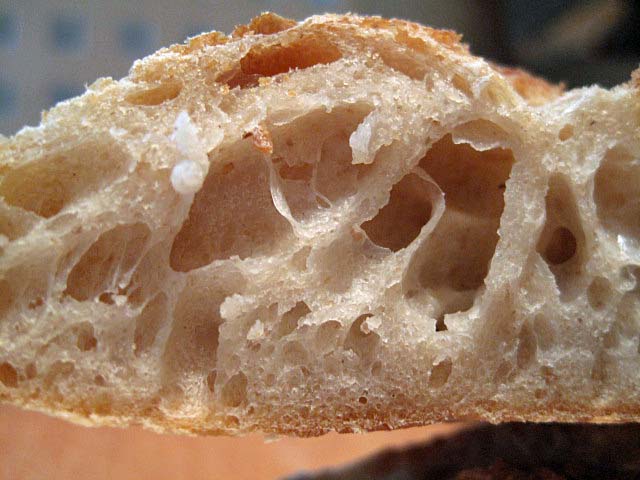 Baguette Tradition crumb
The crust was crunchy and the crumb was nicely open and chewy. It was moderately sour but with nice sweet flavors as well. All in all, it was quite similar to the baguette tradition we had from Gosselin's bakery. The loaves are smaller with proportionately more crust than crumb. The crust was a bit thinner, and the crumb a bit chewier. My totally unbiased, super taster spouse declared it "much better" than what we had in Paris. I don't know about that, but it is quite good – close to my notion of a perfect sourdough baguette - and I expect to make it again and again.
David
Submitted to YeastSpotting