Cherry Blossom Bread (flowers for Mother's Day)
Hello,
I wanted to try making this bread for Mother's Day.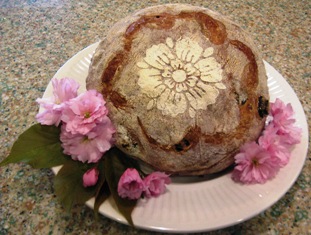 I was reading about an ale and cheddar bread on TFL, and someone replied to that post about making bread using a cherry wheat ale.
This seemed like a great idea to me!

I've been holding onto this idea, waiting for cherry blossom season.
Our Kwanzan cherry tree has just come into blossom, just in time for Mother's Day; what a welcome sight!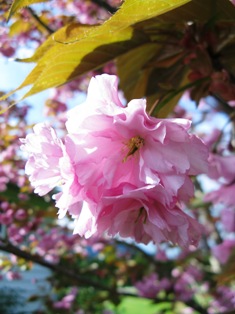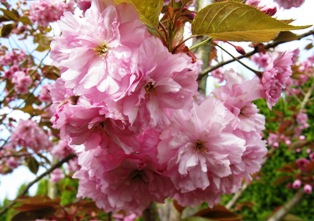 Shiao-Ping just posted a lovely flower-stenciled miche; she wrote a beautiful introduction to her post,
about plum blossoms, and using flour to paint. This got me thinking, wondering if you could successfully stencil ('paint') a colored image on bread.
I decided to try using a mixture of flour, beet powder and water, to try to make pink cherry blossoms.
Here is a picture before baking; the pink color held for about 20 minutes. While finishing baking, the blossoms turned brown (not ideal!), so I re-stenciled with flour after baking: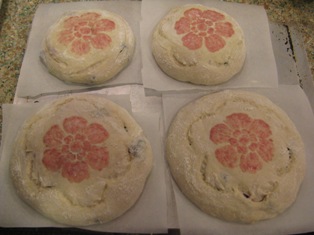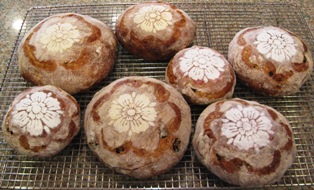 I wanted the bread's crumb to be 'soft as a cherry blossom'.
With thanks so much to Syd, for his post on how to get soft, tender-crumbed sourdough:
http://www.thefreshloaf.com/node/22778/soft-tendercrumbed-sourdough
Although this bread is not a sourdough bread, I followed his helpful suggestions.
I made this bread with a water roux, cherry wheat ale poolish, a combination of bread, all-purpose, whole wheat, rye and spelt flours, a bit of almond oil, 72% hydration, with the addition of these beautiful! BC dried cherries: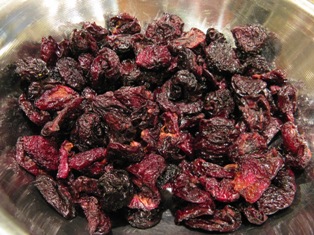 This dough was very wet and I did stretch and folds to develop the gluten.
If the crumb had turned out to be really open, I might have been tempted to call this bread 'cherry ciabatta'.

I am grateful for these posts, also; they were helpful for ideas for the ingredients, and water roux (thanks again, Syd!):
http://thebutcherthebaker.wordpress.com/2010/01/23/fruit-beer-bread/
http://www.thefreshloaf.com/node/19791/bertinet039s-beer-bread-slightly-modified
http://www.thefreshloaf.com/node/22541/asianstyle-pain-de-mie

I baked at a lower temperature, and a shorter time period, as Syd recommended.
The crumb certainly was soft – just what I was hoping for, and the crust is nice and tender too: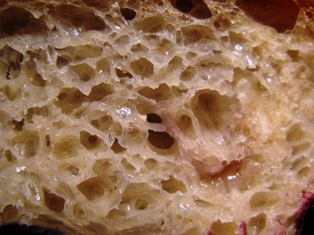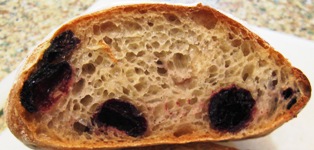 Happy baking, and Happy Mother's Day everyone!
from breadsong