English muffin with raisin yeast water plus alcoholic raisins
English muffin with raisin yeast water + alcoholic raisins.
Updated 5/9/2011  I found out that skipping the first proof had a good result of English muffin shape and more flavor . Thanks to everybody who left some notice on my English muffin, I could find the difference. Thank you, Syd and Kimmy and Larry and Daisy and Ron and everybody! When I use the first proof, the muffin inflated like a balloon. The taste was weaken.
I tested this English muffins without the alcoholic raisins, it came out flavorless.  They are one of our breakfast menu once a week.
I also leave the method to make raisin yeast water here for reference.   Alcoholic raisins are in the raisin yeast water.

http://www.thefreshloaf.com/node/23809/how-i-make-and-maintain-raisin-yeast-water
Ingredients:
(  7-8 English muffins)
Levain:
Raisin yeast water ( from refrigerator)  65g  My refrigerator is set up 6℃
KA AP                                               65g
------------------------
Final dough:
  Bread flour                  300g
  water                          170g  ( DDT 76F)    
  Honey                            8g
Shortening                12g  (  Shortening - Soft crust / It is easy to bite off-- I like this better,  Vegetable oil-- Chewy crust)
  Salt                                5g
Corn meal and 50% KAAP/rice flour for dipping
 * I dip 50% KA AP/ 50% rice flour mixture for the top, white corn meal for the bottom.
Method:
1. To make the levain----Put the raisin yeast water and alcoholic raisins in a container.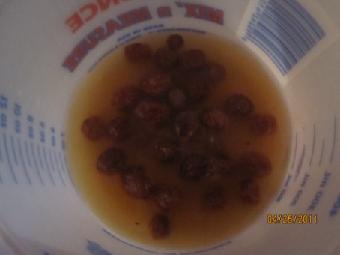 2. Add the KA AP and mix with a plastic spatula and leave it at room temperature at 70-74F for overnight.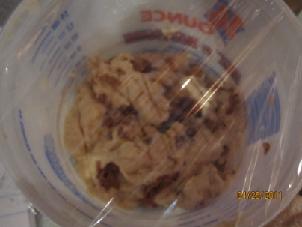 3. Next morning( 12 hours later) : My levain rose tripled in bulk.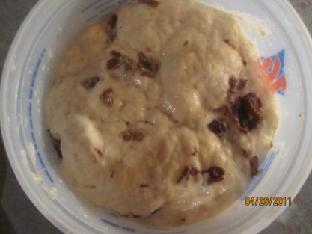 4. Put the levain in a food processor and run for 30-40 seconds until the raisins are smashed well.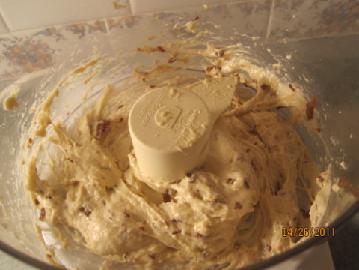 5. Mix the levain and final dough except the salt and the shortening( Sorry this picture is old -I used 12g vegetable oil at the time)-- Autolize 20 minutes-- Spread the dough on the surface and add the salt and the vegetable oil in the dough and combine well and knead until you pass the window pane.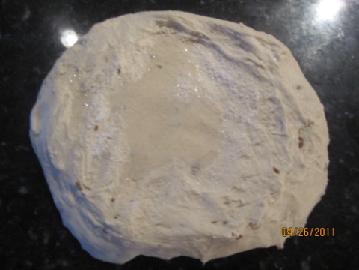 6. Divide it into 7 or 8 pieces. ( About 7 for 70g each /8 for 83 g each )--- Bench time 15-20 minutes ( Cover them with saran wrap or dump towels)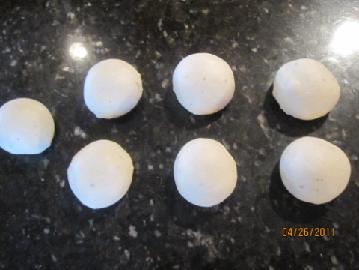 7. Shape and Proof: place the dough on a sheet of parchment paper on the baking sheet. ---Proof :3-4 hours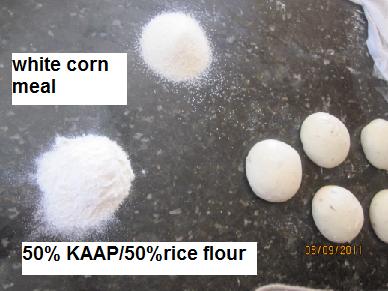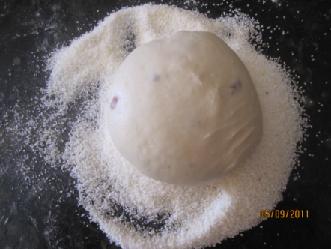 I dip the bottom in some white corn meal first,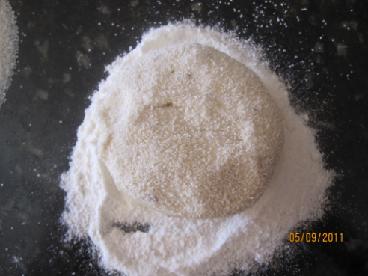 and ,dip the top in some 50% KA AP /50% rice flour.
 ----Preheat the oven at 350F 20 minutes before baking.
8. 4 hours later.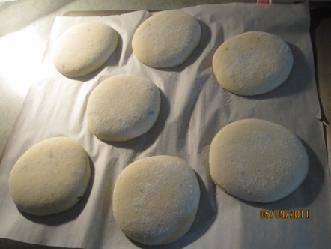 Note: When you transfer the dough, You might find out it is difficult.. I do this way: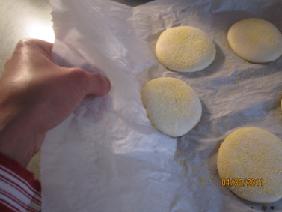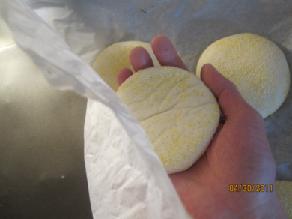 OR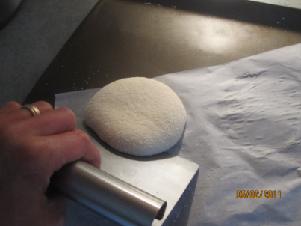 9. preheat the hot plate at 350F. Cook one side for 2-3 minutes until yellow golden and flip over the other side to cook 2-3 more minutes until yellow golden as you achieve the crust color.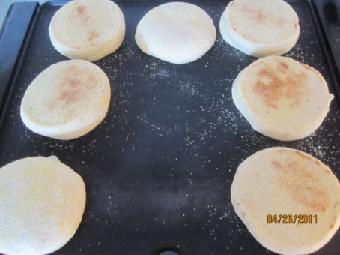 10. Bake at 350F for 10 minutes and cool them on the rack.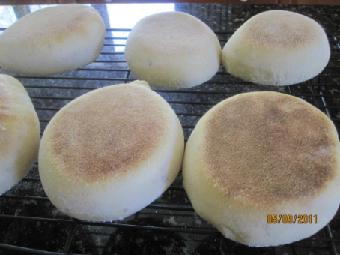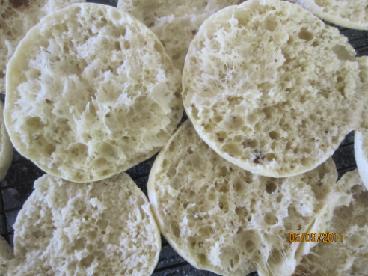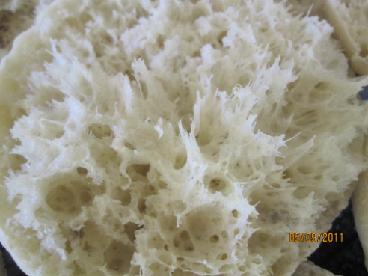 Note: My yeast water's strength --100% yeast water levain : flour = 1: 2  is fermented in 6 hours.  I bake these English muffins in 5 hours  after finish kneading the final dough.   * 6 hours -1 hour =5 hours.     I am trying to bake them 1 hour before it is fully fermented.  I got the kind of idea from Mini oven. Thank you, Mini !
--------------------------------------------------
* I used 177g water instead of 170g water on the final dough in January.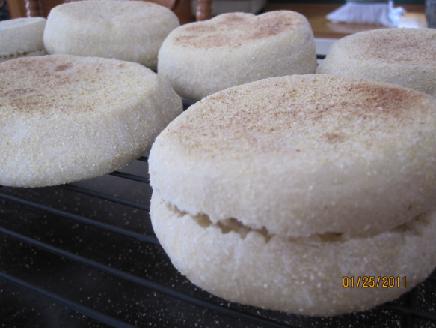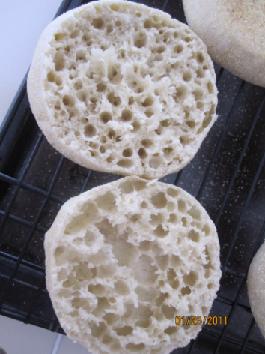 Best wishes,
Akiko