Franko's Upside Fruit Sticky Bun
I so enjoyed Franko's post on his Pineapple Macadamia  sticky-nut Bun last week I had to give it a go. His crumb shot makes me drool and the step by step directions convinced me I could make a stab at something I don't do all that often. Sticky buns or cinnamon rolls are great but I shouldn't really eat things like that as a mild diabetic so I don't make them often. Let me tell you the effort is well worth while. This is a good idea Franko came up with and I haven't seen it anywhere before that I recall. You could easily swap out the pineapple for any fresh fruit combination and get a totally different flavor. My first batch I stuck with the recipe pretty much as posted but, next time---.
My dough wasn't all that smooth and silky for some reason and I haven't figured out why quite yet. It could be the way I incorporated the flours in the beginning. I misread the directions and added all the flours at the autolyse phase so the dough was a little stiff during autolyse. It didn't seem to hurt the over all performance in the end and it did smooth out by the time I got to rolling it up..
I decided to try a Jumbo Muffin Tin instead of foil tins which are slightly larger. The product size is perfect for one person even though I actually ate two:>) So here are some photos of the rolls as I baked them and then after being inverted onto a sheet pan lined with parchment. My wife and daughter were happy to see these this morning and the "Yes You Can" note I had left on the side when I finally went to bed late last night.
One substitution I made was using SAF Gold Osmotolerant yeast. I guessed and used half the weight that was specified and it seemed to work out well for me. The other swap was I skipped the vanilla and used a few drops of Fleur de Sicily in the sugar glaze. It has a nice fruity aroma I thought would go well with the pineapple. Vanilla would have been just as good, maybe better.
My crumb isn't as pretty as Franko's. His is much nicer in terms of softness and open cell structure. That said, I can't taste the picture and I can taste mine which is delicious. So I'm quite happy with my results on this. I'm certain anyone with a will could make it and be completely satisfied with the results. I baked half of the batch last night and refrigerated the balance for later this week.
Eric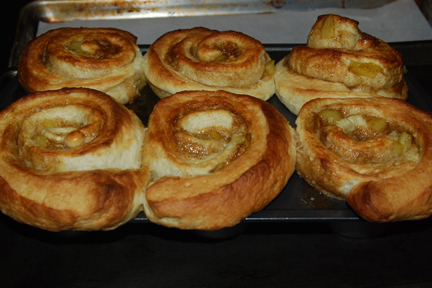 You can see I cut my slices too large and they started to expand out of the tin, unwrapping as they baked.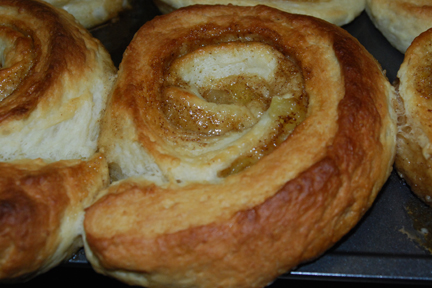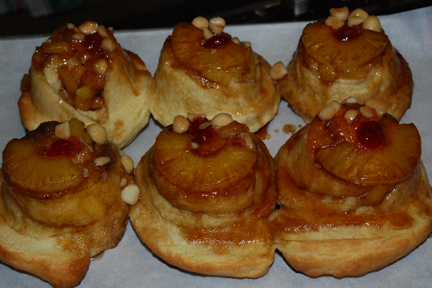 They popped right out of the tins when I turned them over onto the sheet pan. Very easy but hot. Be careful of the hot sugar!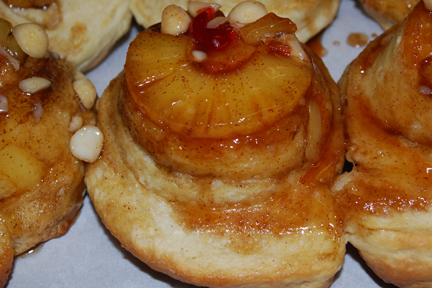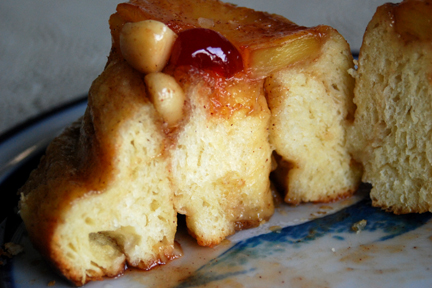 This one didn't stand up as well as others. Still a nice sweet dough that worked out very nicely.
Imagine this with peaches and lemon zest or blue berry's and lemon, or mango's and lime zest, or----