Blueberry Maple Walnut Spelt Bread
Hello,
I tried making Karin's Dinkel Walnussbrot and really enjoyed the texture and flavor of this bread.
Thank you, Karin, for your recipe and technique!!!

I wanted to try making Spelt bread again - I saw these recipes, that used blueberries (yum!) as an ingredient:
Shao-Ping's Caramelized Hazelnut and Blueberry Spelt Sourdough
and Farine's Apple Blueberry Bread with Spelt
Thanks to all of these ladies for their beautiful breads, and inspiration for this attempt, using spelt levain, spelt flour, dried blueberries, maple syrup and walnuts.

This is my second try. The first try I built up a spelt levain over three feedings, and the crumb was quite tangy, but offset by the sweetness of the blueberries. This time, the bread is not as sour and I like the flavor a bit better.
The tiny amount of maple syrup in the formula didn't contribute any maple flavor to the baked bread.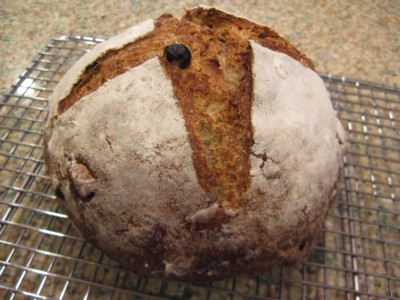 Crumb shot from this attempt (boule), then from previous attempt (batard):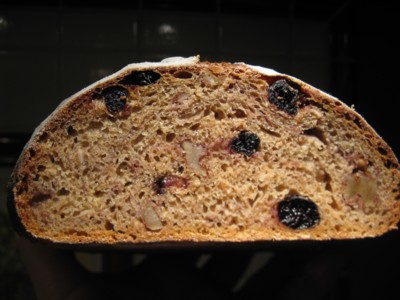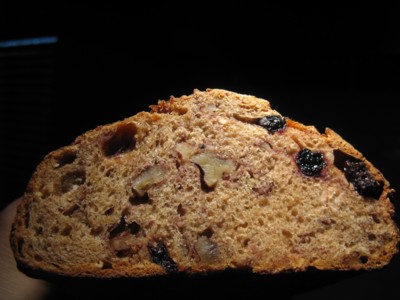 (for 2 x 650g boules):
 

 

Ingredients

Levain

Soaker


Dough

Total

 

 

 

 

 

Spelt flour

194

220

70

484

Spelt flakes

 

56

 

56

Water

142

 

 

142

Buttermilk

 

256

 

256

Maple syrup, Grade B

 

 

15

15

Yeast instant

 

 

2

2

Salt

 

4.9

9

13.9

Walnuts, coarsely chopped

 

 

90

90

Dried blueberries

 

 

90

90

Sourdough starter

151

 

 

151

Levain

 

 

487

 

Soaker

 

 

538

 

 

 

 

 

 

Total

487

538

1300

1300
My sourdough starter is kept at 100% hydration; I adjusted the water in my levain to approximate the hydration of Karin's Biga in her Dinkel Walnussbrot.
I basically followed Karin's formula & instructions, but made some minor changes to accommodate the levain, & guessed as to how much yeast to include in the final dough:

DAY 1
In the morning, prepare the soaker. Leave at room temperature for 8 hours.
In the morning, mix the levain and leave at room temperature until double. At five hours, it had doubled - I put it in the fridge for 3 hours before mixing the dough. 
In the evening (after 8 hours), prepare final dough: Soak the dried blueberries in warm water for 15 minutes, then drain.
Mix all ingedients (except for the dried blueberries and walnuts) at low speed for 1 - 2 min., until coarse ball forms. Then knead at medium-low speed for 4 min., feeding the blueberries and nuts slowly to the dough. Let dough rest for 5 min., resume kneading for 1 more min. Transfer to lightly oiled container, and place in refrigerator overnight.

DAY 2
Remove dough from refrigerator 2 hrs. before using.                                                           
Preheat oven to 425 F/220 C. Prepare for hearth baking with stone and steam pan. 
Shape boules, place in bannetons, and let rise to 1 1/2 times its original size. (At 80F, this took two hours, until the boules had visibly puffed up.) Turn out onto peel or parchment lined baking sheet. Slash. 
Bake bread at 350 for 20 minutes, steaming with 1 cup of boiling water. Rotate 180 degrees, remove steam pan and continue baking for another 30 minutes (internal temperature should be at least 195 F, and loaf should sound hollow when thumped on the bottom.
Let cool on wire rack.
We like this blueberry variation of Karin's bread.
Next time I might try adding a touch of natural maple flavoring when mixing the dough to see what that might add. Or, perhaps not - the spelt and other flavors are lovely as they are!

Happy baking everyone,
from breadsong