An Alternate "Rustique" - Caramelized Hazelnut and Blueberry Spelt Sourdough
I confess this came as an accident.   When I was scanning Michel Suas' Advanced Bread & Pastry, his Caramelized Hazelnut Squares (page 248) caught my attention.   I sometimes make for my kids Hazelnut Praline Semi-Freddo; nothing pleases my boy more than that Italian ice cream.   Suas' formula to me is like incorporating a secrete ingredient in a delicious ice cream into a bread.  I was however not sure about having to prepare 2 sponge preferments plus 2 levains just to make this "Squares."  
Then, came MC's posting of her beautiful Blueberry Bread with Spelt Starter a couple of days ago, I found myself the reason of embarking on an experiment.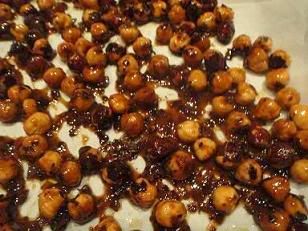 caramelized hazelnuts (or hazelnut praline)  
I started my project after dinner last night around 7:30.  Instead of fresh blueberries that MC used for her bread, I thought if I used frozen ones perhaps there would be less of a chance of squashing them during mixing - bad plan.  There was more juice/water that came out of the frozen berries (than the fresh ones) that my dough was literally drenched in liquid and I had to use tissue to soak up some of the liquid.  What was supposed to be a 69% hydration turned out to be at least 85%.  Hence, the rustic "Squares!" - there was no way of any shaping of any kind!  If it were possible, I wasn't up to it.  It was a scary sticky mess: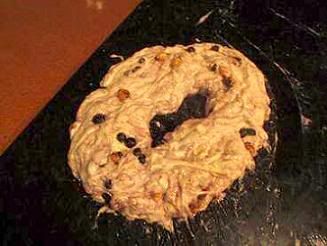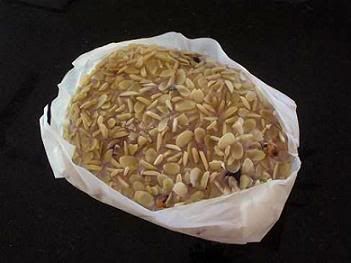 the sticky dough mess                                                      the "shaped" dough
I ended up putting the mess on a piece of parchment paper and stapled the edges of the paper to try and hold the dough in.  The dough was in that position sitting on my counter-top from 9:30 last night to 11:30 this morning when it was loaded onto the oven (14 hours proofing!).     
My formula  
230 g starter at 75% hydration
150 g spelt flour
220 g white flour
40 g honey
206 g water
110 g caramelized hazelnuts*
140 g frozen blueberries
9 g salt
Flaked & slivered almonds for dusting  
*  Suas' caramelized hazelnut formula:
80 g hazelnuts (lightly roasted)
27 g sugar
10 g water
10 g butter  
*Add sugar and water to a sauce pan, cook until the mixture reaches 116 C/240 F, then add roasted hazelnuts, stirring constantly; when the sugar/water has started to caramelize, add butter to slow down the browning.  Move the sauce pan away from heat when the desired coloration has reached.   Note:  I used Suas' formula for the caramelized hazelnuts just to try it out but I have since found that it is just as easy without using the butter.  Simply heat the sugar/water mixture to 130 C/266 F or until it has browned, then add hazelnuts, stir for a few seconds, then take the sauce pan away from heat to cool down.  Half way through cooling down, spread the nuts apart so they don't stick together.  
It's a bit tricky to bake this sourdough as the flaked and slivered almonds that I used for dusting brown very quickly in high heat.  The dough was baked in 230 C/446 F for 10 minutes, then 200 C/390 F for 10 minutes, and 170 C/340 F for 30 minutes.  This is what came out of my oven at mid-day today:  
        Caramelized Hazelnut & Blueberry Sourdough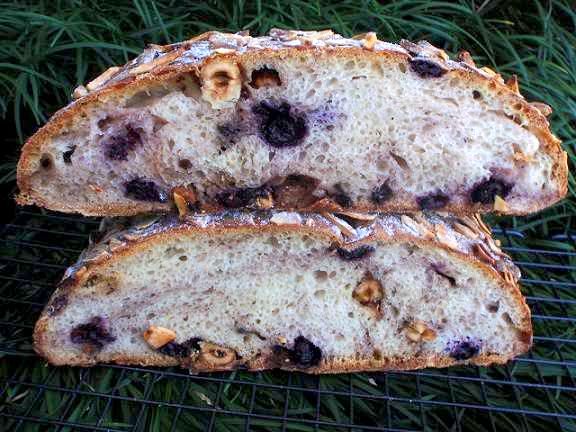 The crumb  
This sourdough is no "rustique" at all.  It is my kind of hog heaven!  The crumb is delicious - soft, moist and very flavorsome.  I am a happy Vegemite today.     
                                                                               my kind of hog heaven!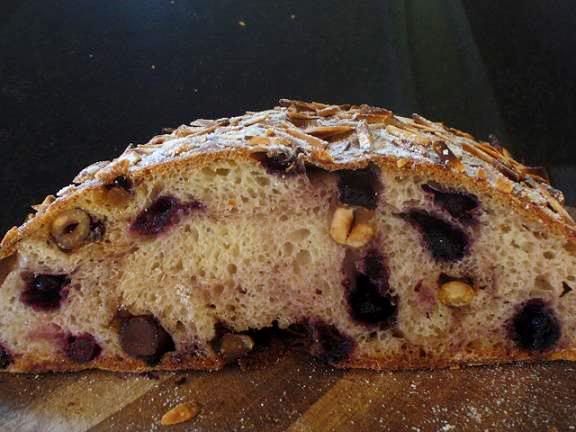 simply delicious!
Shiao-Ping