January 20, 2010 - 3:35pm
Mini's Favorite 100% Rye Ratio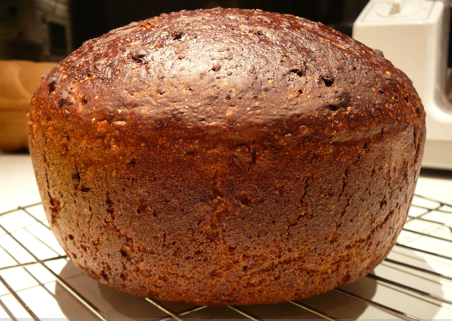 I've been playing with rye loaf ratios (starter/water/flour) and I came up with one using any amount of rye starter that when refreshed is a paste (100% hydration) and as it ferments loostens to a thick batter.  I was looking for basic numbers (like 1/2/3) and I found them they're  1/ 3.5/ 4.16.   It makes Rye so much easier!  The starter should be generously refreshed 8-12 hours before and mixed into the dough just before peaking and in a 22°c room (72°F) the dough ferments 7-8 hours before baking.   Dough should not be folded or shaped 4 hours before going into the oven.
Basic Ratio> 1 part starter: 3.5 parts cold water: 4.16 parts rye flour    
4 tablespoons bread spice for 500g flour    Salt 1.8 to 2% of flour weight
Hydration of dough aprox 84%.  Handle dough with wet hands and a wet spatula.  Combine starter and water then the flour, stir well and let rest covered.  Add salt about one hour after mixing and any other ingredients.  If room is warmer add salt earlier.  Three hours into the ferment lightly fold with wet hands and shape into a smooth ball.  Place into a well floured brotform or oiled baking pan.  Cover and let rise.  Don't let it quite Double for it will if conditions are right.  Before placing in the oven, use a wet toothpick and dock the loaf all over to release any large bubbles.  Bake in covered dark dish in cold oven Convection 200°C or 390°F (oven can reach 220°C easy with the fan on.)  Remove cover after 20 to 25 minutes and rotate loaf.  Reduce heat by simply turning off convection and use top & bottom heat at 200°C.   Remove when dough center reaches 93°C or 200° F.
All kinds of combinations are possible including addition of soaked & drained seeds and or cooked berries or moist altus and whole or cracked walnuts or a little spoon of honey.
How it works:  I have 150g rye starter at 100% hydration.  I figure for water: 150 x 3.5 gives the water amount or 525g.  I figure the flour: 150 x 4.16 gives 624 g Rye flour.  For salt:  2% of 700g (624g + aprox. 75g in the starter) makes salt 14g or one level tablespoon of table salt.
This amount of dough took 1 1/2 hours to bake and included moist rye altus.  It was baked in two non-stick cast aluminum sauce pans (20cm diameter) one inverted over the other .  The rounder of the two on the bottom.  No steam other than what was trapped inside.  Top removed after 25 minutes.  It has a beautiful dark crust with a light shine.  Aroma is heavenly.