January 25, 2011 - 10:10pm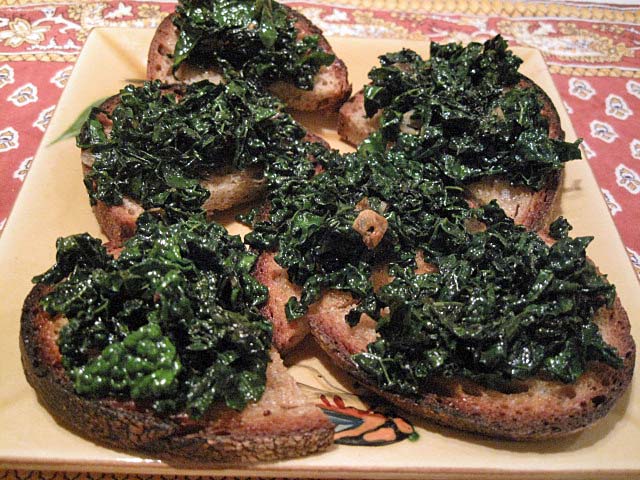 One of my favorite uses for several days old sourdough bread is crostini. These little open-faced sandwiches can be topped with all sorts of meat spreads or vegetable combinations. They are very traditional in Tuscany as antipasti. I am usually prompted to make them when I get a chicken that includes the giblets. A spread of chicken liver, generally sautéed and mashed with diced vegetables, wine and herbs is among the most common topping for crostini, although I often flavor mine more in a French style with shallots, dry white wine, thyme and tarragon than in the Italian style.
Another traditional Italian topping for crostini is cavolo nero. This is a very dark green, curly-leafed kale which has a wonderful flavor. It is also delicious mixed with crumbled Italian sausage in a sandwich, on pizza or with pasta. This time of year, there is lots of cavolo nero in our local farmer's market, and tonight I made crostini di cavolo nero as an appetizer to eat while the trout and fennel gratin were finishing baking. I adapted the recipe from Flavors of Tuscany, by Maxine Clark.
Ingredients
6 thin slices of crusty sourdough bread
3 T EVOO, plus more for brushing the bread
10 oz (more or less) Cavolo nero, leaves cut from the tough central stem and cut into thin shreds.
2-3 garlic cloves, sliced thin
Sea salt and fresh-ground pepper
1 T balsamic vinegar
Fresh herbs to garnish (optional)
Procedure
Pre-heat oven to 375ºF
Brush both sides of the bread slices with olive oil, place the bread on a baking pan and bake for 10 minutes, turning once. They should be browned somewhat. Keep them warm.
In a 10-12 inch sauté pan or in a wok, sauté the garlic in 3 T olive oil on medium heat until they just start to color (about 1 minute).
Turn up the heat to medium-high. Add the cavolo nero and a dash of water. Season with salt and pepper. Toss and stir continuously.
When the cavolo nero is limp (1-2 minutes), add the balsamic vinegar. Continue to cook and stir until the vinegar has evaporated.
Place generous portions of the cavolo nero on the toasts and serve immediately.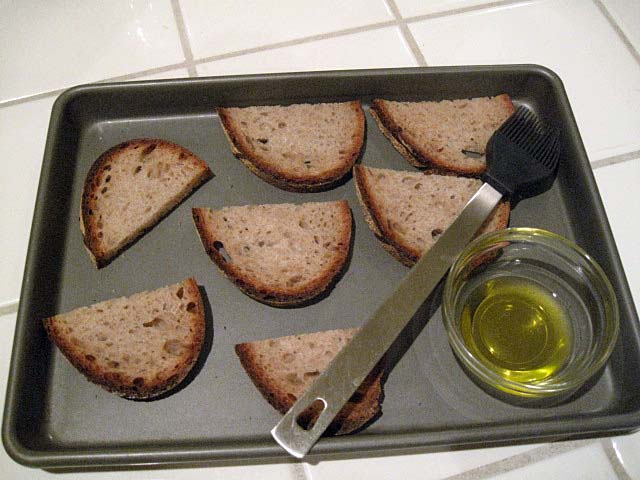 Slices of bread (SFBI Artisan II Miche), ready to brush with olive oil and toast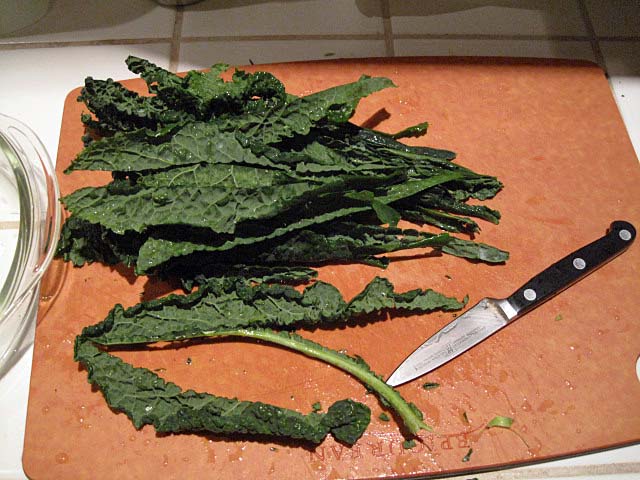 De-stemming cavolo nero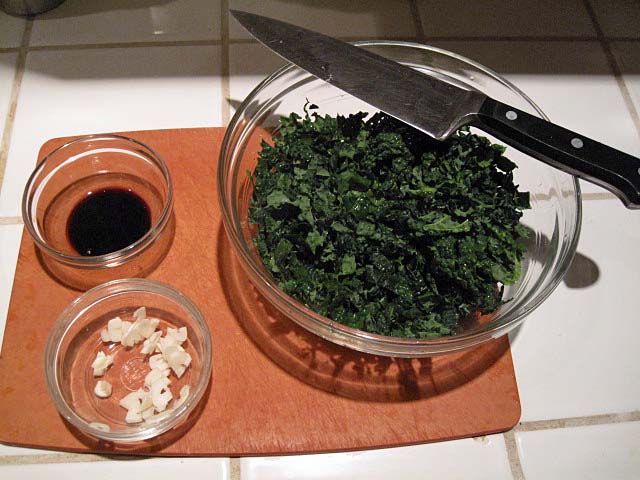 Mis en place - balsamic vinegar, sliced garlic, shredded cavolo nero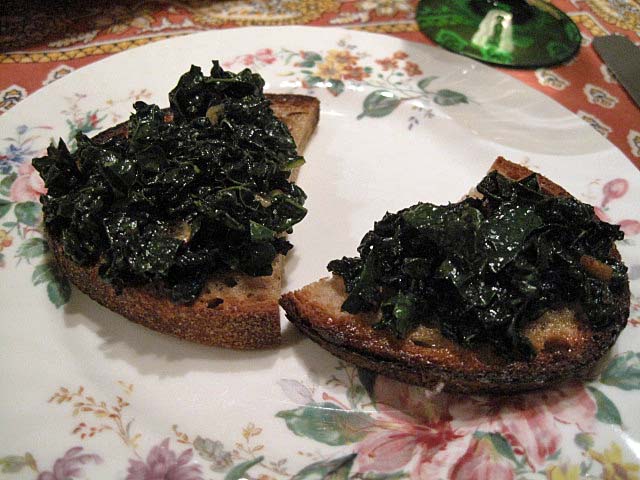 Buon appetito!
David
Submitted to YeastSpotting