January 16, 2011 - 8:29pm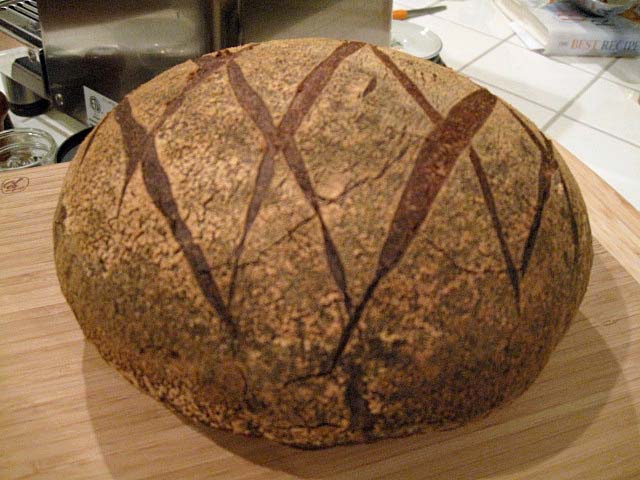 We baked a miche the last day of the SFBI Artisan II (sourdough baking) workshop. This was one of the breads we mixed entirely by hand. The students' miches were scaled to 1 kg, as I recall, but our instructor baked a couple larger ones, using the same dough.
These miches were among the favorites of all the students for the wonderful texture of their crust and crumb and their flavor. I gave one of mine to brother Glenn, who has stopped reminding me in the past few days that I promised him the formula.
This formula is substantially different from the miche formula in Advanced Bread and Pastry. I blogged about the background of that miche last month. This one is more similar to contemporary versions such as that of James McGuire, Hamelman's adaptation of which is found in Bread.
The formula we used at the SFBI calls for mostly white flour, with a little whole wheat in the levain refreshment and a little toasted wheat germ in the final dough. From my reading, a high-extraction flour is preferred for miches. I had some of Central Milling's "Organic Type 85" high-extraction flour on hand, so that is what I used.
| | | |
| --- | --- | --- |
| Total formula |   |   |
| Ingredients | Wt (g) | Baker's % |
| High-extraction flour | 702 | 100 |
| Water | 515 | 73.33 |
| Wheat germ (toasted) | 18 | 2.5 |
| Salt | 15 | 2.08 |
| Total | 1250 | 177.91 |
Notes
The SFBI formula used 96.67% "Bread flour" and 3.33% Whole wheat flour. All the whole wheat flour is used in the levain. I used Central Milling's "Organic Type 85 Flour" for both the levain and the final dough

I did not use wheat germ since I was using high-extraction flour, but this ingredient did contribute to the great flavor of this bread as we made it in Artisan II.
| | | |
| --- | --- | --- |
| Levain |   |   |
| Ingredients | Wt (g) | Baker's % |
| High-extraction flour | 93.7 | 100 |
| Water | 93.7 | 100 |
| Liquid starter | 50 | 46.8 |
| Total | 237.4 | 246.8 |
Dissolve the starter in the water and mix in the flour. Desired Dough Temperature: 78ºF.

Ferment for 8-12 hours.
| | | |
| --- | --- | --- |
| Final Dough |   |   |
| Ingredients | Wt (g) | Baker's % |
| High-extraction flour | 586 | 100 |
| Water | 398 | 68 |
| Wheat germ (toasted) | 18 | 3 |
| Salt | 15 | 2.5 |
| Levain | 234 | 40 |
| Total | 1251 | 213.5 |
Procedure
Dissolve the levain in the water. Add the other ingredients and mix thoroughly by hand. DDT: 75-78ºF.

Transfer the dough to a clean, lightly oiled bowl.

Ferment for 3-4 hours with 4 folds at 50 minute intervals. (I did this by the "stretch and fold in the bowl" technique.)

Transfer the dough to a lightly floured board. Pre-shape as a tight boule.

Cover and let rest for 20-30 minutes to relax the gluten.

Shape as a tight boule and place, seam side up, in a floured banneton.

Cover with plastic and retard overnight in refrigerator.

Remove the boule from the refrigerator and allow to warm and complete proofing for 1-3 hours. (Watch the dough, not the clock!)

45-60 minutes before baking, pre-heat the over to 500ºF with baking stone and steaming apparatus in place.

When the loaf is proofed, transfer the boule to a peel. Slash the boule as desired, and transfer it to the baking stone. Steam the oven and reduce the temperature to 450ºF.

Bake for 20 minutes, then remove any water remaining in your steaming apparatus.

Continue baking for another 40-50 minutes. (If you have a convection oven, switch to "Convection Bake" and reduce the oven temperature to 430ºF at this point. But see my tasting notes.)

Remove the boule to a cooling rack, and cool thoroughly before slicing.
Notes on procedure
Traditionally, we were told, this bread is scored in a diamond pattern, but any scoring pattern that pleases you is fine. Just be aware that the diamond pattern tends to yield a flatter profile loaf than a simple square or cross.

This bread benefits from a very bold bake. The crust should be quite dark. It may look almost burned, but the flavor and crunchiness that is desired requires this.

This type of bread often improves in flavor very substantially 24 hours after baking.

Crust

Crumb




Crumb close-up
Tasting notes
I sliced and tasted the bread about 4 hours after removing it from the oven. The crust had crackled nicely and was very thick and crunchy – the kind that results in crust flying everywhere when you slice it. The crumb was well-aerated, but without any really large holes. The crumb structure is similar to that I got with the miche from BBA made with this flour, but a bit more open. The crumb is chewy-tender.
The flavor of the crust is very dark – caramelized-sweet but with a bitter overtone where it is almost black. The crumb is sweet, wheaty, nutty and absolutely delicious. My note above notwithstanding, it's hard to imagine the flavor getting any better in another day.
I am enormously impressed with the flavor of the breads I have baked with Central Milling's "Organic Type 85" flour. I want more of it, and I want to try some of their other specialty flours, including those they mill for baguettes.
I will definitely be baking this bread again. I would like to make it as a larger miche, say 2 kg. Next time, I will lower the oven temperature to 420 or 425ºF when I switch to convection bake for the crust to be slightly less dark.
David
Submitted to YeastSpotting