January 12, 2011 - 2:35pm
Sourdough 100% Whole Wheat Oatmeal Sandwich Bread - whole grain breads can be soft too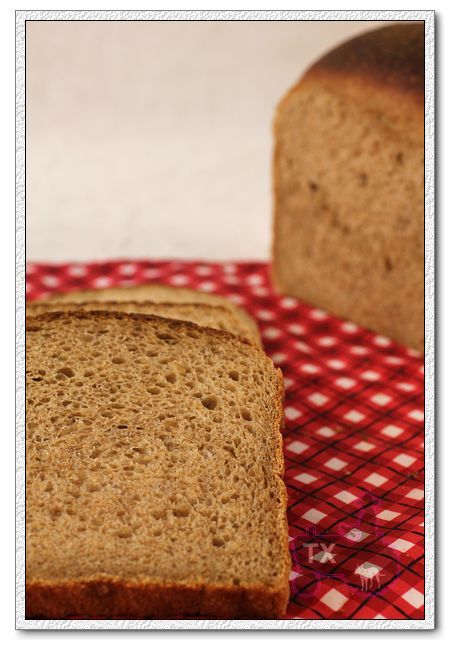 A while ago, I posted about how to make "shreddably soft" sourdough sandwich bread (see here). I got some questions regarding whether the same thing can be achieved with whole grain breads. Well, yes and no. The more whole grain flour there is in the dough, the lower the gluten is, so 100% whole grain breads won't be exactly AS SOFT AS the white flour one. However, with the right formula, and proper handling, 100% whole grain breads like this one CAN be very moist and soft - even shreddably so.This one is made using just sourdough starter, extra delicious when the rich flavor of ww is combined with the slight tang of sourdough.
First of all, there needs to be enough ingredients in the formula to enrich and moist the crumb. This bread is adapted from my all time favorite whole grain bread book "Laurel's Kitchen Bread Book" , in addition to oil, honey, and sourdough levain, oatmeal is soaked in boiling water the night before to add moisture to the final dough, which contributes to the soft crumb. My adaption to the formula is to chagne the dry yeast to sourdough, and increased hydration a tiny bit.
Secondly, ww doughs have lower gluten level, which means while you still have to knead it really well (to full developement), the windowpane you achieve won't be as strong as the white flour one. This also leads to a denser bread, which means for the same tin, you will need to add more dough to get the same volume. Since ww flour absorb more water, but absorb it slower, so it really helps to autolyse, and autolyse longer (40-60min) than for white doughs. It's easier to overknead a ww dough (in a mixer) too, so be very careful - for that reason, I usually finish kneading by hand.
Thirdly, it's also easy to over fermentate ww doughs. I kept the levain ratio in this dough pretty low, and made sure when it's taken out of fridge for proofing, the temperature is relatively warm(~72F). I found if it takes too long for the dough to finish proofing (once I left it by the window, where it's only 68F, it took 10hours instead of 6 hours to finish proofing), the crumb gets rough, and the taste gets unpleansantly sour.
Finally, the ww flour I used here is King Arthure WW, I have used other ww flour before, but KAF gives me the most consistent result.
Sourdough 100% Whole Wheat Oatmeal Sandwich Bread (Adapted from "Laurel's Kitchen Bread Book")
Note: 15% of the flour is in levain
Note: total hydration is 89%, higher than usual because of the oatmeal soaker
Note: total flour is 375g, fit a 8X4 loaf pan. For my Chinese small-ish pullman pan, I used 330g total flour. For KAF 13X4X4 pullman pan, I have not tried it myself, but I would suggest using about 600g of total flour. Obviously for pullman pans, you can bake with or without lid.
- levain
ww starter (100%), 16g
water, 26g
ww bread flour, 48g
1. Mix and let fermentation at room temp (73F) for 12 hours.
- soaker
rolled oats (I used old fashioned), 53g
boiling water, 240g
salt, 8g
2. Mix and cover for 12 hours.
- final dough
ww flour, 319g (I used KAF)
water, 60g
oil, 30g
honey, 38g
all soaker
all levain
3. Mix together everything, autolyse for 40-60min.Knead until the gluten is very developed. This intensive kneading s the key to a soft crumb, and proper volume. The windowpane will be thin, but NOT as strong as one would get form a white flour dough. For more info on intensive kneading, see here.
4. Bulk rise at room temp (73F) for 2 hours, the dough would have expanded noticably, but not too much. Fold, and put in fridge overnight.
5. Divid and Rest for one hour.
6. Shape into sandwich loaves, the goal here is to get rid of all air bubles in the dough, and shape them very tightly and uniformly, this way the crumb of final breads would be even and velvety, with no unsightly holes. For different ways to shape (rolling once or twice, i.e. 3 piecing etc) see here.
7. Proof until the dough reaches one inch higher than the tin (for 8X4 inch tin), or 80% full (for pullman pan). About 6 hours at 72F.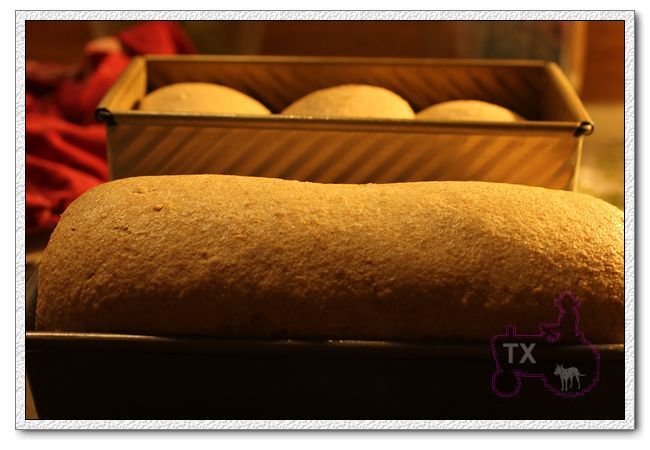 8. Bake at 375F for 40-45min. Brush with butter when it's warm.
Nice and soft crumb from both the 8X4inch tin (rolling once) ...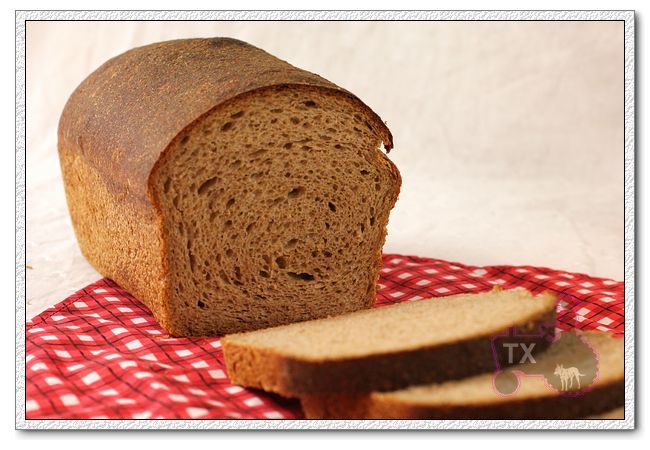 Baked another one in a small pullman tin (rolling twice, 3 piecing, baked without lid)
Excellent ww flavor enhanced by sourdough, without any hint of bitterness. Stays soft and moist for days.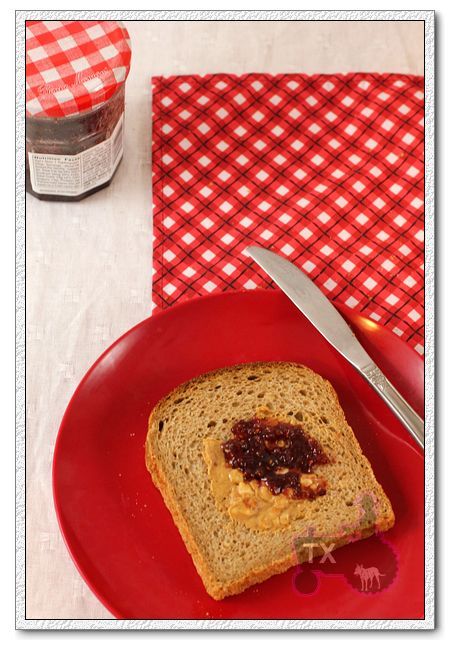 So, yes, 100% whole wheat breads can be soft, like THIS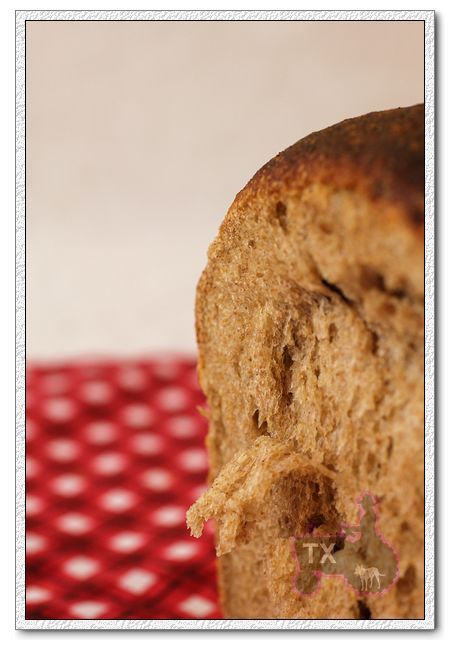 Sending this to Yeastspotting.