February 26, 2007 - 11:08am
help for overproofed loaves?
For about the past 2-3 weeks, it seems that my Thom Leonard boules, which I have made every week since about November, are suddenly coming out overproofed even though I have not changed my technique: as soon as the loaves are slashed on the peel and hit the hot oven stone, they collapse and spread out at the slashes.
I was wondering if it was because my 100% hydration starter is getting very acidic as it is maturing, despite being well fed at either 1:4:4 or 1:2:2 by weight. Do I need to adjust proofing times and temps accordingly with a strong starter? Is it gobbling up the gluten too fast? Seems if I feed my starter more than 1:4:4 it does not get active enough, though, so I don't want to over-dilute it either. Are the population of lbs overpowering the polulation of yeasts?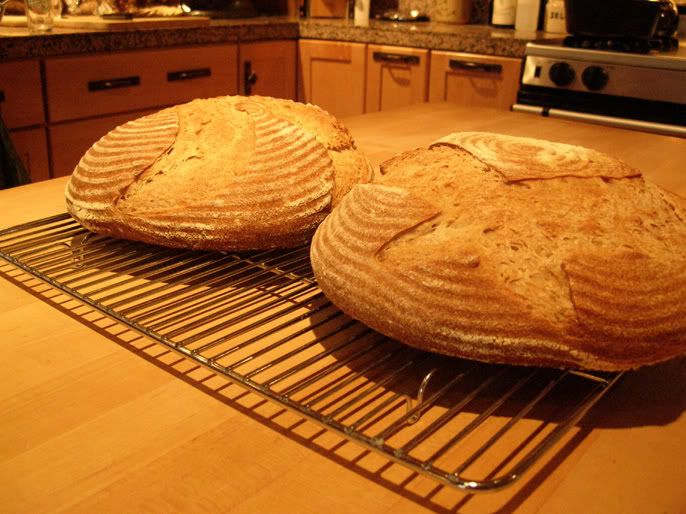 To try to adjust, in yesterdays batch, I used a slightly stiffer dough, and lowered the first fermenting time from 4-5 hours down to 3-3.5, before the dough doubled, then proofed for only 2.5 hours down from 3.5-4. I also fermented and proofed at about 75F rather than 85F.
I got better results but still not as good as I had in the very beginning of my sourgdough baking: the loaves still rose nicely and held their shape a little better in the bannetons but still spread out very wide at slashes when I slashed and baked, but at least this time they got decent oven spring and rose to a better dome than my last 2-3 tries. Notice how much the dough spread out at the slashes - the interior had little structure and was getting gooey and batter-like just before putting in the oven.
I got some holes in the crumb but nothing spectacular, more dense in the center than I like for this recipe:
The only other variable I can think of between the past 2-3 weeks and before, other than the acidity of my starter, is that I am now using King Arthur organic artisan flour rather than the King Arthur regualr AP flour. Perhaps the organic artisan is using a softer wheat and therefore has less gluten? They have about the same protein and ash contents according to the KA website, though.
Any ideas on what is going on? Suggestions?