January 6, 2011 - 10:33pm
Chicken, brie and apple panini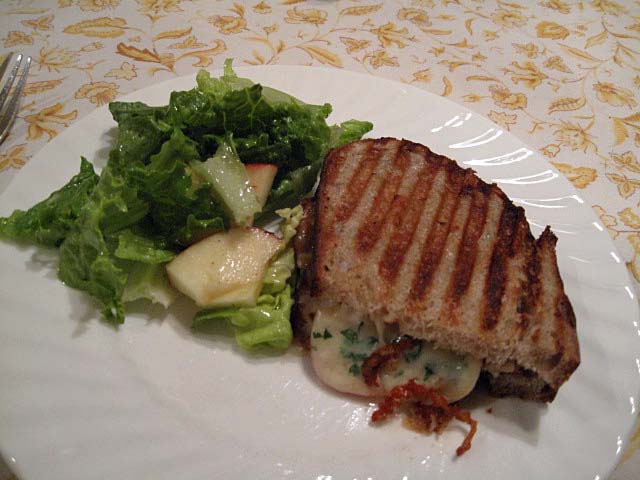 Chicken, brie and apple panino
My brother, Glenn, and his wife gave us a panini press a few years ago. I confess to using it infrequently. Every time I do use it I wonder why we don't use it more often, because we really love panini.
Last night, I took a huge loaf of Country Rye Bread made from the formula in Tartine Bread out of the freezer for this morning's breakfast. As I left for the office this morning, I suggested to my wife that we make panini for dinner, to use this delicious bread while it was relatively fresh. She concurred. We made them. They were good.
Ingredients (for 2 panini)
Two baked chicken thighs seasoned with salt, pepper and dried herbs. (You could also grill or broil them and season them to your taste). Bone the thighs.
6 thin slices of a quartered tart apple, skin on (braeburn, granny smith).
8 thin slices of good brie about 1 x 4" each.
Chopped parsley (or water cress).
4 slices Country Rye Bread from Tartine Bread (or any good country bread)
Olive oil (or walnut oil or olive oil infused with garlic and/or herbs).
Assembly
Lay out the slices of bread so the outsides of the sandwiches are up. Brush the slices with the oil and turn them over.
Add the other ingredients atop each of two slices of bread, in this order:

2 slices of brie
One of the boned chicken thighs.
3 slices of apple.
A sprinkling of chopped parsley.
2 slices of brie.
Top each sandwich with another slice of bread, oiled side up.
Grilling
Pre-heat your panini press on high.
Place the panini on the grill and close the top.
Grill for 30 seconds with gentle downward pressure on the upper grill handle.
Grill for 3-5 minutes more without pressure until the cheese is melted and the bread is crisped and well-marked by the grill
Serve with a green salad or side dishes of your choice.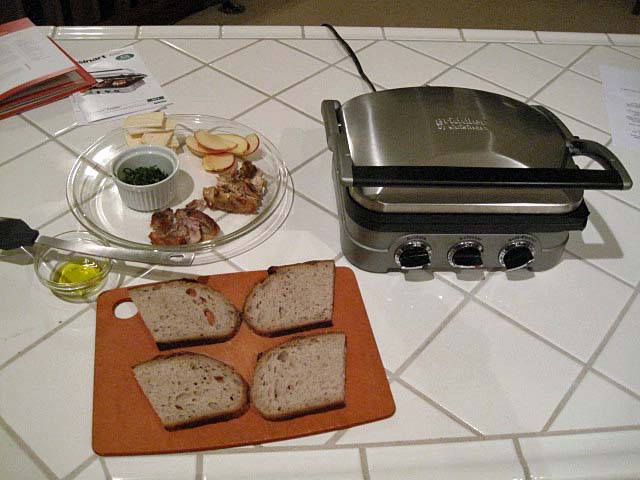 Mis en Place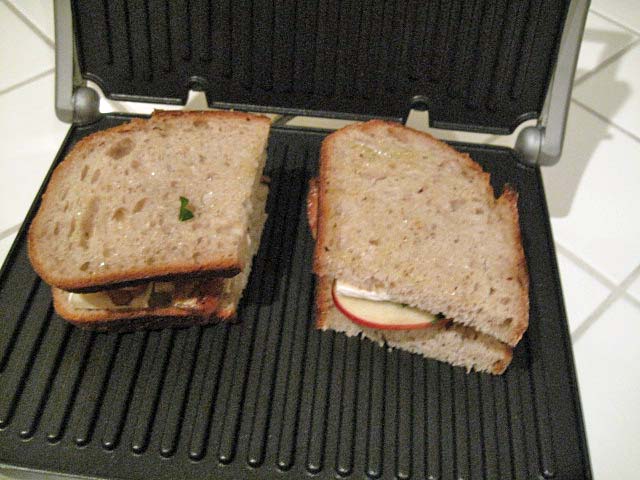 Panini, assembled and on the grill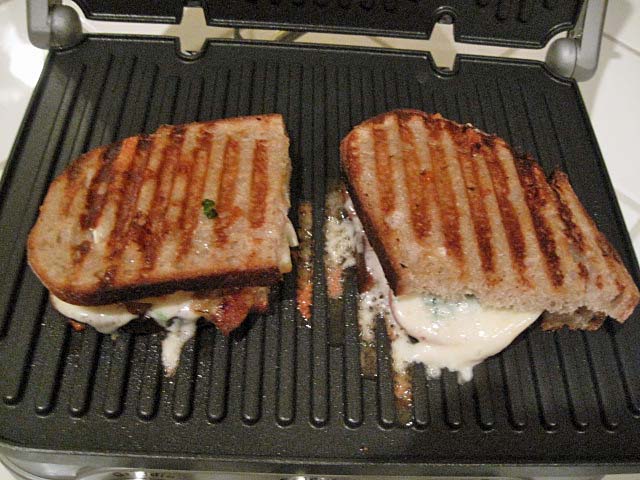 Panini ready to serve. (Cheese is definitely melted!)
Enjoy!
David Submitted to YeastSpotting