December 31, 2010 - 10:18pm
Country Bread with fresh-milled flours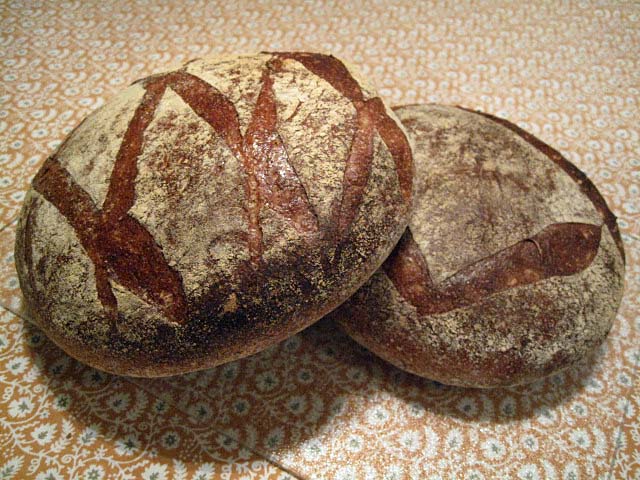 I've read with great interest discussions of home milling flour since I first joined TFL, but not wanting to get into the more arcane techniques of grain tempering, multiple graduated sifters and the like put me off. My interest was boosted by MC's interviews with Gérard Rubaud, who uses fresh hand milled grains to build his levains. (See Building a levain "à la Gérard": step 1) My recent experience chopping rye berries by hand did it though. I ordered the grain mill attachment for my KitchenAid Accolade mixer.
I'd been looking at grain mills for some time. I considered the Nutrimill, but I don't need to grind pounds and pounds of flour, and, from what I've read, it does not grind as coarse as I'd like to make cracked and chopped grains. Hand-cranked mills look cool, but my tiled kitchen counters don't work with appliances attached by vises. So, the KitchenAid attachment was a nice solution. I used it today for the first time.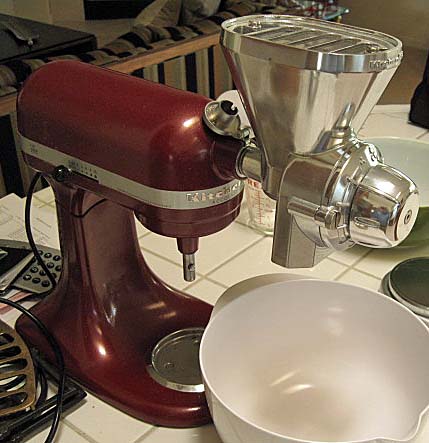 KitchenAid Grain Mill
Based on my reading of reviews of this device, I ground some hard red winter wheat and some spelt berries by putting each through three passes of increasing fineness. I just ground about 200 g of each. There was no indication that this strained my mixer motor in the least. Each pass took 30 seconds or less. The resulting flour was a tad coarser than what I buy already milled, but finer than, say, semolina.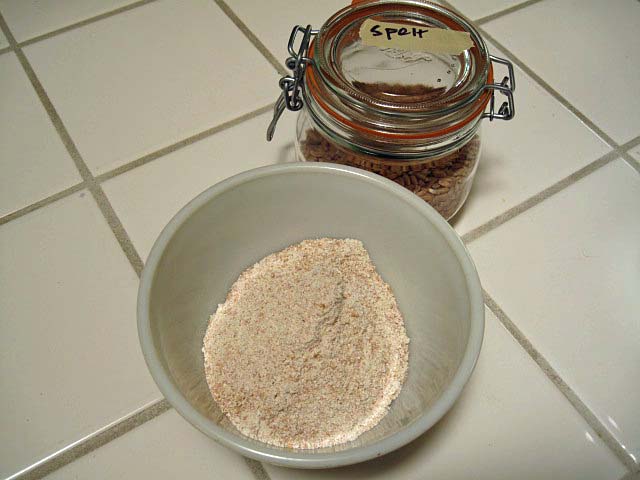 Fresh ground spelt flour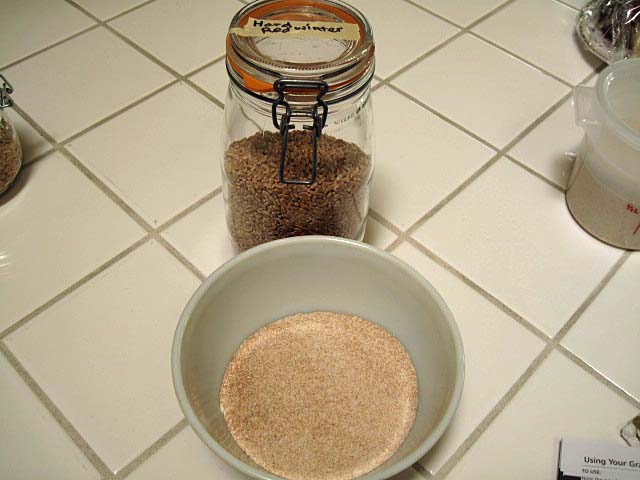 Fresh ground hard red winter wheat flour
My formula and procedures take off from Chad Robertson's "Basic Country Bread" in Tartine Bread.
| | | |
| --- | --- | --- |
| Total Dough |   |   |
| Ingredients | Wt (g) | Baker's % |
| KAF Sir Galahad (AP) flour* | 800 | 73 |
| Fresh-ground WW | 200 | 18 |
| Fresh-ground Spelt | 100 | 9 |
| Water | 850 | 77 |
| Salt | 20 | 1.8 |
| Total | 1970 | 178.8 |
*Note: The small amount of WW and Dark Rye in the levain are not calculated separately in the Total Dough.
| | | |
| --- | --- | --- |
| Levain |   |   |
| Ingredients | Wt (g) | Baker's % |
| KAF Sir Galahad (AP) flour | 70 | 70 |
| KAF WW | 20 | 20 |
| BRM Dark Rye | 10 | 10 |
| Water | 100 | 100 |
| Ripe levain | 40 | 40 |
| Total | 240 | 240 |
Dissolve the levain in the water. Add the flours and mix thoroughly.

Ferment at room temperature for 12 hours (overnight).
| | |
| --- | --- |
| Final Dough |   |
| Ingredients | Wt (g) |
| KAF Sir Galahad (AP) flour | 700 |
| Fresh-ground WW | 200 |
| Fresh-ground Spelt | 100 |
| Liquid levain | 200 |
| Water (80ºF) | 750 |
| Salt | 20 |
| Total | 1970 |
Procedures
In a large bowl, dissolve 200 g of the levain in 700 g of the water.

Add all the flours and mix to a shaggy mass. Cover tightly.

Autolyse for 25-30 minutes. (Longer would be okay.)

Sprinkle the salt over the dough and add 50 g of water.

Knead in the bowl by squishing the dough between your fingers until all the water has been incorporated and the salt is well-distributed. Then, still in the bowl, fold the dough over itself a few times.

Transfer the dough to a large clean, lightly oiled bowl or other container, such as a rising bucket. Cover tightly. If possible, place the dough in an ambient temperature of 75-80ºF.

After 30 minutes, stretch and fold the dough in its container 15-20 times. (By the end of this, the dough should be smooth, and it should pull away from the container easily when you stretch it.) Re-cover the dough. Repeat this at 30 minute intervals for two hours, then one more time an hour later. (The dough should have expanded by 25-50% and be light and full of small bubbles which you can see if your container is transparent. If it has been fermented at a cooler temperature, give it another hour, or even 2 hours.)

When the dough is fully fermented, transfer it to a lightly floured board and divide it into two equal pieces.

Pre-shape the pieces as rounds. Cover with plastic or a towel and let them rest for 20-30 minutes.

Shape as boules or bâtards. Place in bannetons or en couche and cover.

Proof for about 90 to 120 minutes, depending on ambient temperature.

Pre-heat your oven to 500ºF. If not baking covered, pre-heat a baking stone and prepare your oven for steaming. (I baked these boules in Lodge Combo Cookers.)

If baking uncovered, bake at 460ºF with steam for about 40 minutes. Then turn off the oven and leave the door ajar for another 10 minutes to dry the crust. If baking covered , bake at 480ºF for 15 minutes, then at 450-460ºF uncovered for another 25-30 minutes.

Transfer the loaves to a cooling rack.

Cool thoroughly before slicing.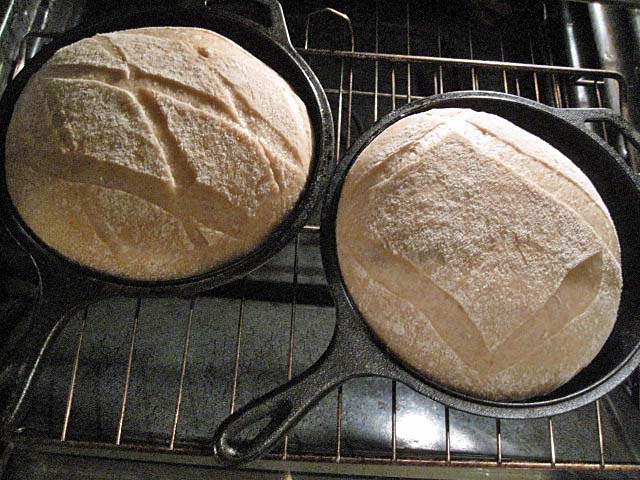 Boules after baking 15 minutes, covered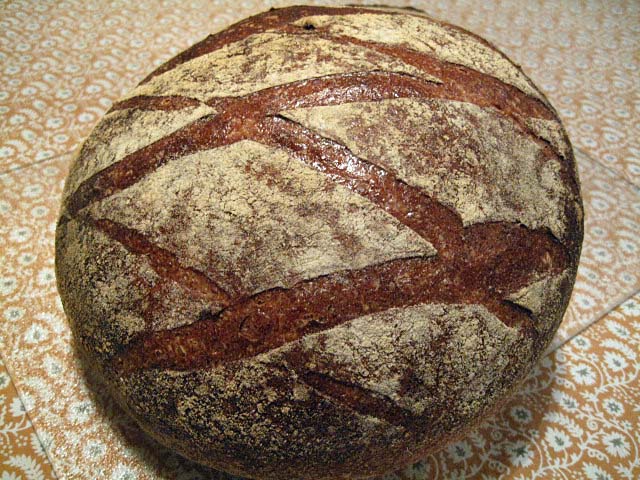 Boule, cooling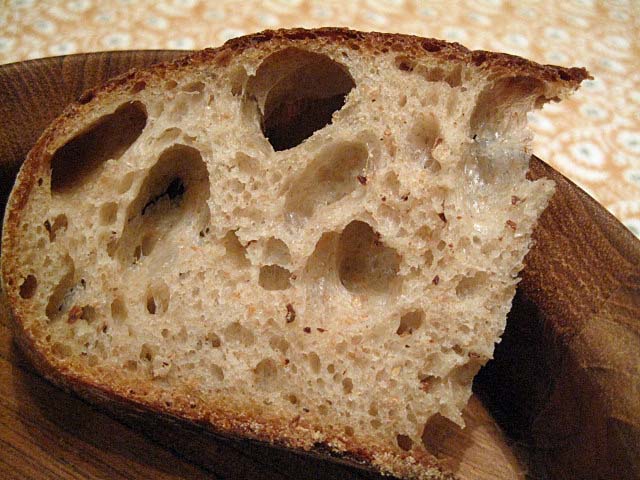 Crumb
Chewy crust and tender crumb. Whole wheat dominates the aroma of the bread sliced still warm but the flavor is sweet and mellow without any perceptible sourness. I'm looking forward to tasting it toasted tomorrow morning.
David
Submitted to YeastSpotting