December 17, 2010 - 9:57pm
SFBI Artisan II Workshop - Day 5
Today, we baked the three breads that we had shaped yesterday and retarded overnight – olive bread, raisin-walnut bread and miche. We also mixed and baked francese, French "country shapes" and baguette made with both pâte fermentée and liquid levain.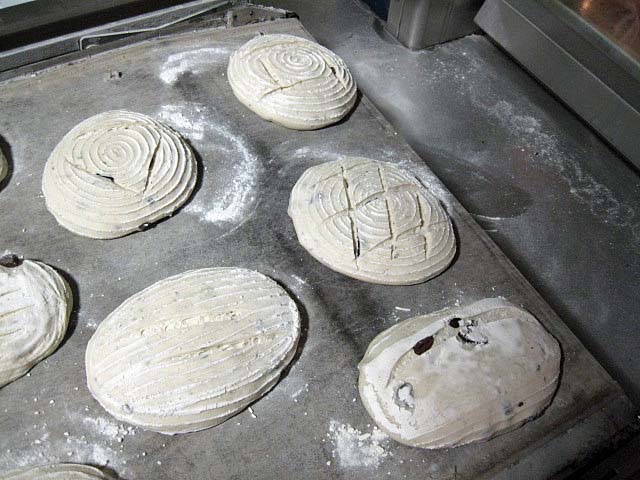 Olive breads loaded and scored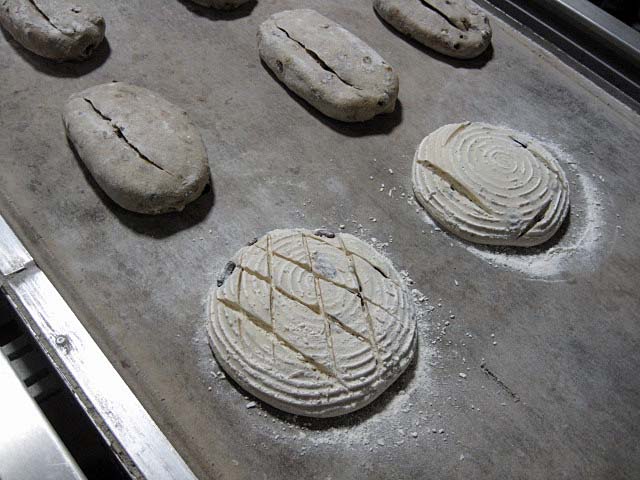 Raisin-Walnut breads, scored on loader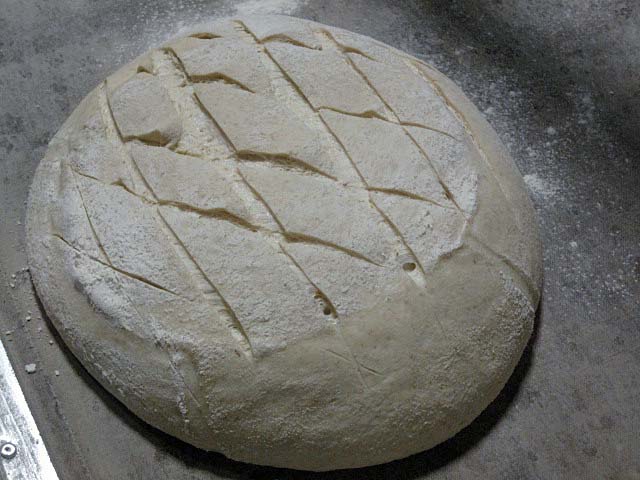 Miche, scored on loader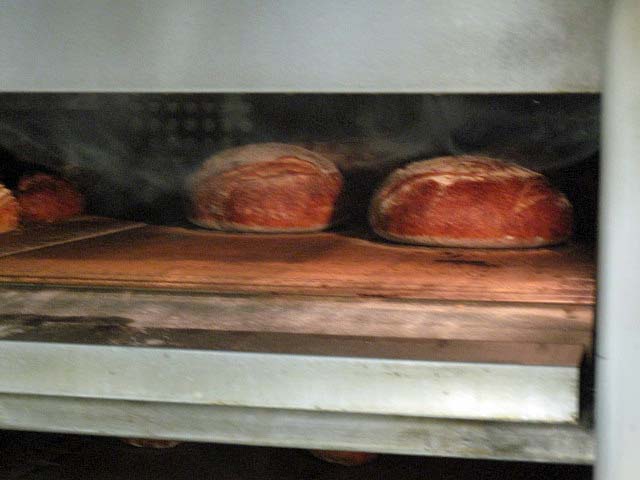 Miche, baking in the deck oven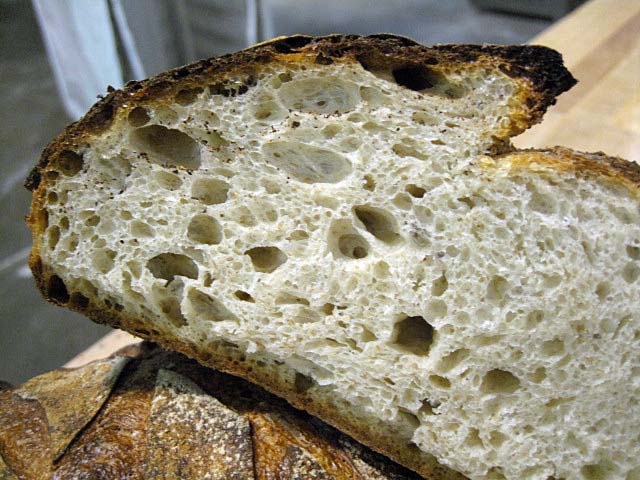 Miche crumb
Some of the breads I baked today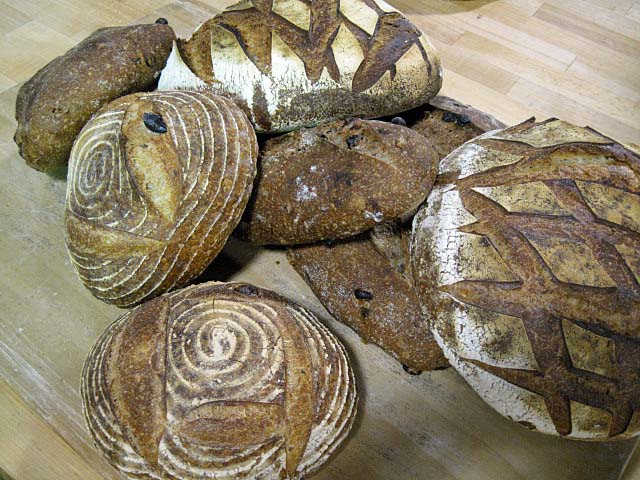 Miches, Olive breads, Raisin-Walnut breads
Frank provided detailed instruction and demonstrations of shaping all the breads, but spend most time on the French Country Shapes, which are seldom baked commercially. They are intentionally innovative and decorative.
Frank demonstrating French Country Shapes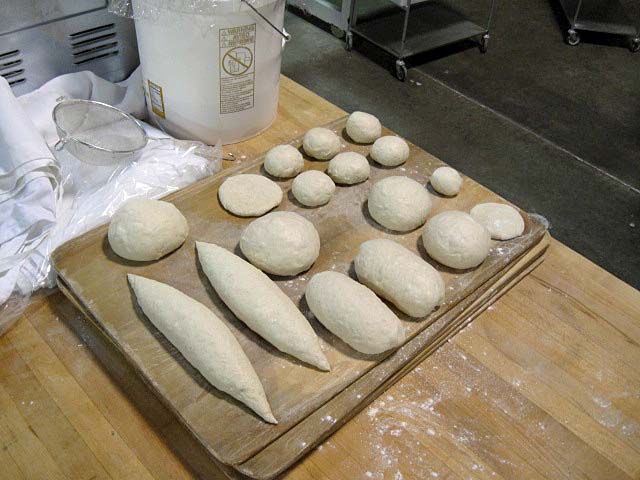 Dough pre-shaped for various French Country Shapes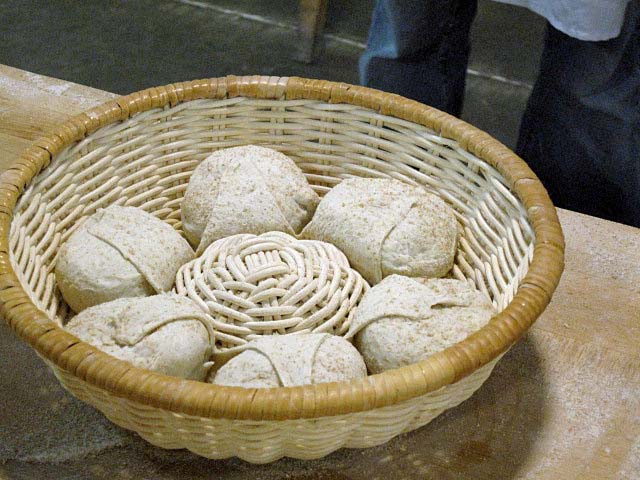 Couronne Bordelais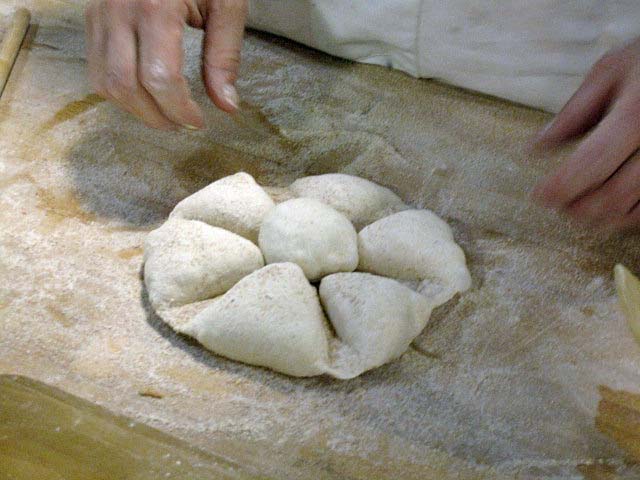 Fleur. I have also seen this shape called "Marguerite" (Daisy)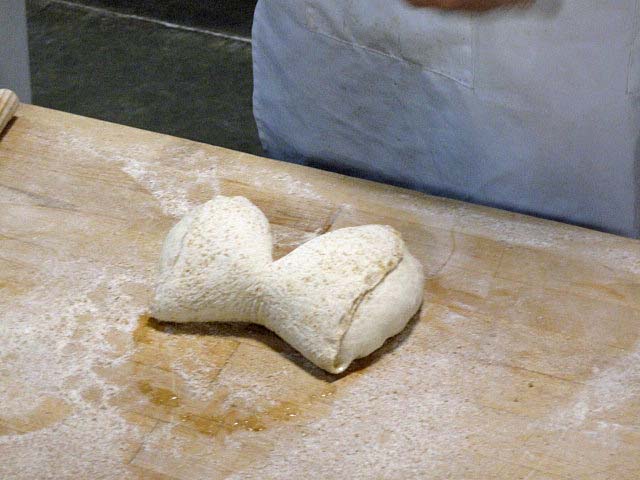 Pain d'Aix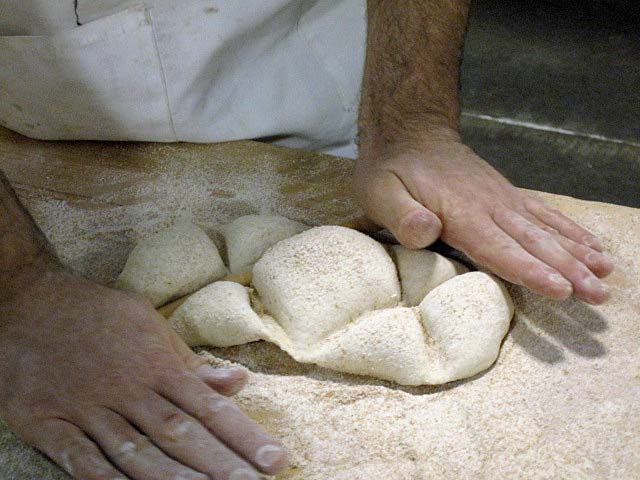 Charleston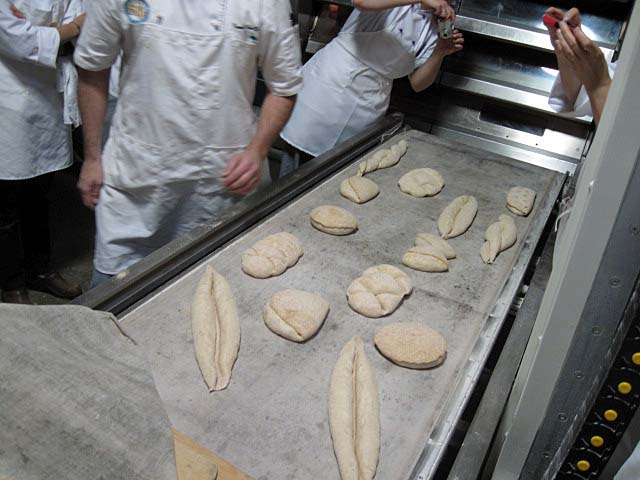 French Country Shapes on the loader.
I have not posted photos of all the individual shapes Frank demonstrated, for example the Tordu, the Fendu, the Viverais, the Tabatier, and the Avergnat.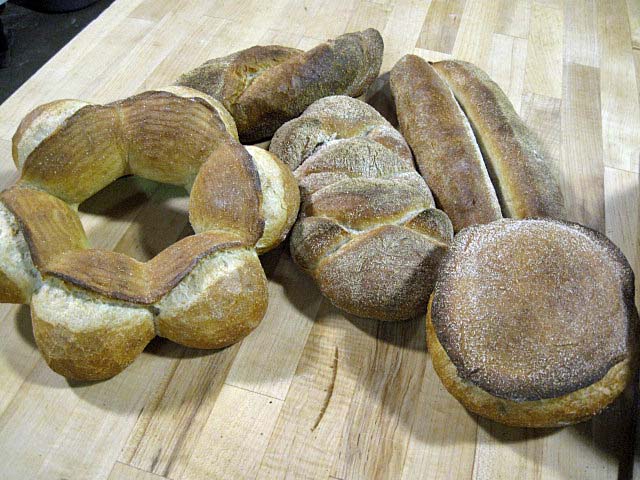 Some of the French Country Shapes I made
As I'm sure you all appreciate, there is no way to share everything I've learned. I have selected a few bits of information each day that either provided me with new insights or suggestions for techniques that violate conventional wisdom.
Today's tidbits
We spent some time this afternoon reviewing all the formulas, methods and theory we had covered during the entire week. In discussing autolyse, Frank recommended holding back the levain from the autolyse, even when using a liquid levain, except when the hydration in the final dough is extremely low – say, less than 60% - when the levain really would have a very large percentage of the total water in the dough. His reason is that one chief purpose of autolyse is to develop gluten with less mixing. The acid in the liquid levain inhibits gluten formation, thus defeating the purpose of the autolyse.
Michel Suas re-joined our class for the "graduation ceremony." He made a plea for us to do "artisan baking" and, as much as possible, avoid mechanization and the use of artificial ingredients. He also shared a "hot tip" that the coming fashion in artisan baking is the use of "ancient grains" such as kamut, teff, etc. He told us that the SFBI staff have been actively experimenting with these grains to develop formulas that use them to produce great breads. I certainly had noticed the immense quantity of flour made with ancient grains on racks and palettes in the bakery, although we did not use them in Artisan II.
This week just flew by for me. The quality of Frank Sally's instruction was just outstanding, as was his skill demonstrations. The opportunity to try new breads and learn new techniques is wonderful, as is gaining a better understanding of the baking process, especially fermentation itself.
Especially for the home baker, the chance to spend so much time with other serious bakers, whether they be other home bakers, serious professionals in training or seasoned professionals, is a rare and wonderful experience.  
David