December 14, 2010 - 9:32pm
SFBI Artisan II Workshop - Day 2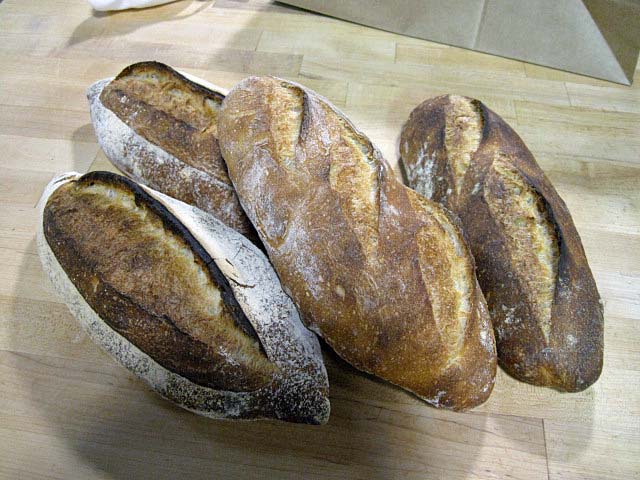 Some of the breads I baked on Day 2
The second day of the Artisan II workshop was spent mostly baking the breads for which we had fed the levains and scaled the ingredients yesterday. We also mixed levains and scaled for tomorrows bakes. Classroom time was bits and pieces between dough foldings and during fermentation, but the content was very good.
The instructional goal of today's baking was to see the effects of different types and proportions of levains on flavor. We baked four breads which differed only in these respects.
Bread made with a levain fed once a day. (All the others were made with levain fed twice a day.) This bread was notably more sour than any of the others.

Bread made with liquid levain at 100% hydration. (All the others were made with firm levain at 50% hydration.) This bread had notably less acetic acid tang and a noticeable milky lactic acid flavor – very pleasant.

Bread made with 40% firm levain.

Bread made with 70% firm levain.

 
The last two were not very different from each other in sourdough tang, but the 70% levain bread had a less pleasant, "metallic" after taste, according to some. I didn't perceive the after taste myself. The main take away lesson was that the frequency of starter feeding has more impact on bread flavor than the amount of levain used in the final dough and that the use of liquid versus firm starter really does make a difference in the balance of acetic versus lactic acid flavor in the bread.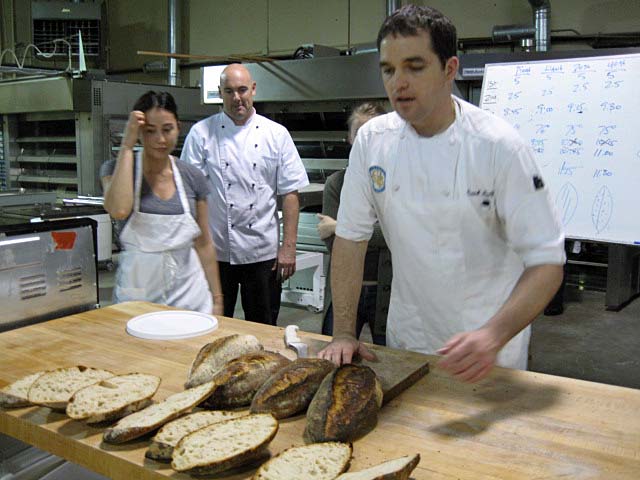 Preparing to taste the breads
In the classroom today, Frank reviewed the application of baker's math to breads made with levains and the SFBI's recommendations for levain maintenance for home bakers. I won't go over the baker's math topic, but I'm sure the recommendations for levain maintenance are of interest to many.
The SFBI staff clearly favors keeping liquid levains and twice a day feedings. They also favor keeping your mother/stock starter at 400-500 g. They say smaller amounts result in poorer flavor. However, they also favor feeding your starter in a manner which minimizes the amount of starter you end up discarding. This is accomplished by determining exactly how much starter to feed to get the amount of levain you need to make your dough and not making too much excess.
For a liquid levain feeding, the recommended formula is:
Flour 100% (75% AP flour + 25% WW)
Water 100%
Starter 40%
Again, it is recommended that you feed every 12 hours and that you do two feeding prior to mixing your final dough.
For a firm levain feeding, the recommended formula is:
Flour 100% (same mix as above)
Water 50%
Starter 50%
For the weekend baker, it is recommended that you feed your levain (liquid or firm) as follows:
Flour 100%
Water 50%
Starter 25%
And refrigerate this immediately after the feeding. Activation prior to baking should done with 2 feedings (as described above) at 12 hour intervals. In other words, to mix a dough on Saturday morning, the refrigerated starter should be fed Friday morning and Friday evening.
Frank told us that all of these recommendations derived from extensive experimentation with different formulas and schedules. SFBI staff believes that they result in the best tasting bread. (Need I say that, if your taste differs, you come out of this workshop knowing just what you need to change to get the flavor you prefer?)
At the lunch break, I asked Frank about the formula for miche in AB&P which violates almost all these recommendations. I have described this previously in my TFL blog. He thought this was interesting enough to provide the answer in the next class session.
Michel Suas' intension with his miche formula was to reproduce a bread as close to the traditional miche as possible, and that required knowledge of traditional French village home baking. In the old days – say 150 or more years ago – home made bread was mixed at home but taken to a communal oven or to the village baker to bake in a wood fired oven. The loaves were huge, by today's standards, because baking was a once-a-week chore. So, after the dough was mixed (before adding salt), a portion was removed to perpetuate the culture. This was fed through the week every day, without discarding any of the growing levain. On baking day, some additional flour and water were added, as well as the salt. But, the bulk of the dough consisted of the built up levain. Little additional fermentation was needed. The resulting loaf was very large, very dense and very, very sour. (Frank describes this with a look of disgust on his face.)
While today's breads were baking, we mixed the levains and scaled ingredients for tomorrow's bakes. We will be baking a variety of breads with levain that were made with commercial yeast during the Artisan I class: A whole wheat bread, multi-grain bread, rye bread and challah. We also fed our "from scratch" starters with which we will make breads Friday.
David