December 13, 2010 - 10:50pm
SFBI Artisan II Workshop - Day 1
The Artisan II Workshop at The San Francisco Baking Institute is all about sourdough bread. The first day of the SFBI Artisan II workshop is spent mostly in the classroom. The instructor reviewed the content of the Artisan I workshop and then introduced basic concepts of sourdough baking with emphasis on starter elaboration and maintenance. At the end of the first day, there is a quick review of baker's math.
In the bakery, we started elaborating a new sourdough culture with which we will be making bread on Friday. We also scaled the dry ingredients and mixed the levains for 4 different breads we will be making on Day 2
Our instructor for Artisan II is Frank Sally. My classmates are a different mix from that of the Artisan I workshop I attended in August. This group is almost entirely professional bakers who have come from Australia, New Zealand and New Jersey, among other exotic places.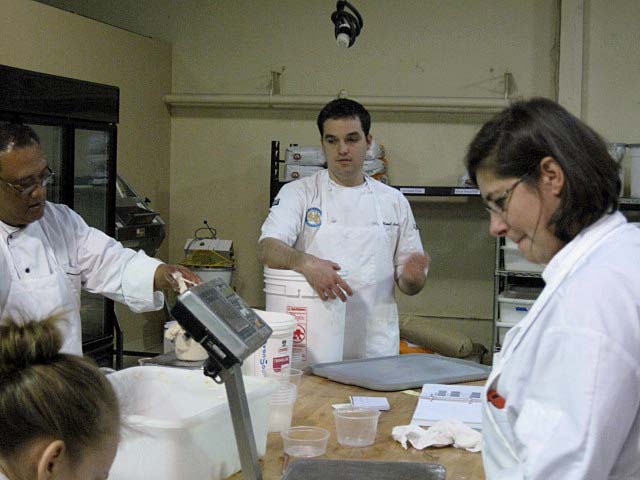 Frank (in the center) and some of my classmates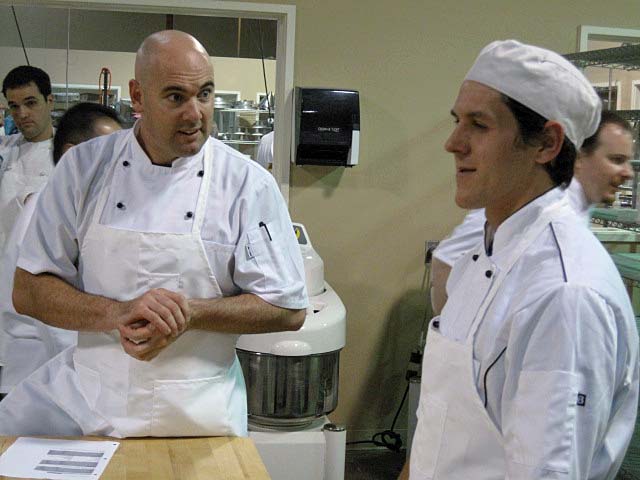 A couple of my bench mates, both professional bakers from Australia (on the left) and New Zealand (on the right)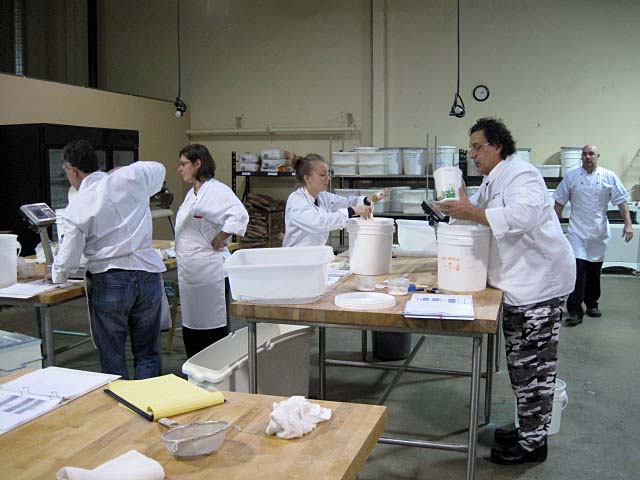 Mixing levains and scaling dry ingredients for mixing final doughs tomorrow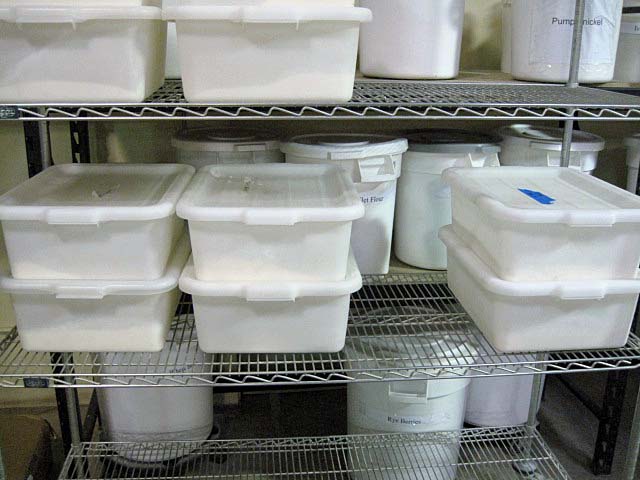 Our scaled ingredients awaiting tomorrows mixes
Much of the material presented today was familiar, but Frank touched on a few concepts which, while not completely new to me, I'd never thought much about.
He spoke of the "mass effect," which occurs during bulk fermentation. He could not tell us the mechanism, but said that there is improved flavor development when the dough weighs more than 2 kg. Most of us home bakers generally work with batches of dough smaller than this most of the time. Evidently, we are missing out on some flavor enhancements by doing so.
Frank described the differing rates of growth of homofermentative and heterofermentative bacteria during sourdough elaboration. The former develop earlier. Moreover, it takes longer for the acetic characteristics to develop in the starter due to the greater volatility of acetic acid compared to lactic acid. This is a factor in the well-known improvement in flavor complexity as a new starter is fed over the first weeks. It takes about 3 weeks for a good stable balance of yeast and the various lactobacilli to develop
These differences also effect the balance of acetic versus lactic acid one can manipulate through differences in feeding schedules. More frequent feedings result favor lactic acid production. So a once a day feeding schedule yields a more tangy starter than a twice a day schedule.
The first set of breads we will be baking will provide comparisons between 1) once a day versus twice a day levain feedings, 2) liquid versus firm starters and 3) breads made with different proportions of starter (relative to the amount of dry flour in the final dough).
Stay tuned!
David