November 26, 2010 - 12:44pm
Pain au Levain with Red Fife Whole Wheat Flour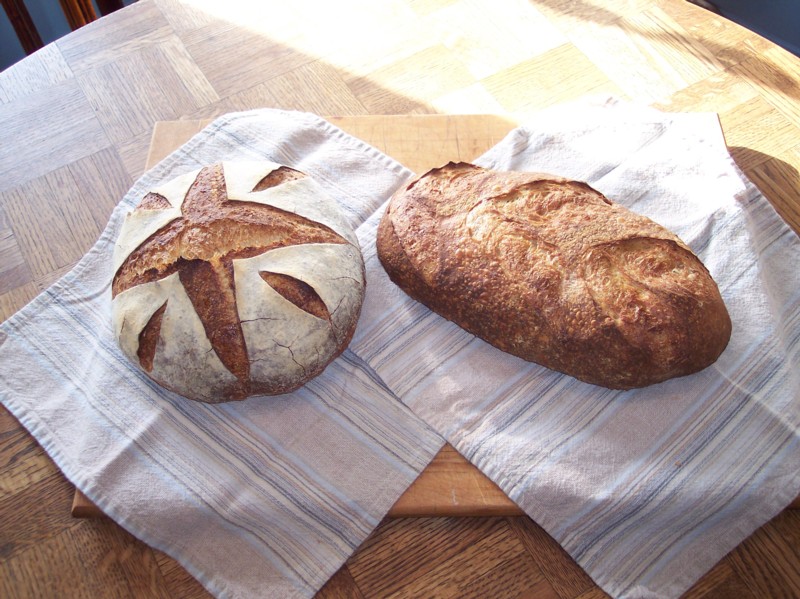 Pain au Levain with Red Fife Whole Wheat Flour
Every year in November Marie and I make a point of attending one of our local Christmas craft fairs in hopes of finding some unique items for gift giving as well as for ourselves. This year the fair had more vendors than I've seen in previous years, with lots of newcomers from various locales in BC as well as Washington state. One of the newcomers was a fellow by the name of Bruce Stewart who owns and operates a craft bakery called True Grain Bread in Cowichan Bay here on Vancouver Island .
When I met Bruce he was handing out samples of his Christmas fruit cake to a group of folks and quickly offered some to Marie and I. Now I'm not usually a big fan of fruit cake but this was exceptional, and superior to any I've had in the past. Bruce is a very genial guy and clearly has a lot of enthusiasm and passion for his craft and product, so the two of us easily fell into a conversation when I mentioned that I was a professional baker as well. At his bakery Bruce mills most of the flour he uses on site, to make a wide variety of breads, including rye, spelt, kamut, emmer, and most interesting to me, Red Fife wheat . Red Fife is one of Canada's premier grains and listed on the Slow Food Organization's 'ark of taste' as Canada's first presidium. For more background on this click the link below.
http://www.slowfoodfoundation.org/eng/arca/dettaglio.lasso?cod=547&prs=PRINT_1192
If you look on the left of the page in the link above you'll find another link to the 'Ark of Taste' which lists all the various foods of countries that the Slow Food Org considers worthy of cataloguing and preserving for future generations. Our TFL members from the USA might find it interesting to note that they have 139 listings for various food groups, more I believe than any of the other nations listed.
While I was chatting with Bruce I noticed he had some bags of flour for sale and asked if he had any Red Fife that I could buy, as I've yet to run across it for sale at any of my usual sources for flour. Bruce smiled and asked me if I wanted the sifted or the whole grain and how many bags. I went with a bag of whole grain Red Fife and a bag of his unbleached organic white , which is one that he doesn't mill himself. I'm kicking myself now for not getting the Red Fife sifted, but it gives me an excuse to take a drive down Island and pick some up at his bakery and maybe get a tour of his shop as well.
Hamelman's Pain au Levain with Whole Wheat Flour was the formula I decided to use the Red Fife in since his formulas are so reliable and familiar to me. First I needed to convert some left over liquid whole wheat starter to a stiff starter using the Red Fife, and then to a levain for the final mix. This took a few days of feedings before it was good and active, and ready for use. I mixed the levain one night before going to bed , intending to use it the next day when I got home from work. Unfortunately Mother Nature had other plans. We've been having some record cold temperatures here on Vancouver Island this last week, making my 70k commute to work in the wee hours of the morning somewhat treacherous. While I was at work my wife called to tell me that another front was moving in and another dump of snow was expected to happen overnight. I decided to stay in town that night rather than try and do the drive back up Island the next morning in even worse road conditions than we already had. Realizing I'd probably have to start over again with the levain was slightly disappointing but preferable to finding myself off the road in a ditch... or worse. The next afternoon I managed to get home without any problems thankfully, and immediately tested the levain to see if it had any life left. Lo and behold it did, popping to the surface of a bowl of warm water I'd placed a few grams in. The rest of the mix went according to Hamelman's directions, but mixed by hand. I'd scaled the mix so that I'd have two 900 gram dough pieces for baking, which I then molded after a 3hr bulk ferment as a batard and a boule, covered with linen, and put overnight on a shelf in our very cold garage to finish a slow rise.
The next morning I checked the loaves and was surprised to find that they'd risen quite a bit more than I'd expected due to an overnight warming of the outside ambient temperature. I could tell the batard was over proofed, but not so far gone it wasn't worth baking off, and the boule looked to be fine in it's banneton. The batard was baked first, on the stone with a foil roasting pan covering it for the first 20 minutes, and the boule was baked using the Dutch oven method. The batard turned out as expected, with low volume and spring, but the boule baked off quite well I thought, with lots of expansion, a good jump, and no wild splits.
To my taste the Red Fife has a certain sweetness to it that I don't find in other whole wheat flours, and which helps to bring out it's rich wheat flavour. Combined with the white and medium rye flours called for in Hamelman's recipe it works nicely to boost the overall flavour of his very good formula. This bread will go perfectly with tomorrow nights meal of red wine braised short ribs and a white bean and tomato gratin that I'm making for our family dinner.
It looks like things are warming up a bit now and the roads are getting back to normal, so with any luck I'll be able to make the drive down to Cowichan Bay to pay Bruce and his bakery a visit sometime in early 2011.
Best Wishes,
Franko