November 29, 2010 - 11:53am
No-Knead. It Sang, It's Tall!! Thanks to Franko
Boy am I happy with this method!  Can't wait to retry all the wonderfully tasty breads I've tried from here and books that I've liked but just couldn't get that spring going.  This is a heavy cast iron DO and I'm small; but no problem at all getting this together.  I did a trial set up to see how it would go and everything balanced so perfectly.  When it was all pre-heated I think I lost less heat from the oven because it loaded (although a little crookedly) quicker than using the pot right side up.  All worked like a charm.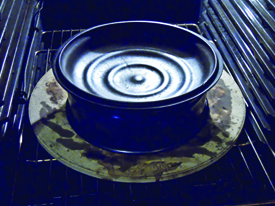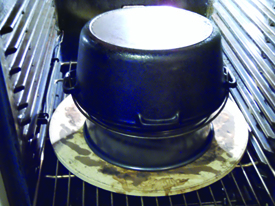 Lid on bottom of springform pan, Dutch oven inverted on top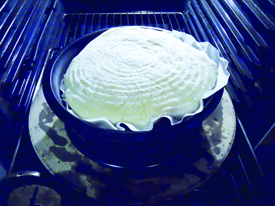 Dough loaded onto DO lid (a bit off center though)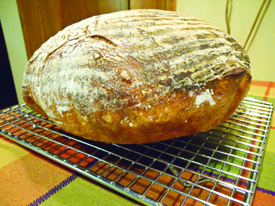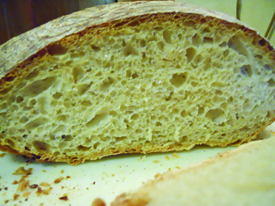 Final loaf and crumb shot, just shy of 3" tall.
Gonna use this method again. Oven's thermometer isn't fixed yet so I could only get 450°.  Wish I could devote to a constant stream of baking time right now, but I've got wallpaper to get up and tons of stuff to unpack yet. No more fretting on the steam methods in this old electric oven, for boules this is the trick in my equipment. Hurrah!
All is very good and... I'm baking on!
Dosi