November 21, 2010 - 2:22pm
Hot versus Cold Dutch Oven Baking: an experiment
The recent discussions regarding baking breads in hot versus cold Dutch ovens - those from "Tartine Bread" in particular - prompted today's experiment.
I made two boules of the Country Rye from "Tartine Bread." One I baked starting in a room temperature enameled cast iron Dutch oven. The other I baked in the same Dutch oven, pre-heated. The breads were identical in weight. They were cold retarded overnight in bannetons and then proofed at room temperature for 2 hours before the first bake. The loaf baked in the pre-heated dutch oven proofed for 45 minutes longer, while the other loaf was baking. The second loaf was baked for 7 minutes longer than the first loaf, to get a darker crust.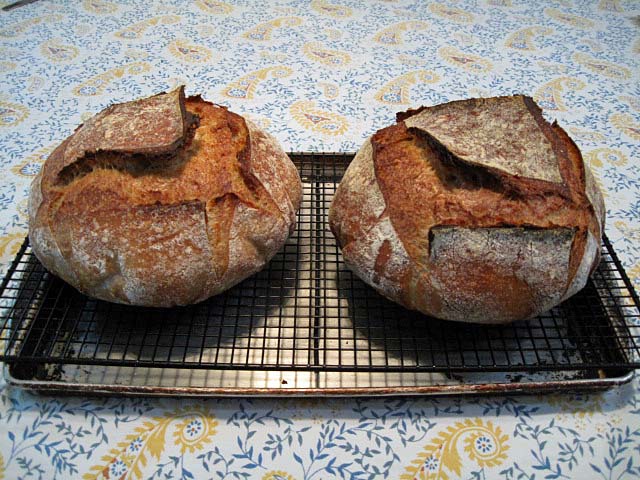 Boule baked in cool Dutch oven on the left. Boule baked in pre-heated Dutch oven on the right.
In spite of the fact that the loaf baked first was relatively under-proofed, the loaf baked second, in a pre-heated Dutch oven, got slightly better bloom and oven spring. I won't be slicing these until next week. They are for my Thanksgiving guests. So, I don't know if there is any difference in the crumb structure.
Overall, I'm happy with both loaves. The differences are very small - arguably of no significance. While pre-heating the Dutch oven does appear to result in slightly better oven spring, the convenience of not having to pre-heat the Dutch oven may be more advantageous for many bakers.
Addendum: Okay. So, I'm weak. I had to try the bread, since it was the firs time I'd baked it.
The crust is crunchy-chewy. The crumb is less open than the "Basic Country Bread," as expected. The 17% (by Robertson's way of doing baker's math) whole rye does make a difference. The crumb is very cool and tender. The aroma is rather sour, but the flavor is less so. The surprise was the prominent whole wheat flavor tone, even though all the WW is in the levain, and it only amounts to 50 g out of a total of 1100 g (my way of doing baker's math). I expect the flavors to meld by breakfast time tomorrow. I think this will make great toast with Almond butter and apricot preserves.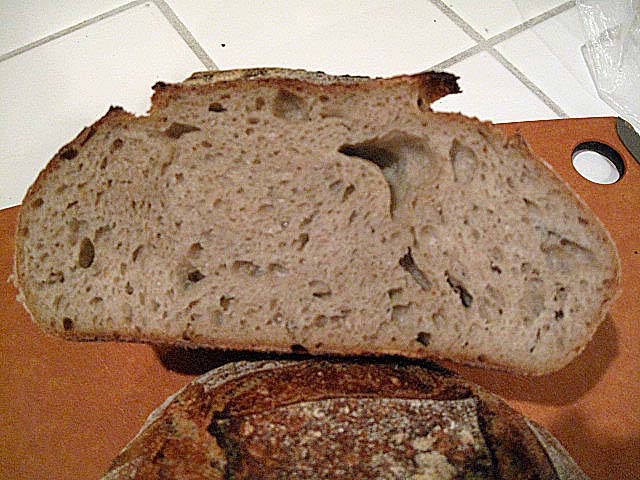 Country Rye, cut loaf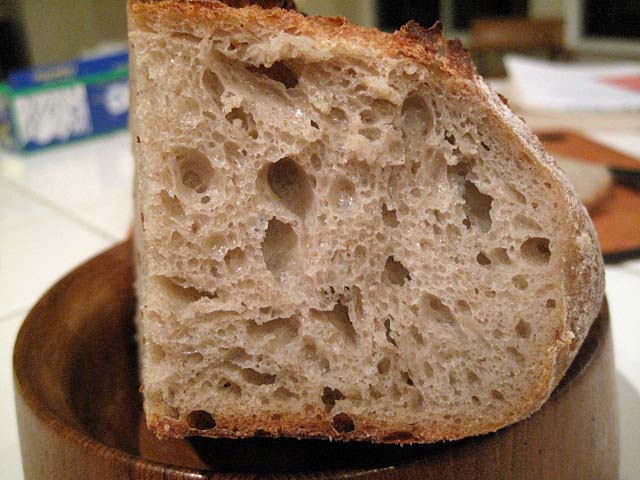 Country rye, crumb
David
Submitted to YeastSpotting