November 6, 2010 - 9:40pm
Basic Country Bread from "Tartine Bread," baked in Dutch Ovens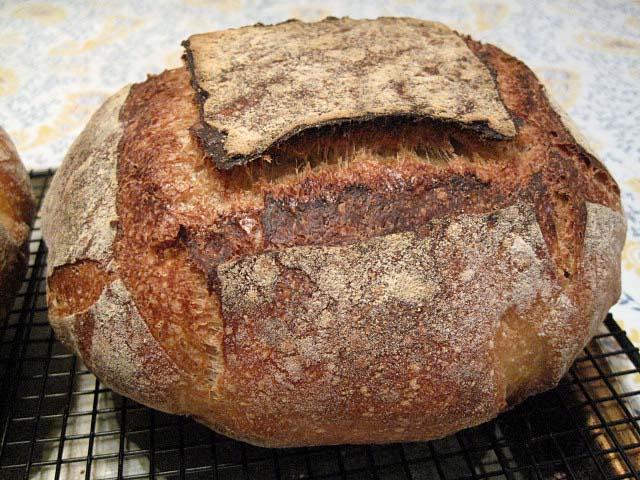 I have made the Basic Country Bread from Chad Robertson's "Tartine Bread" twice before. (See: Tartine Basic Country Bread as Bâtards and Oven steaming using the SFBI method) However, I did not bake the loaves in the cast iron "cloche" that Robertson prescribes. I baked them on a pre-heated baking stone and used the SFBI oven steaming method or the "magic bowl" technique.
Caroline ("trailrunner" on TFL) recently blogged on Vermont Sourdough with Increased Whole Grain from Hamelman's "Bread" which she baked in Dutch Ovens – one cast iron and the other enameled cast iron. Her beautiful loaves finally pushed me to try this method with the Basic Country Bread. (See: David's Vermont SD w/ increased rye ---response to cast iron bake)
Caroline used an heirloom cast iron Dutch oven and a Le Creuset Dutch oven. There was no difference in her results. I decided to try a similar experiment with two other cloches: A 5 qt Copco enameled cast iron pot that was a wedding present (which means we've had it for going on 44 years) and a 4 qt Calphalon anodized aluminum all purpose pan.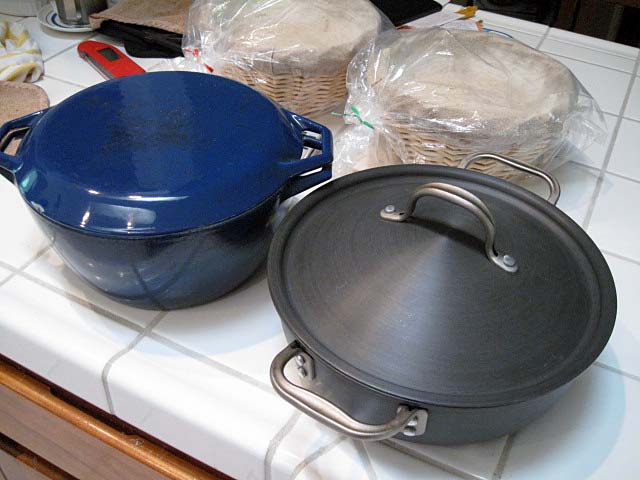 Copco enameled cast iron on the left and Calphalon Anodized Aluminum Dutch Ovens
I made the dough according to Robertson's instructions. I followed Carolyn's well-described method for baking, except that I placed my cloches right on the oven rack, rather than on a baking stone.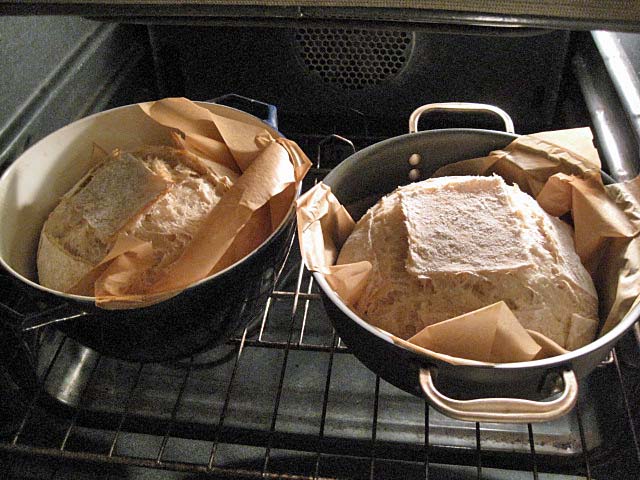 Loaves uncovered after baking 20 minutes covered at 460ºF.
I baked the loaves for an additional 25 minutes after uncovering them to achieve the crust coloration seen below. I think I could have baked a bit longer to get as dark a crust as those in pictured in "Tartine Bread."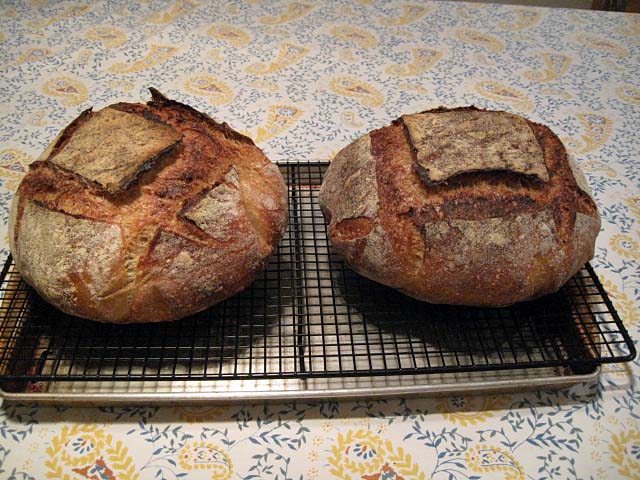 Loaf baked in Copco, on the left, and loaf baked in Calphalon, on the right
Both loaves had great oven spring and bloom. The one baked in the Copco oven had significantly great height, but I don't know whether this had anything to do with differences in thermal properties between the two "cloches" or simply reflects differences in their shape and/or volume. Certainly, there was no significant difference in the crust appearance.
The prolonged high heat did discolor the handles of the Calphalon pan. The Copco interior discolored quite a lot. I don't know if this was from the heat or, possibly, from the parchment paper. Anyone who can share experience with this would be appreciated.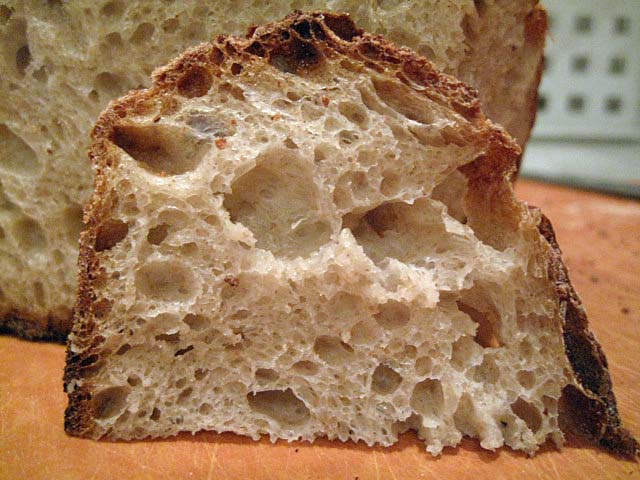 The crust is staying crisp as the bread cools. The crumb is well aerated but less open than that of the bâtards I made. It is tender and has a lovely wheaty-sweet flavor with a mild but definite sourdough tang.
I must say I am very favorably impressed with the results of baking this bread in the Dutch ovens. I think the oven spring and bloom are remarkable and much more dramatic than what I have seen with baking on an oven stone covered with a stainless steel bowl. I'll have to try this technique with other breads, but trailrunner's results with the lower hydration Vermont Sourdough certainly suggest my experience will be repeated.
Thanks for the prompt, trailrunner!
David
Submitted to YeastSpotting