October 29, 2010 - 8:45pm
Pain au Levain with Hazelnuts and Currants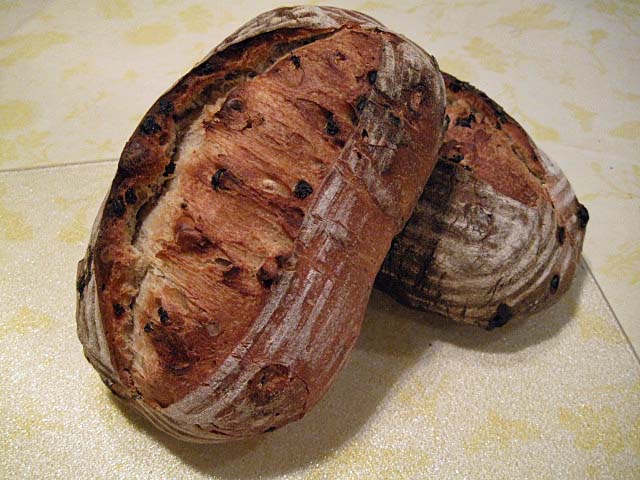 I've been thinking about baking a sourdough nut bread for some weeks. They are so nice plain and with cheese. With lots of family expected for several days around Thanksgiving, I'll want a variety of breads I can take out of the freezer to serve with meals and for snacks. I like to serve sourdough nut breads with hors d'oeuvres.
I thought over the breads with nuts I've made before but decided to try something new: a French-style (not too sour) Pain au Levain with hazelnuts and currants.
I based the bread on Hamelman's Pain au Levain from "Bread." I added about 25% nuts and currants to the dough at the end of mixing and followed Hamelman's procedure for bulk fermentation, proofing and baking.
| | | |
| --- | --- | --- |
| Levain build | Wt. | Baker's % |
| KAF AP flour | 4.6 oz | 93.50% |
| Medium rye flour | 0.3 oz | 6.50% |
| Water | 3 oz | 60.00% |
| Mature (stiff) starter | 1 oz | 20.00% |
| Total | 8.9 oz |   |
| | |
| --- | --- |
| Final dough | Wt. |
| KAF AP flour | 1 lb, 9.8 oz |
| Medium rye flour | 1.3 oz |
| Water | 1 lb, 1.8 oz |
| Salt | 0.6 oz |
| Levain | 7.9 oz |
| Roasted hazelnuts | 4 oz |
| Zante currants | 4 oz |
| Total | 3 lb, 13.4 oz |
Procedure
Mix the final levain build 12 hours before the final mix. Cover the bowl and let it ferment at room temperature (about 70ºF).

Mix all the ingredients except the salt and levain to a shaggy mass. Cover and let rest (autolyse) for 20-60 minutes.

Sprinkle the salt over the dough and distribute chunks of the levain over the dough. If using a stand mixer, mix with the paddle at Speed 1 for 1-2 minutes to incorporate the added ingredients and then with the dough hook for about 6 minutes at Speed 2. There should be moderate gluten development. Add the hazelnuts and currants and mix for another 2 minutes or so at low speed. Desired dough temperature is 76ºF.

Transfer the dough to a lightly floured board and knead briefly to evenly distribute the nuts and currants. Then round it up and place it in a lightly oiled bowl and cover tightly.

Bulk ferment for 2 ½ hours with two folds at 50 minute intervals.

Divide the dough into two equal pieces and preshape as rounds or logs. Let the pieces rest for 20 minutes.

Shape each piece as a boule or bâtard and place en couche or in a banneton. Cover with plastic or a towel.

Proof the loaves for 2 to 2 ½ hours.

Preheat the oven to 500ºF with a baking stone and steaming apparatus in place 45 to 60 minutes before baking.

When proofed, transfer the loaves to a peel, score them and transfer them to the baking stone.

Turn the oven down to 440ºF and bake with steam for 15 minutes, then in a dry oven for another 25-30 minutes.

Transfer the loaves to a cooling rack, and cool completely before slicing.
 

Notes on my baking procedure

To steam the oven, I use a cast iron skillet filled with lava rocks. This is pre-heated along with the baking stone. Right after the loaves are loaded on the stone, I place a perforated pie pan with 10-12 ice cubes on top of the lava rocks.

I start my bake with the oven at conventional setting. At the end of the steaming period, I switch the oven to convection bake and lower the temperature 25ºF.

For this bake, when the loaves were fully baked, I turned off the oven and left the loaves on the

stone with the oven door ajar for 10 minutes.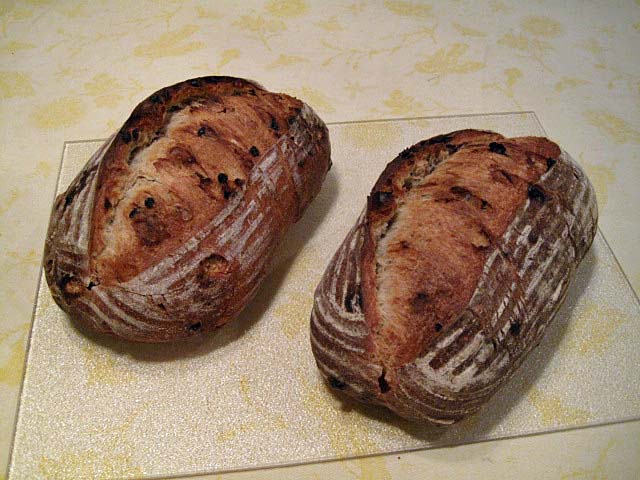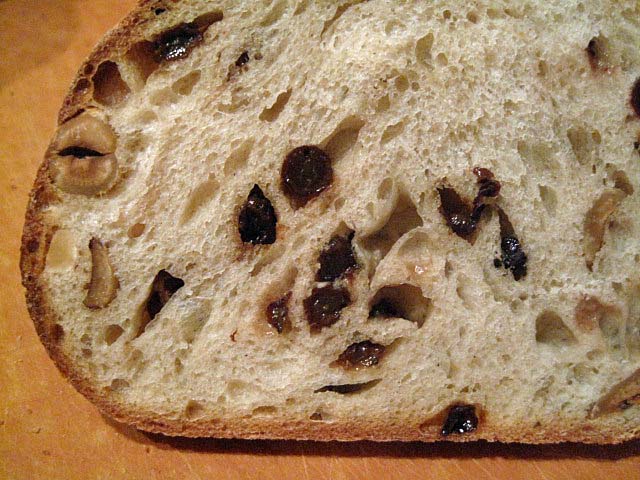 We tasted the bread when (almost completely) cooled. The crust is very crunchy. The crumb was denser than I had hoped, although this is a rather low-hydration bread. My experience with nutted breads has always been that the crumb tends to be less open than expected, so now I expect it.
The crumb was very chewy. The flavor of the bread was lovely, with no perceptible sourness, except for the sweet-sour flavor of the currents. At this point, the bread, nuts and currents each contributes its distinctive flavor. Quite nice.
I'm looking forward to having this bread toasted for breakfast. 
David
Submitted to YeastSpotting