October 19, 2010 - 4:21pm
Oven Steaming - My New Favorite Way
I have been wanting to try this method for sometime and have just been putting it off until today.  Of coarse I had to pick today, my kitchen still in some construction mode after remodeling my shower, it had leaked through on the kitchen ceiling, an appointment with a glass and mirror installer...and today is Mike's birthday, so everything is in a bit of a rush.  I baked a couple of mulitigrain loaves, and upon doing this I decided to try a new method of creating steam in my oven.  I'm convinced the only way I'm going to get steam that's not continually 'vented' out of my oven is by using this method.  This is so much easier for me..a lot less effort to create constant steam.  Pictures are worth a thousand words.
Preheated the loaf pans in my oven one or two 5 1/2" X 9 1/2" dark non-stick loaf pans...I used 2 loaf pans with 2 tightly rolled towels in each pan.
Placed 2 water soaked towels into a 6X10 Pyrex glass dish.  Microwaved them for 1 1/2 to 2 minutes.  Until good and hot.
I removed a pre-heated loaf pan from the oven.  Turned my pre-heating oven onto the Bake mode.
Using Tongs I placed the hot towels into the loaf pan. Placed the pan and hot towels back into the oven
Repeated for the other loaf pan and towels.
Using a 8oz. pyrex cup, I microwaved a 1/2 cup of water until it boiled.  Poured the hot water over the two hot rolled towels in one of the loaf pans.
I then repeated for the other loaf pan.  I covered my glass door with a towel and left the pans in the oven while pouring the hot water over the towels.
More or less water can be added.  I had my towels very wet with a little water on the bottom of the pans.
The oven was pre steamed and steamed.  There was constant steam coming from the towels..  Up to 10 minutes after the pans were removed from the oven, there was still steam present, lots of it.  Photos of this steam.  It's not easy to get photos of steam but I did manage if you look closely at the photo.
This is the first time I have tried this method.  It is so much easier for me and creates that constant steam I have been after, without losing it to my venting oven...there's always steam present until the pans are removed.  I think one pan would work nicely too. 
My bread is still cooling.  Mike and I are off to enjoy the evening out.
            Tongs should have been included in this photo.  A couple of  large multigrain loaves was todays's baking.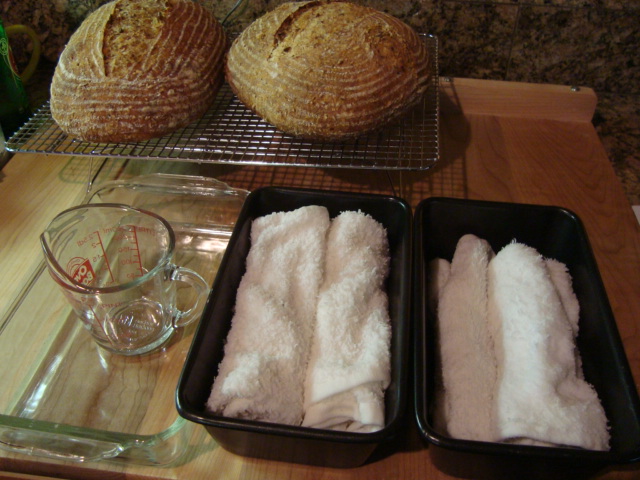 Microwave heating the wet towels in a the pyrex dish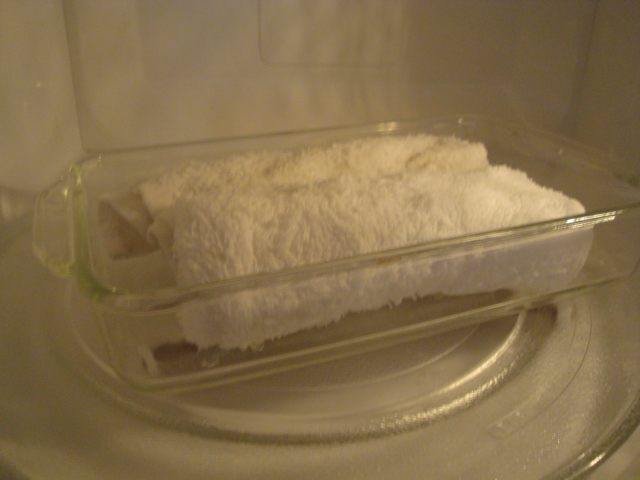 Steaming the oven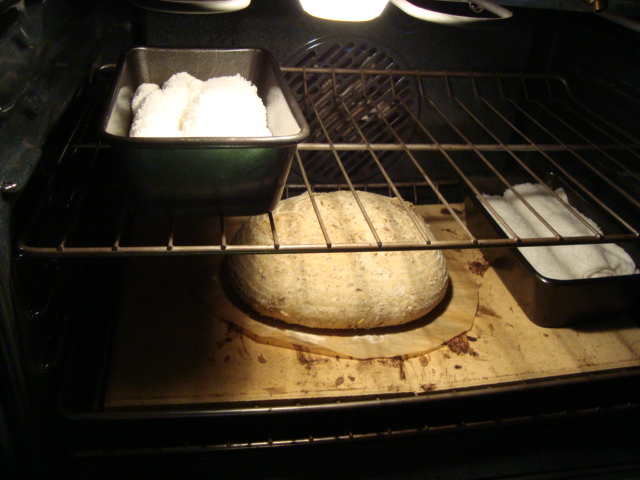 Steam coming from towels, apx. 10 minutes after being removed from the oven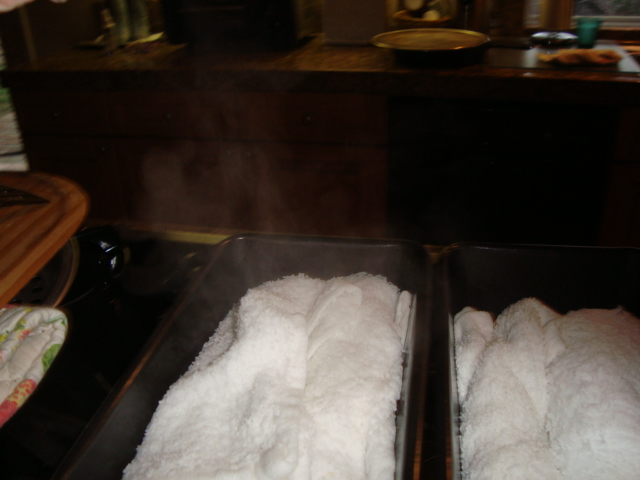 ADDED: A little better photo.  Steam coming from the towels several minutes after being removed from the oven.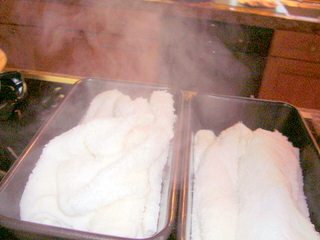 As I said in the post to Larry, there is some scientific reason
why the steam vapors are not as visable in a hot oven..something I think to do with the air being hotter and so the vapors do not show like they do in cooler air...something like that!  But the steam is in the oven, even though you can't notice it as much as you do outside the oven.  I think I will try a little less steam in my next bake.
         Sylvia