November 11, 2010 - 12:53pm
Beard on Bread - Italian Feather Bread w/ steaming by SylviaH
My wife told me this morning that we were having Italian Sausage on pasta for dinner. I said "But I don't have any bread!" I decided to make Italian Feather Bread (which I have made quite a few times, but not lately) and try the steaming technique SylviaH described since I felt my previous steaming attempts were pretty weak. I am also using Better for Bread flour for the first time. (It is Buy One Get One Free at Albertson's this week.)
Beard on Bread - Italian Feather Bread original recipe here.
SylviaH steaming technique is described here.
Here they are in the oven, almost done.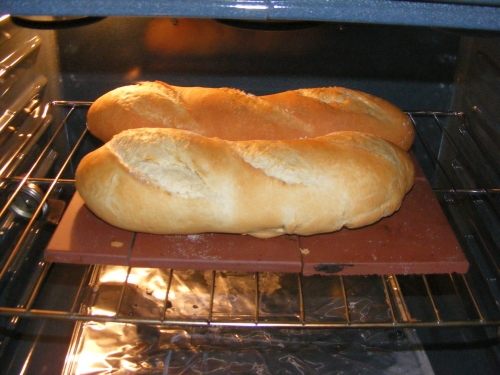 Here are the ingredients I used.
Better for Bread Flour  700 grams
Water (room temp) 414 grams (about 60%)
Sugar 15 grams (about 1 Tbs)
Instant Yeast 13 grams (about 3.5 tsp)
Salt 14 grams (about 2 tsp)
Olive Oil (EVOO) 66 grams (about 1/3 cup)
Process
Combine flour, water, sugar, yeast, autolyze 20 min
Add salt and EVOO, then knead (I did about 6 min in Bread Machine dough cycle)
Rise in oil coated bowl with 3 stretch and folds on the counter every 30 min.
Divide in half, pre-shape, rest 10 min, shape into something (see pics).
Place in couche, seam down. (Couche is Chicago Metalic Italian Bread Pan lined with flour coated microfiber kitchen towels.)
Proof for about 45 mins, preheat oven to 425 with quarry tiles in place.
Heat wet towels in baking dish in microwave.
Put dish with hot towels in oven 10 mins before bread. Add 1 cup hot water.
Roll loaves, one at a time onto peel, slash, mist with water and put on quarry tiles.
Bake at 425 for 10 mins, remove pan with towels, rotate bread, bake for another 20 min.
Turn off oven, leave bread in another 5-8 min.
Let cool on racks.
At least that is what I intended. The 2nd loaf to go in the oven stuck a little to the peel (rimless sheet pan) and was half on/half off of the tiles. I got a couple of metal spatulas and got it back on, but not very straight. Decided to leave well enough alone. Good call.
I was very happy to see the nice oven spring and opening of the slashes when I removed the towels. I am also very pleased with the look of the crust. Much better on all counts than previous attempts.
The main change I made to Sylvia's steaming method was to put all four towels in the baking dish in the microwave at once, and then tranfer the entire dish and towels into the bottom of the oven just before taking the loaves out of the couche. I added the 1 cup of steaming water when I put the bread in. I never saw much steam, but that may because it was warm and humid today in Florida.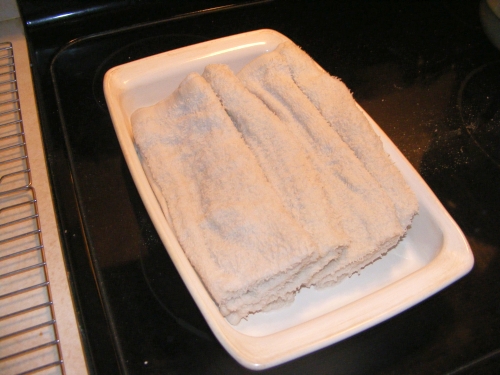 Ear and the required crumb close up, I would guess this is typical for 60% hydration?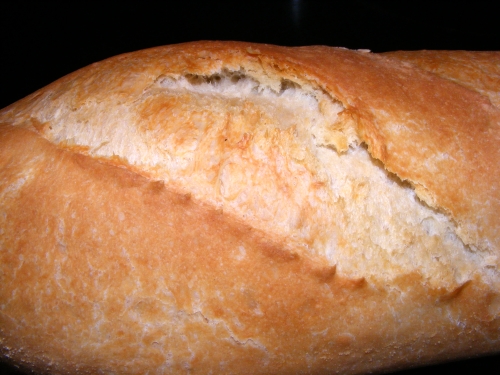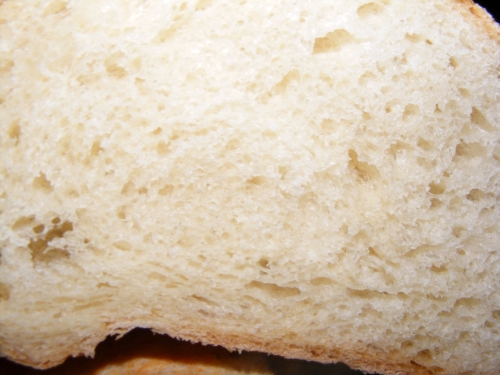 Sylvia, thanks for this technique, I will do it again for sure.
wayne
Submitted to YeastSpotting.