October 17, 2010 - 7:56pm
"Le Waf" Liege Waffles from Lake Tahoe area Eurosnack stands
Hi everyone in TFL-land. I finally created an account after several months of browsing this site. I've been trying to replicate a certain type of Liege waffle at home, but I can't seem to get it right. Has anybody tried Liege waffles from the "Le Waf" stands located all over Lake Tahoe ski resorts? They're eggy, buttery, rich, and coated in a beautiful caramelized sugar crust. I believe they're a lot richer and sweeter than authentic Liege Waffles, and they're ridiculously good.
Here's a photo of the dough resting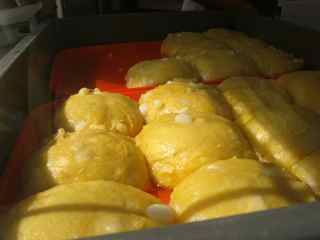 Here's a close-up of the crust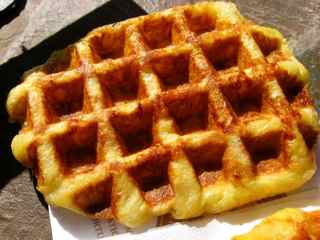 and here's a shot of the crumb: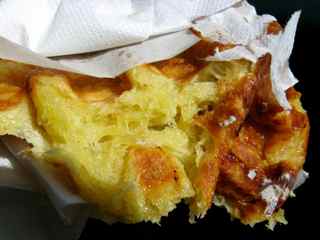 I've tried a brioche-type dough to recreate the texture, but the crumb was too soft and finely textured. I then tried a laminated dough method, which came close to the striated texture, but didn't taste nearly as rich or buttery as the original version. The original tastes like a butter, egg and vanilla explosion. Additionally, I had problems melting the pearl sugar. The latter problem is probably due to the fact that I have a cheap aluminum plated waffle iron that heat-cycles and therefore does not reach the necessary temperature to melt the sugar.
Does anyone have any advice? I'm not sure how widespread Le Waf products are. They used to allow mail orders of their products, but I called their CEO, who says that they're concentrating on their retail stores for now, and that it may take years for them to revamp their mail order business.