October 14, 2010 - 6:41am
Madame Meng's Soft Custard Bread with images
The other day a friend sent me an intriguing recipe and I just had to give it a try.  This bread looks very much like Milk Bread, only it uses a "custard" as a base that is mixed with the dough.  It is ultra soft and squishy.. and my family really went nuts over it.  I did a ton of hunting on the web and only could find it is a Chinese recipe and came from a book that is roughly translated Madame Meng's 100 Recipe Book, or 卡士达超软土司 .  She sounds very mysterious and exotic to me.. and this intrigued me even more!  (When I first did the translation of the book title, I think I used the wrong linguistics tool.  It translated the title to "Bangladesh's 100 Bread Loaves".  Weird... but I laughed, imagining myself lost in China with only my handy dandy translator to get me on the right road!)
I had a couple of concerns with the recipe because of the venacular for some of the instructions.  It called for the bread to be baked in a Pullman Pan, but obviously from the measures, this dough wouldn't make enough to fill a pullman pan.  So, I called a friend of mine who is Chinese and asked her if the term "pullman" could mean a standard bread loaf pan and she guessed it did.  I followed her advice and it turned out to be just right.  The other issue I had was this dough seemed a bit dry as it was coming together in the mixture.  I had to add a bit more water and then all of a sudden, it became way too wet, with just a couple of tablespoons of water.. so I added more flour.  I thought I really messed it up, but it actually turned out perfectly.  The dough I was working with was quite sticky.. so you decide.  It is not intended to be a high hydration dough, but the dough was so dry at first that it refused to come together.  When it did, however, it was beautiful and silky to work with.
Here is the formula.  Would love your feedback on this.  It was truly easy to make, with the exception of a few minor tweaks.  It was a very fun loaf to put together and the taste and texture are outstanding.  We had pot roast last night and it was the perfect accompaniment with the beef gravy.  The rising did take alot longer than I'm used to and the dough is a tad sweet like a dinner roll.  Even though there is 1 tsp of yeast in this small batch, each rise took at least 70 minutes.  The second rise took a full 1.5 hours, but it was well worth the wait.  Next time I think I will double and make dinner rolls or even cinnamon rolls. 
CUSTARD BREAD
Makes 1 small loaf
CUSTARD:
1 large egg yolk
10 grams white sugar
15 grams bread flour
65 grams fresh milk
DOUGH:
250 grams bread flour
30 grams white sugar
1/2 tsp salt
1 tsp instant yeast
15 grams milk powder
100 grams lukewarm water
25 grams unsalted butter, softened
To make the custard:
In a small saucepan add egg yolk, flour, sugar and milk.  Using a wire whisk, stir together all ingredients over medium low heat.  Keep whisking until a paste forms and becomes stiff enough that it no longer drips off the whisk.  Transfer the custard using a spatula to a small bowl and let cool slightly.  Cover with plastic wrap and store in refrigerator for one hour.
To mix the dough and custard:
In a mixing bowl with a dough hook attachment, mix the custard and all dough ingredients except for the butter.  Knead well, keeping an eye on hydration.  Dough should be quite sticky, but pull clean from the sides of the bowl.  When window pane test has been achieved, mix in the softened butter using the dough hook.  Mix butter thoroughly.  Transfer dough to a greased bowl and allow to rise for at least 60 minutes.  Mine took about 70 minutes on the first rise.
Shaping, rising and baking:
When dough has risen, gently fold dough to remove air bubbles.  Divide dough into three balls, dusting lightly with flour.  Cover with plastic wrap and let rest for 10 minutes.  Prepare a standard bread pan by lightly greasing and setting it aside.  Using a rolling pin or your fingers, flatten out the first ball to an oval shape.. about 6-8 inches long.  Roll up jelly roll style and pinch ends and seam together.  Place first roll seam side down in pan on one end.  Repeat with the second and third dough balls, placing each roll into the pan, spaced fairly evenly apart. 
Let rise, covered with a tea towel, in a warm place for at least 60 minutes.  Mine took 1.5 hours, but dough should fill 90% of the pan. 
Set oven to 375 and if desired, brush with an egg wash before baking.  Total baking time is 30 minutes.  Check loaf after the first 20 minutes..  If it is browning too quickly, cover loosely with aluminum foil.  Bake for 10 more minutes.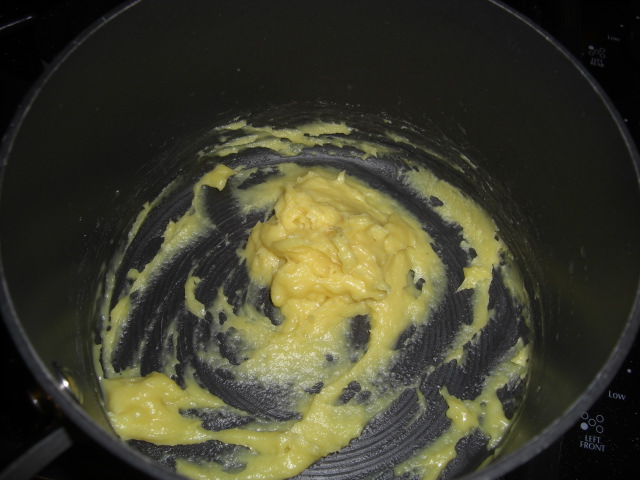 Above is the custard.  Using a wire whisk makes it easy, cook over medium low heat - more low than medium.  After a few minutes, it just seizes up like this.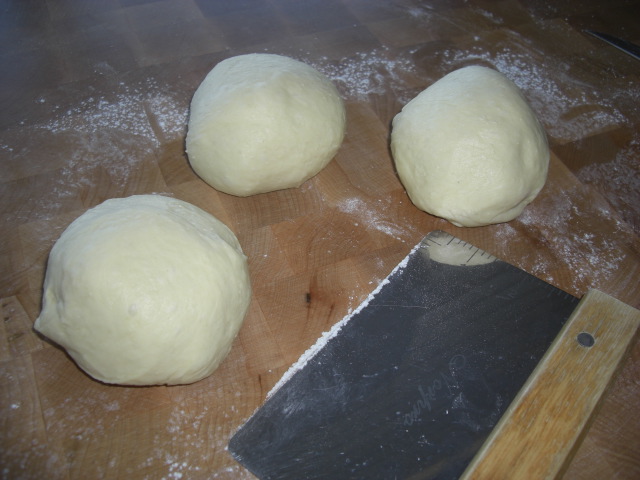 Shaped dough... as you can see, very small!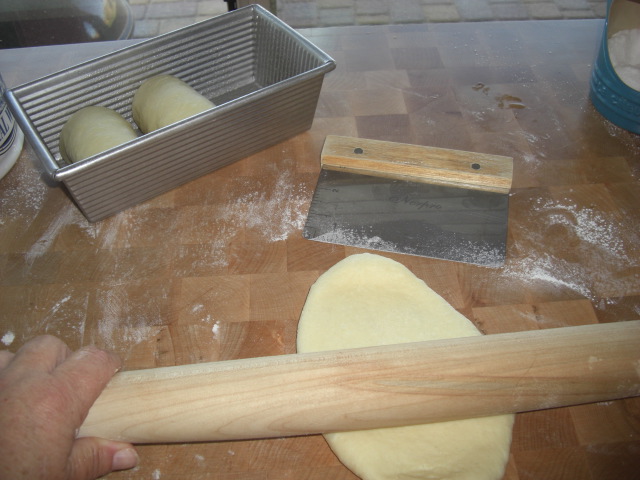 Rolling, shaping and placing in a standard bread pan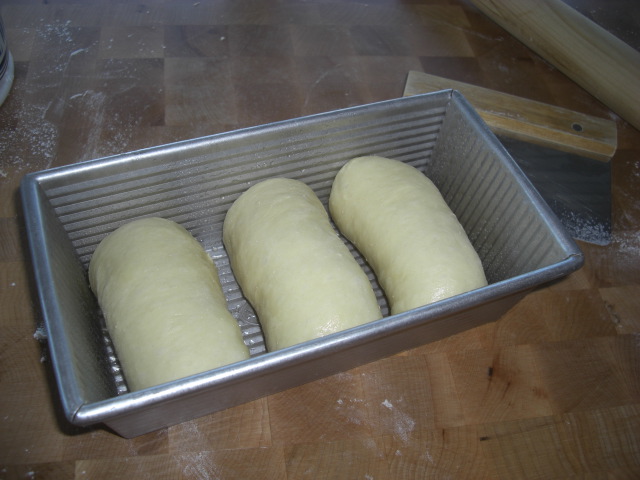 Ready to rise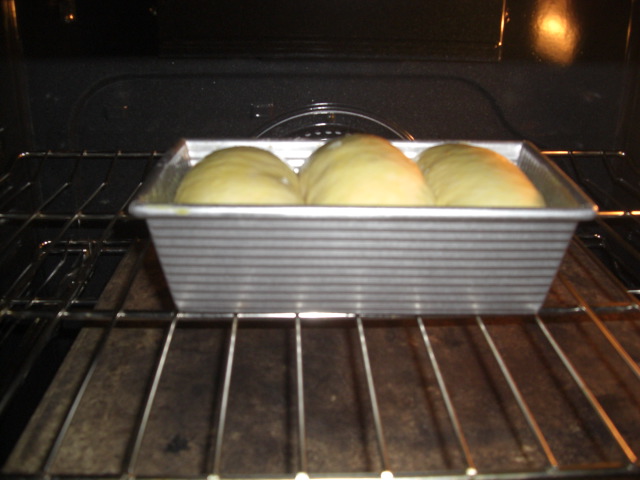 Not much oven spring, I'm afraid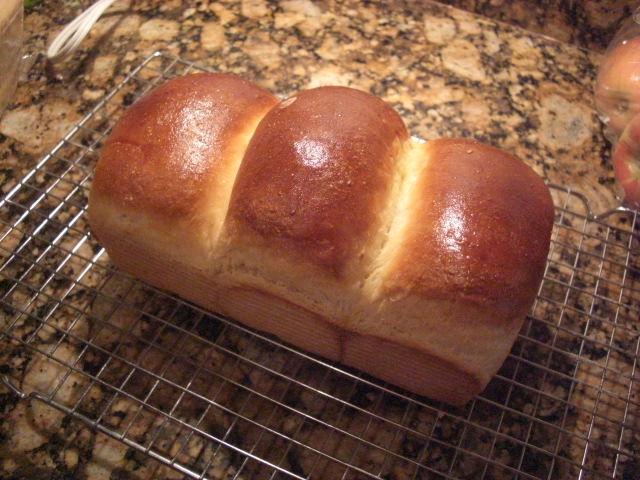 Just out of the oven.  A really cute little loaf!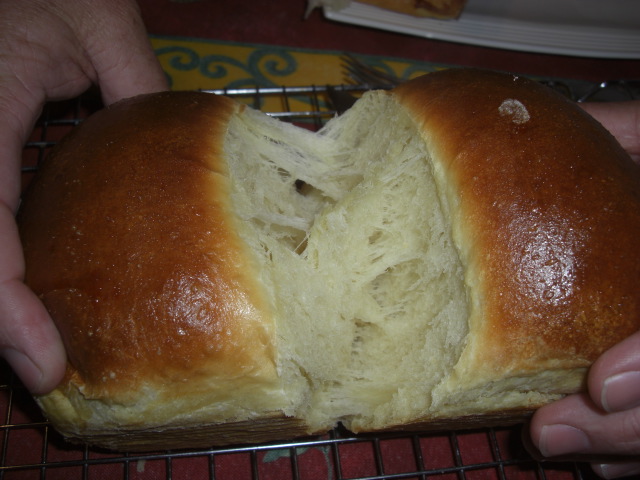 And yes, it was THAT SOFT and squishy!