September 27, 2010 - 10:31am
Tartine Bread, my first "Basic Country Bread"
This past Friday, I received my copy of Tartine Bread by Chad Robertson, a book I awaited with much anticipation.  My wait was not in vain.  But, the story told by Robertson for his search for the "rustic bread of the 'awesome baker' in Bordeaux" in the first 87 pages of this 303 page text is worthy of a future movie.  It is the story of dedication, goal reaching, dreams fulfilled, beautiful settings, the human spirit, and the story of Bread".  I commenced my effort at making the first loaves after having fully read and reread the sections on making the Basic Country Bread. 
I had some starter that had been sitting in my fridge for about 1 week, surprisingly it still smelled sweet with a slight hint of sour.  I had been developing my starter for the last six months and am very familiar with its properties.  I found Robertson's text on the difference between starter and leaven to be illuminating and educational.  Perhaps I'm just dense, but I never understood that starter and leavan are two distinct things.  The texts I've read in the past seemed to use these terms interchangeably.  However, after reading Robertson's text at pp. 71-73, I feel I now comprehend the differences and, more importantly, understand why my past "sourdoughs" were overly sour.  I think this section is a must read for new or neo-new bread bakers who desire to make really good, sourdough bread.  To Roberston, the starter is simply an ingredient, albeit a mixed and developed ingredient, that is used to create the leavan.  The quality of the starter, its age, the length of time that it ferments will all directly affect the leavan and the resulting taste and qualilty of the bread made with it. 
I followed Robertson's direction to the "T" with two exceptions, I think minor, but also point out how a change in the fermenting schedule can affect taste.  The first of these had to do with my starter.  Within 90 minutes of refreshing it with the requisite 50/50 (AP/WW flours) and an equal amount of water, I saw that my leavan was strongly rising and in generally a good, healthy condition.  I realized as Robertson states, that the flour I would use to make the loaves would act as additional feed for the wild yeast I had used to give my starter life so many months ago.  The author would have had me use the starter after it had a couple more hours to grow and subside, I did not wait for it to subside due to final time considerations.  The second change had to do with my final time and temperature ambient for the final rise in the floured bannetons.  My bulk rise occured at 77 degrees for four hours and was slightly cooler than the instructions.  However, Robertson indicates that one can balance the time and temp.  For example, if you aren't able to bulk rise between 78 and 82, then lengthen or shorten the time of four hours depending on whether your real temp is above or below the desired temp.  Because I was off by a couple of degrees from his median "best" temp, I decided to give the dough a couple of extra S&Fs which paid off as you can see from the two sections of dough after cutting them w/ my bench knife.  Also, I had to allow extra time for the final rise because our night time temps here in Oklahoma have been drastically cooler than we've experienced throughout the summer.  Last night's low was 44 degrees.  Roberston's text states the dough should be given a four hour final rise between 78 and 82 degrees, but that if that isn't feasible, then you can retard it  in your fridge for up to 12 hours with the understnding that the "sour" quality will increase as the dough ferments for a longer period.  Because it would have been 4 a.m. for the requisite four hours to pass and also because I would have had to either turn on my heating or keep  the gas oven on to try to keep my kitchen warmer, I decided to let the dough rise in the bannetons near a partially opened window, the bannetons were covered in a heavy, clear plastic bag, so that I could go to sleep and hope that they would not be over inflated when I started my day at 5:45 a.m. 
My gamble paid off because the loaves raised beautifully and the final taste was very mildly sour.  The important thiing that I got from his text is that he provides the guidelines which are not hard and fast for time and temp.  They can be tweaked with the result being that the flavor will be more, or less, sour depending on how you decide to manipulate the time to work for your schedule.  Other than these two changes, i.e., the starter and the modified time and temp changes, I followed his directions with specificity.
His basic loaf has the following ingredients:
700 g water at 80 degrees  (I use spring water.)
200 g of leavan
900 g of flour (800 AP and 100 WW)
(note:  the whole wheat I mill myself from local OK wheat berries; the AP I used is a combination of KAAP and KABF w/ a small amount of KA's European-style Flour, which I added to my flour bin when the bag was almost empty.)
20 g of Morton's sea salt
50 g of warm (100-105) water
(note:  these last two items are added after the first Rest after the dough was mixed by hand.)
Procedure:
Add the water and 200 g of leavan and mix to separate, creating a milky colored water with very few visible bits of leavan.  Add the flour and hand mix until all of the dough has been moistened and no visible dry dough exists.  Rest for 20 minuutes.  Next add the salt and 50 g of warm water.  (Note:  don't just add all of the 50 g of warm water all at once.  Do this gradually because you may not need all of it.  For example, I used a rubber bowl spatula dipped in water to help me mix the dough.  That little bit of water on the spatula made the dough wetter and had I added all of it, I believe I would have had much too wet a dough to do anything with.  So, I thiink the extra 50 is your buffer depending on your local conditions and are not exactly mandatory.)
Here is the process and the results in photographs:
The dough after hand mixing and settling out to rest covered in the garage:
After bulk rising in the garage for three hours, I brought the dough in and put it on a heating pad to try to reach the desired temp of 80 degrees, but had trouble holding it at that constant.  Because I thought the dough possessed good structure, I decided to divide the dough and let it rest before the final shaping.
After a 20 minute rest, I completed the final shaping into boules.  I should add that his textual descriptioin of how to shape was very clear and enabled me to make the best shaped boules I had ever completed.  However, I should add that David Snyder has an excellent blog on shaping that was posted, I believe, just last week.  David provided the foundation and Robertson enabled me to fully comprehend the process of pulliing the skin over the boule and rolling it until the wet dough was encapsulated inside and a drier skin w/ good tension was on the outside.  This enabled the boules to hold their shape during the final rise in floured bannetons (Robertson uses a 50/50 mix of AP and Rice flours).
At 6:00 a.m. the loaves were ready to go into the oven.  Rather than dust the tops (soon to be bottoms of the loaves), I preferred to put parchment paper pre-cut to the size of my dutch ovens.  My oven is a GE Adura which heats slightly cooler than the temp guage, I therefore increased the temp to 515, rather than the 500 called for in the text.  After 20 minutes the top lids of the dutch ovens came off and I moved them around a couple of times for the next 20 minutes to ensure even baking.  Here's the final results.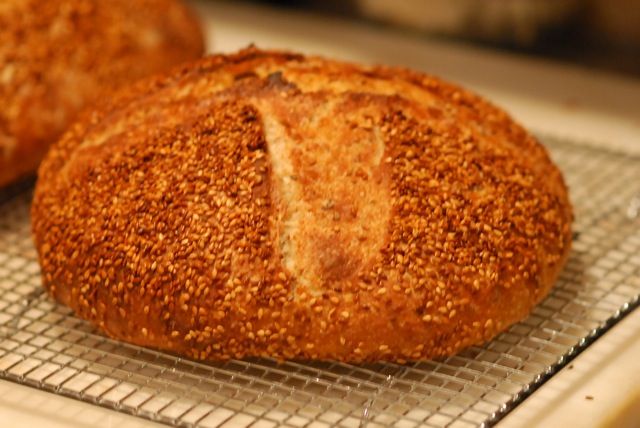 My Crumb didn't turn out as "holey" filled w/ large air pockets, but, I'm very happy none the less.  It is moist, good chewing texture, and it tastes great.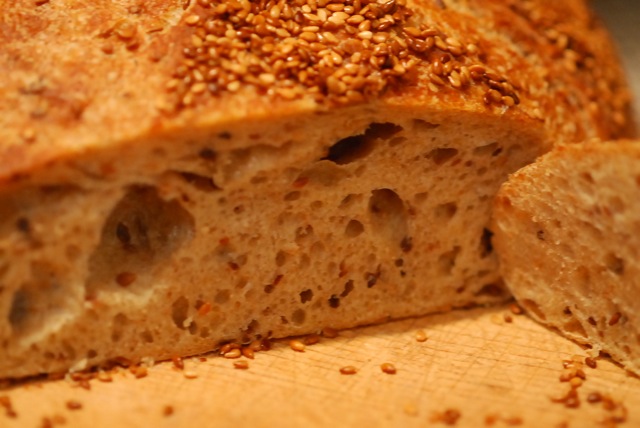 I think the text is great, I love the stories of his test bakers, and the fact that I used  to paiint sea scapes from Inverness on Point Reyes to Point Arena and along Coleman Valley Road for a daily routine from 2000 to 2002 gave me rememberances that added to my enjoyment of Robertson's quest for the idyllic bread.  His text is clear, the photos are illustrative and provide another teaching dimension to this great text.  Although I've only looked at the variant recipes following The Basic Country Bread recipe, I think there are plenty of taste treats to satisfy all of us on TFL.  I recently discovered there is a YouTube video which documents the test bakers and the writing of the text.  If you search Tartine Bread on the TheFreshLoaf,com websiite there is an entry that provides a llink, or you can search YouTube.com for Tartiine Bread and I suspect the link will appear.
Bernie Piel