September 25, 2010 - 10:31pm
Vermont Sourdough with Increased Whole Grain, from Hamelman's "Bread"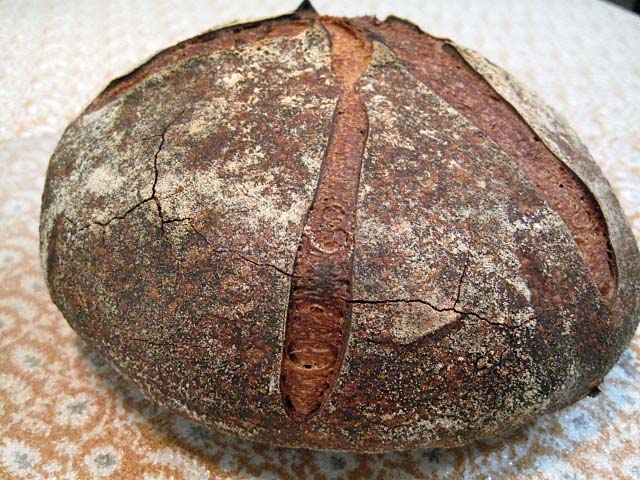 I can't believe six months have gone by since I made Hamelman's Vermont Sourdough with Increased Whole Grains. (See Vermont Sourdough with Increased Whole Grain, from Hamelman's "Bread") I liked it so much the first time, I promised myself I would bake it again soon to see if was consistently so good. So, I forgot about it. I'll blame the NY Baker's test baking pre-occupation of the Summer.
A few days ago, I was thumbing through "Bread," deciding what to bake this weekend, when I re-discovered this formula. A happy moment.
My second bake of the Vermont Sourdough with Increased Whole Grain confirmed the wonderfulness of this bread and my personal preference for it over the basic Vermont Sourdough.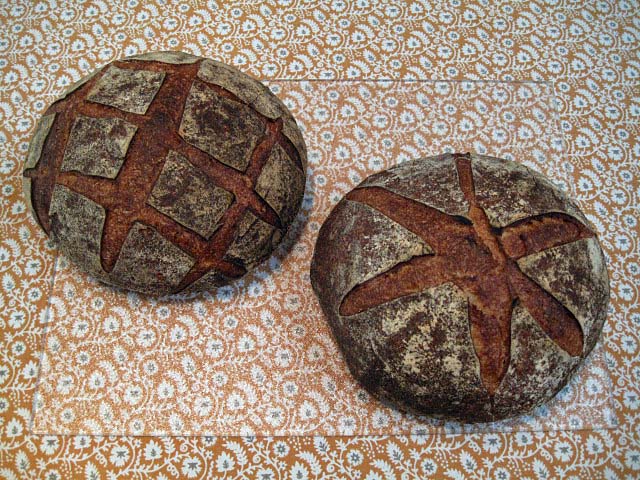 | | | |
| --- | --- | --- |
| OVERALL FORMULA |   |   |
| Bread flour | 1 lb 11.2 oz. | 85.00% |
| Whole Rye | 4.8 oz | 15.00% |
| Water | 1 lb 4.8oz | 65.00% |
| Salt | .6 oz | 1.90% |
| TOTAL YIELD | 3 lbs 5.4 oz | 169.90% |
| | | |
| --- | --- | --- |
| LIQUID LEVAIN BUILD |   |   |
| Bread flour | 6.4 oz | 100.00% |
| Water | 8 oz | 125.00% |
| Mature culture (liquid) | 1.3 oz | 20.00% |
| TOTAL | 15.7 oz. |   |
FINAL DOUGH

Bread flour

1lb 8 oz

Whole Rye

4.8 oz

Water

12.8 oz

Liquid levain

14.4 oz

(all less 3 T)

Salt

.6 oz

TOTAL

3 lbs 5.4 oz
METHOD
The night before mixing the final dough, feed the liquid levain as above. Ferment at room temperature overnight.

Mix the final dough. Place all ingredients except the salt in the bowl and mix to a shaggy mass.

Cover the bowl and autolyse for 20-60 minutes.

Sprinkle the salt over the dough and mix using the paddle of a stand mixer for 2 minutes at Speed 1. Add small amounts of water or flour as needed to achieve a medium consistency dough.

Switch to the dough hook and mix at Speed 2 for 6-8 minutes. There should be a coarse window pane.

Transfer the dough to a lightly oiled bowl and ferment for 2.5 hours with one stretch and fold at 1.25 hours.

Divide the dough into two equal parts and form into rounds. Place seam side up on the board.

Cover with plastic and allow the dough to rest for 20-30 minutes.

Form into boules or bâtards and place in bannetons or en couch. Cover well with plasti-crap or place in food safe plastic bags.

Refrigerate for 12-18 hours.

The next day, remove the loaves from the refrigerator.

Pre-heat the oven at 500ºF with a baking stone and steaming apparatus in place.

After 45-60 minutes, pre-steam the oven. Transfer the loaves to a peel. Score them.

Load the loaves onto the stone and pour ½ cup boiling water into the steaming apparatus. Turn the oven down to 460ºF.

After 15 minutes, if you have a convection oven, turn it to convection bake at 435ºF. If you don't, leave the oven at 460ºF. Bake for another 25 minutes.

Remove the loaves to a cooling rack.

Cool completely before slicing.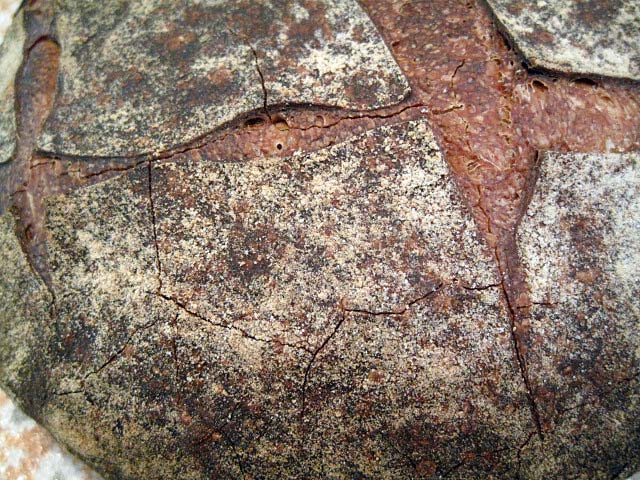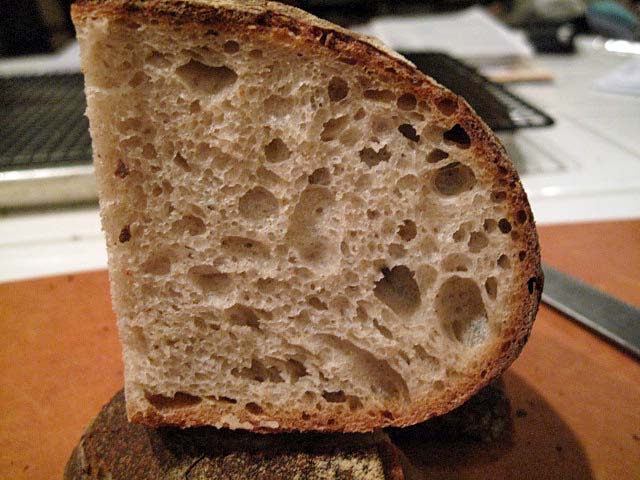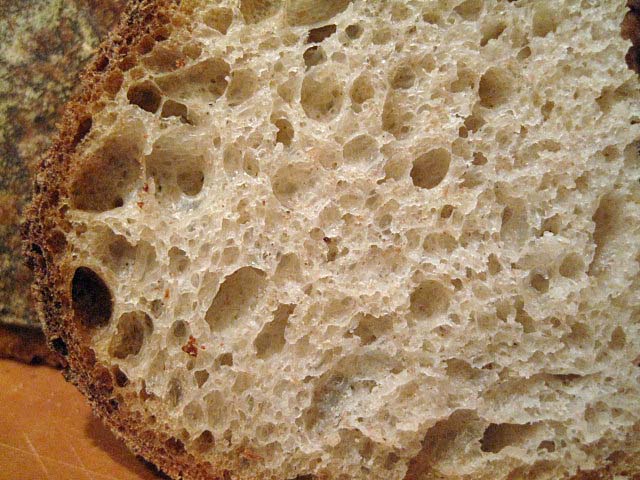 I got the same crackled, crunchy crust and moist, chewy crumb as I did the first time. The flavor was more assertively sour than I remember, which is fine with me. The overall flavor was delicious. The sourness did not detract from the lovely complex wheat-rye flavor that is my favorite.
This is indeed a wonderful bread, and I promise to not let so much time go by between bakes again! I heartily recommend it to those seeking a "more sour sourdough."
David
Submitted to YeastSpotting