English Traditions - Yorkshire Puddings Perfect Every Time!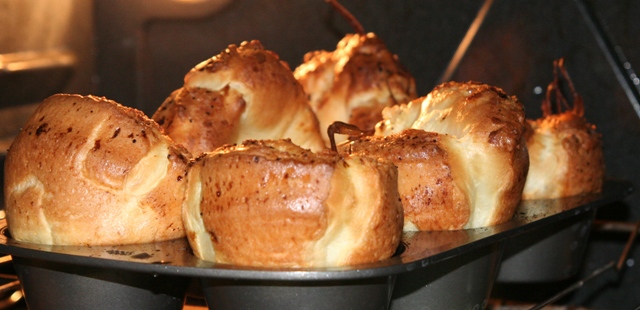 My husband is British born and my Mother-In-Law loves cooking traditional meals even though they have lived on Australia for many years.  Here in the states, it's fun to experiment with different things British and one of my favorite dishes is Yorkshire Pudding.  People guess they are hard to make, but there really isn't anything easier.  We like them for Sunday dinner along with a roasted meat (usually beef) and a bit of gravy to go with it, although many people love these eggy crepe delights for breakfast too.
INGREDIENTS:
Whole Eggs, Milk, Flour and a pinch of salt (more on measurements below)
What is the secret to Yorkshires?  My Mother-In-Law says it's a very hot oven, smoking hot grease/fat and the right mixture of eggs, milk and flour.  She also has another secret that she was hesitant to share until I pressed her about measurements.  She said:
1.  Measure your eggs in a large measuring cup (Usually 4 whole eggs) - REMEMBER YOUR MARK!
2.  Now, measure exactly the same amount of milk as your eggs measured - KEEP REMEMBERING THAT MARK!
3.  Now, measure out exactly the same amount of all purpose flour as your eggs measured. 
In other words, if your eggs measured 1 cup, then you'd want a cup of milk and a cup of flour.  Now you have the three key ingredients for never fail Yorkshires... but there's more!
Using a mixer, blend together the eggs and the milk and add a pinch of salt.  Let that sit on the counter to rest in a bowl for about 10 minutes. 
In the meantime, take out a 12 muffin muffin tin or a 6 popover popover tin.  Pinch off about a pea size bit of beef fat, lard or if you want, you can use vegetable oil (approximately 1/2 tsp in each Yorkie cup.  Veg oil does not impart the roasted meat taste, but it is a decent substitute if you need one.
Now, your egg mixture should have rested long enough.  Now it's time to add the flour, but you'll want to sift it quickly into the egg/milk mixture.  Use your hand mixer and incorporate the flour, egg and milk together well until the consistency is like a thick cream.  Let this mixture rest on the counter for at least 30 minutes or longer.
About 15 minutes before you're ready to bake, preheat your oven to 450 degrees.  Pop in the tin with the fat on the bottom and let it sit in the hot oven until it is starting to smoke.  This takes about 10 minutes. 
Remove the tin and quickly fill each cup about half way.  (Note:  you'll know your pans are ready if you hear the batter sizzle as you pour it in.)  Return the pan quickly to the oven and bake for 20 minutes.  Whatever you do, DO NOT OPEN YOUR OVEN during the baking time.  You can watch the show through the glass in your oven.. after about 8 minutes of baking, your Yorkies will begin to rise and they will emerge from your oven gorgeous, browned and crisp.  Enjoy them!