Sourdough Bread from Advanced Bread & Pastry
I've been baking the San Francisco Sourdough from Michel Suas' Advanced Bread and Pastry frequently over the past few months. It's very good. This weekend, I decided to try a couple of his other sourdough breads.
Right after the formula for "San Francisco Sourdough," Suas gives two other formulas for Sourdough Bread, differing in the levain used. One uses a 100% hydration levain and the other a 50% stiff levain. Both differ from the San Francisco Sourdough in using a smaller starter inoculation for a levain that ferments for 24 hours. This week, I chose to make the one with the stiff levain, which Suas calls "Sourdough Bread One Feeding."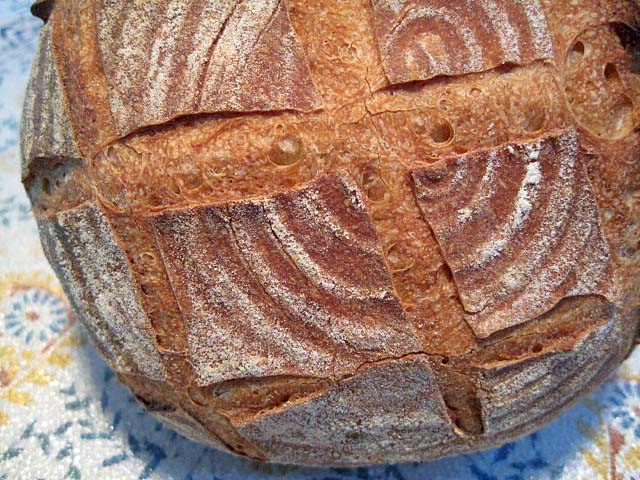 | | | |
| --- | --- | --- |
| Levain Formula | Wt (oz) | Baker's % |
| Bread flour | 3 1/4 | 95 |
| Medium rye flour | 1/8 | 5 |
| Water | 1 ¾ | 50 |
| Starter (stiff) | 7/8 | 25 |
| Total | 6 | 175 |
| | | |
| --- | --- | --- |
| Final dough | Wt (oz) | Baker's % |
| Bread flour | 14 7/8 | 100 |
| Water | 10 7/8 | 72.8 |
| Yeast (instant) | 1/8 tsp | 0.1 |
| Salt | 3/8 | 2.53 |
| Levain | 6 | 40 |
| Total | 2 lb | 215.43 |
Note: The over-all hydration of this dough is 64%.
Procedure
Mix levain thoroughly.

Ferment for 24 hours at room temperature.

Mix the dough ingredients to medium gluten development. DDT 75-78ºF.

Transfer to an oiled bowl. Cover tightly and ferment for 2 hours.

Divide into two equal pieces and pre-shape into balls.

Rest for 20-30 minutes, covered.

Shape as boules or bâtards.

Proof in bannetons or en couche for 90-120 minutes at 80ºF.

Pre-heat oven to 500ºF for 45-60 minutes, with baking stone and steaming apparatus in place.

Pre-steam oven. Transfer loaves to the peel. Score with "chevron" or "sausage" pattern, and transfer to the baking stone.

Steam oven and turn temperature down to 440ºF.

Bake for 30-35 minutes or until done.

Remove loaves to a cooling rack and cool completely before slicing.
Note: My oven has a convection mode and a conventional baking mode. My actual baking procedure is to pre-heat the oven on Convection-Bake to 500ºF. After the bread is loaded and the oven steamed, I turn the oven to the recommended temperature using conventional (non-convection) baking. When the bread has started to color and has had full benefit of the steam, I switch to Convection-Bake again and lower the temperature by 20-25ºF. (This assumes I'm not baking with "falling temperatures," as with some rye breads.)
The loaves were proofed at 80ºF for 2 ½ hours and expanded by 50-75%. I was concerned about the long proofing. One of the boules did deflate slightly with scoring, but I got very nice oven spring and bloom.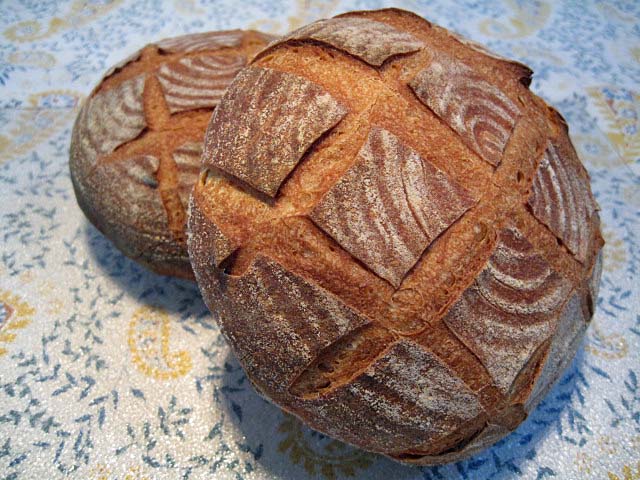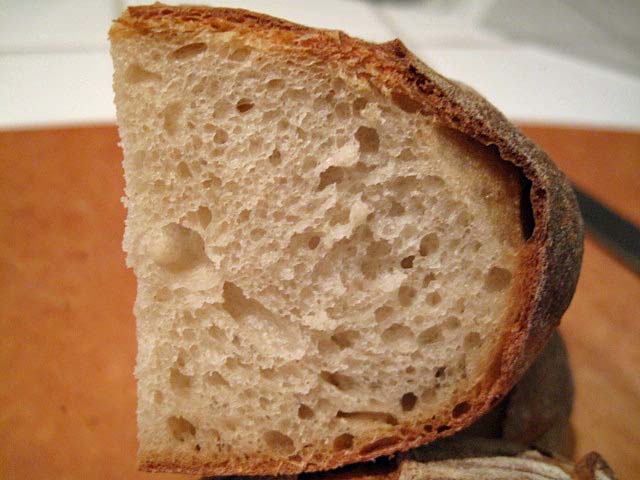 The crust was crunchy and the crumb was soft - not very chewy. (I made this bread with KAF AP flour.) The flavor was sweet and wheaty with the barest hint of sour, and that was of the lactic acid type ... I think. Frankly, I missed the tang and the flavor tones of whole grains, which my preferred breads all have. On the other hand, this may approach the French ideal of a pain au levain, which is not sour in flavor. 
For those who prefer a not-sour-sourdough, I would recommend this bread without hesitation.
David
Submitted to YeastSpotting