Sourdough Rye from Advanced Bread & Pastry
I have some experience baking Jewish Sour Ryes and German-type rye breads. Suas' formula for "Sourdough Rye Bread" (Advanced Bread and Pastry, pp. 212-213) seems to me to be for a French-style "Pain de Seigle," although Suas does not label it as such. It uses a stiff levain identical to the one Suas uses for his "San Francisco Sourdough," but then the final dough is 60% rye flour. Overall, the rye content is 52% of the total flour. The overall dough hydration is 70%.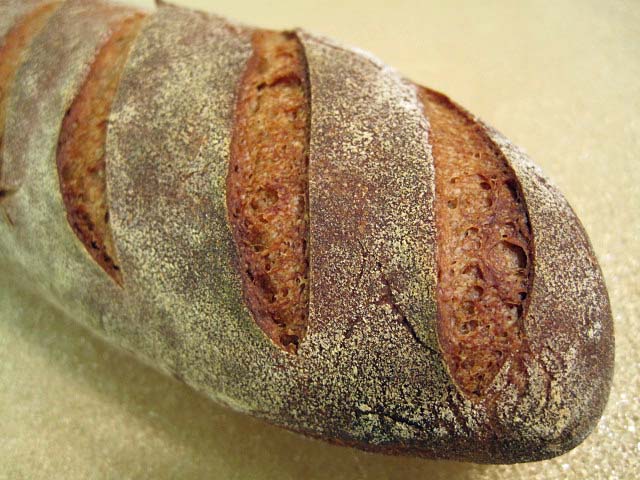 00">

Levain Formula

Wt (oz)

Baker's %

Bread flour

2 1/2

95

Medium rye flour

1/8

5

Water

1 1/4

50

Starter (stiff)

2 1/8

25

Total

6

230
| | | |
| --- | --- | --- |
| Final dough | Wt (oz) | Baker's % |
| Bread flour | 6 | 40 |
| Medium rye flour | 8 7/8 | 60 |
| Water | 10 7/8 | 72.8 |
| Yeast (instant) | 1/8 tsp | 0.12 |
| Salt | 3/8 | 2.53 |
| Levain | 6 | 40 |
| Total | 2 lb | 215.43 |
Procedure
Mix levain thoroughly.

Ferment for 12 hours at room temperature.

Mix the dough ingredients to achieve some gluten development. DDT 75-78ºF. (I mixed for 7 minutes at Speed 2 in a KitchenAid stand mixer.)

Transfer to an oiled bowl. Cover tightly and ferment for 2 hours.

Divide into two equal pieces and pre-shape into balls.

Rest for 20-30 minutes, covered.

Shape as bâtards.

Proof in bannetons or en couche for 90-120 minutes at 80ºF.

Pre-heat oven to 500ºF for 45-60 minutes, with baking stone and steaming apparatus in place.

Pre-steam oven. Transfer loaves to the peel. Score as desired, and transfer to the baking stone.

Steam oven and turn temperature down to 450ºF.

Bake for 30-35 minutes or until done.

Remove loaves to a cooling rack and cool completely before slicing.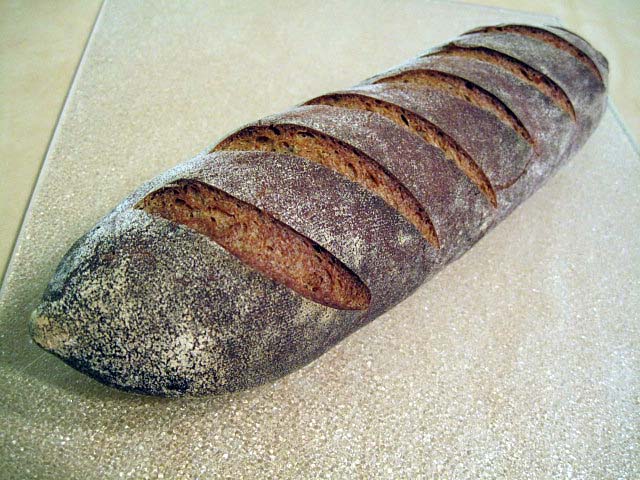 This dough does develop some gluten from the 12.7% protein bread flour used, but it otherwise handles like a high-rye bread. The dough is clay-like and sticky, although less so than if it had had higher hydration. It was easy to shape with a light dusting of flour on the board.
The loaves expanded by no more than 50% after over 2 hours proofing at 80ºF on a couche, and they had modest oven spring. The cuts opened up nicely, considering.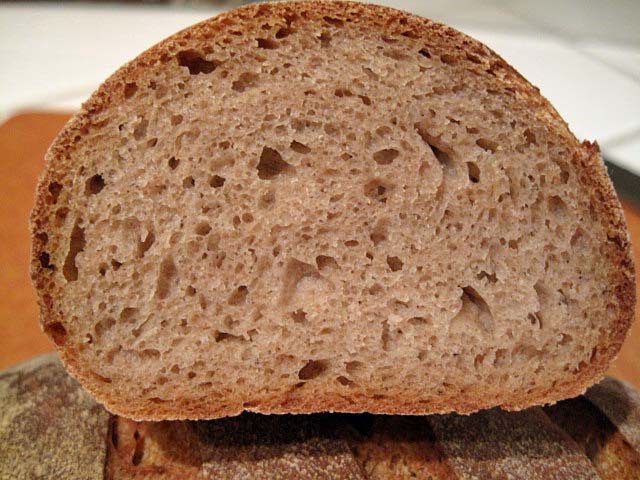 The crust was hard and crunchy. The crumb was soft and moist. This is a pretty thin loaf - marginally bigger than a baguette. The ratio of crust to crumb is relatively high with a marked contrast in texture, which makes it quite interesting in the mouth.
The flavor is mildly sour with a sweetish, earthy rye flavor. Very nice. The French prefer this type of bread with smoked meats, soft cheeses and fish. We are having salmon for dinner tomorrow, and I have a nice Laura Chanel Chevre in the fridge. This rye should be delicious with both.
David
Submitted to YeastSpotting