Gosselin Baguette with Cold Retardation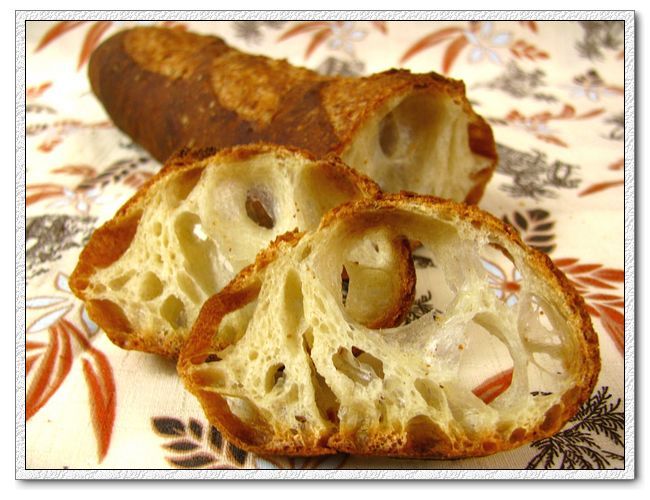 Ever since Don introduced the method to combine cold retardation and gosselin baguettes, I have been eager to give it a try. David's successful try adds fuel to the fire. First I made the original Gosselin baguettes just to compare, it was delicious. Howver my first attempt with the cold retardation version ended up with an overflowing bucket in the fridge - yup, I forgot to reduce the yeast and used a container that's too small. I probably couldn've salvaged what's left in the container, but I didn't, I was too busy wiping my fridge.
This time I reduced yeast to 3/4tsp (Don added to his original post that he used 1/2tsp of yeast, but I didn't see that until ... now. Oops. Sort of decided on the # of 3/4tsp randomly, luckily it's close enough to Don's 1/2tsp.), used a combo of KA bread flour (25%) and GM AP flour (75%), kept the hydration at 75% exactly. The rest is exactly like Don's formula and everything worked out well.One thing I noticed immediately is that even though I baked them as how I bake all my baguettes, these come out MUCH darker. Is it because the long autolyse and long cold retardation brought out more sugar in the flour? They sang loudly coming out of the oven.
I used more AP flour in this batch than the original Gosselin baguettes, which means the dough's even more soft. Channeled David and the chickens, scored with an angle, got ears, however tiny, but there they are!
open crumb, comparable to original Gosselin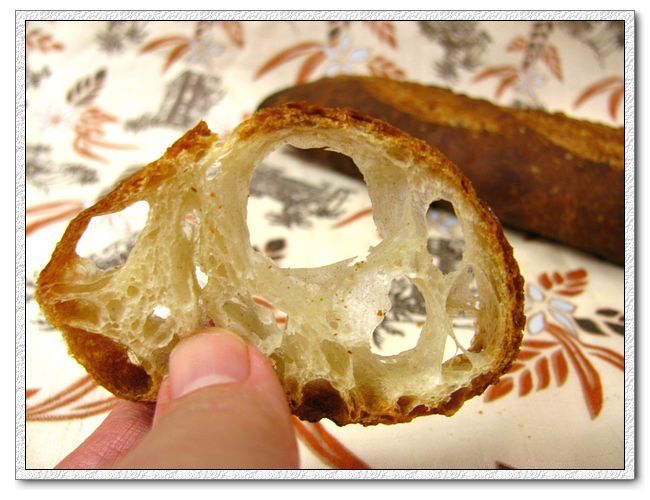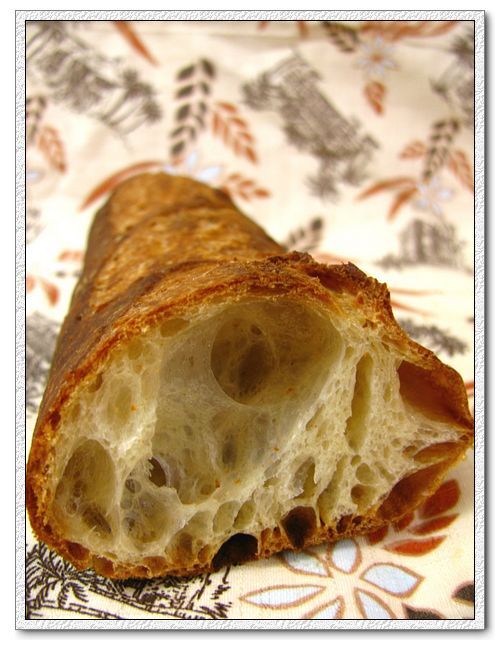 Here's what's unexpected about this bread:I would've thought after such a long time in the fridge (36 hours), the dough would lose some of the gluten due to too much proteolysis, especially for a dough that's mainly AP flour. However, it's the opposite. It felt MORE elastic than the original Gosselin dough during preshaping and shaping, in fact, they are so elastic that I had to fight a bit to get them to the proper length. Anyone has a good explaination? Does proteolysis activity slow down a lot at low temperature? Anyway, these baguettes are very flavorful, less sweet than original Gosselin, but more "complex".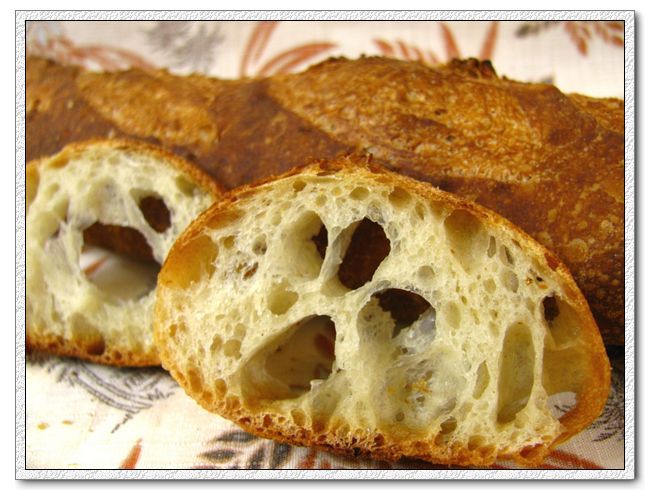 Thank you Don for sharing with us such an innovative recipe, it was fun to make and delicious to eat.