Baguettes a l'Ancienne with Cold Retardation
My first post in April of last year was about a side by side comparison of two of my favorite baguette formulations by Philippe Gosselin and Anis Bouabsa that David Snyder had previously published here on TFL. It was a tough choice to decide which one was better. The Gosselin baguette had an unequaled sweetness due to the overnight cold autolyse and the Bouabsa baguette had an incredibly complex taste due to the cold retardation. I was thinking why not have the best of both world so I started to experiment with combining the two formulations. After a couple of tries, I have succeeded in making a baguette that has the best attributes of both.
Yesterday, at the request of my wife, I made a batch of Baguettes a l'Ancienne with Cold Retardation for her monthly Book Club Party. The formulation follows David's transcription of Gosselin's Pain a l'Ancienne with a few slight variations. I have to clarify that this is not the formulation that Peter Reinhart and Daniel Leader had adapted from the original Gosselin technique but the true ice cold overnight autolyse method that David had published. After the overnight autolyse and the incorporation of the reserved water, yeast and salt the next morning, instead of bulk fermenting, shaping and baking the same day, I partially bulk ferment the dough at room temperature for 3 hours then retard it in the refrigerator for 18 hours before shaping and baking. I use a mix of 94% King Arthur Organic Select Artisan Flour (11.3% protein) and 6% Bob's Red Mill Organic Dark Rye Flour with 70% hydration. I also reduce the yeast amount by 2/3 because of the extended fermentation. Here are the results: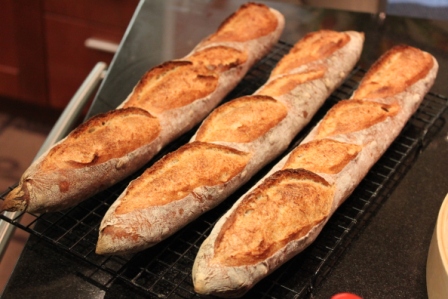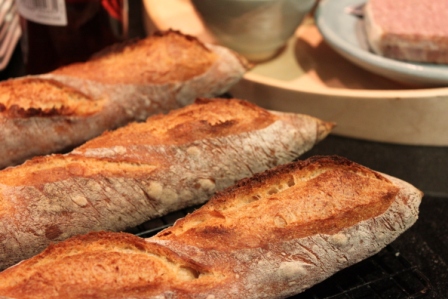 The crust has nice caramelization from the extra sugar produced by the long cold autolyse.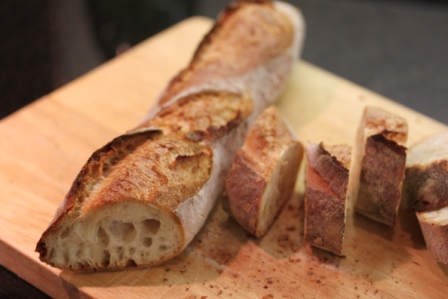 The crumb is open and soft with a slight chewiness. The taste is sweet and nutty with a complex aftertaste.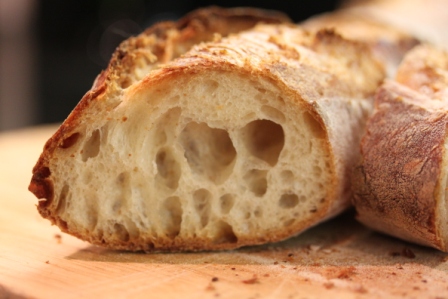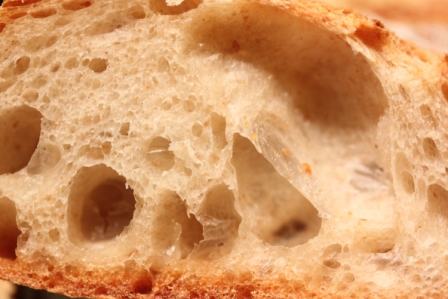 The crumb is medium thin with nice crunchiness and the crumb shows good translucent gelatinilization.
P.S. Following a number of requests, here is the entire formulation.
Formulation:
 Flour Mixture:
- 470 gms Unbleached AP Flour
- 30 gms Dark Rye Flour
- 300 gms Ice Cold Water
 Dough
- 10 gms Sea Salt
- 1/2 tsp Instant Yeast
- 50 gms Cold Water
 1- Mix flour blend and ice water w/ flat beater for 1 min. and refrigerate overnight.
 2- Add yeast and water and mix w/ flat beater for 3 mins or until all water has been incorporated. Add salt and beat for 3 mins or until dough slaps side of bowl.
 3- Let rest 15 mins and do S&F 4 times at 30 mins intervals (1 1/2 hrs total) and 2 more times at 45 mins  intervals (1 1/2 hrs total).
 4- Refrigerate for 24 hours.
 5- Divide dough in 3 and gently pre-shape in torpedo shape. Let rest 1 hr.
 6-Gently shape baguettes and proof on linen couche for 45 mins.
 7- One hour before baking, preheat oven to 490 degrees f w/ baking stone and cast iron skillet filled w/ lava rocks.
 8- Mist sides of oven then slash baguettes 4 times and transfer baguettes to baking stone in oven. Immediately pour 2/3 cup boiling water on lava rocks.
 9- Reduce oven temperature to 460 degrees f and bake 10 mins.Remove cast iron skillet, reduce temperature to 430 degrees F and bake for another 10 mins on convection mode.
 10- Remove baguettes from oven and let cool on wire rack.
Happy Baking!
Don