Sourdough Challah w/Shallot & Poppy Seed
I was so inspired by Beth Hensperger's recipe for making a 'Shallot and Poppy Seed Braid' it's in her book 'Baking Bread Old and New Traditions'.
I love the sourdough challah by M.G. and the recipe is posted on dmsnyder's blog Here.  It's a wonderful recipe and I'am thankful to David for posting it as I have not yet purchased M.G. book. I have made a sweet version with golden raisins that is posted on my blog Here and now wanted to try it with a savory touch.  With summer approaching I thought this bread perfect and it's described under 'Picnic Breads' in B.H. bread book.  I used the recipe she posted for the filling.  The recipe for the bread in B.Hensperger's book is a one day enriched bread that sounds and looks delicious.  I haven't made it yet but I can tell just by looking it has be fantastic.  I have been wanting rustic, savory and summery breads.  This is a great tasting combination!
My first go at this combination and will definately be making it again.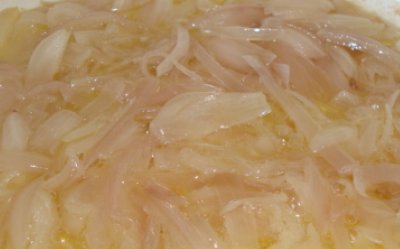 The filling of Shallot and Poppy Seed
1.   4 TBsp. unsalted butter
2.   2 TBsp. olive oil
3.   2/3 cup (about 6 medium to large) chopped shallots -  I thinly sliced mine
4.   2/3 cup (4 small) chopped white onions -  I used all Shallot's - they were plenty sweet after the saute with butter and oil
5.   3 TBsp. grated Parmesan cheese 
6.   5 Tbsp. poppy seeds
I highly recommend to increase these measurements a little so you can eat some and there's enough left for the two loaves!
Egg Glaze -  I used one egg with 2 TBsp. water - dash of salt would be nice though I didn't add it.
1 TBsp. poppy seeds for sprinkling
While your dough is rising prepare your filling -
In a medium skillet or saute pan, melt the butter and oil.  Add the shallots and white onions.  Saute until just limp and translucent but not browned, or the filling will be bitter.  Remove from heat and stir in the cheese and poppy seeds. Set aside to let cool to room temperature.
Try not to eat to much...it's addicting!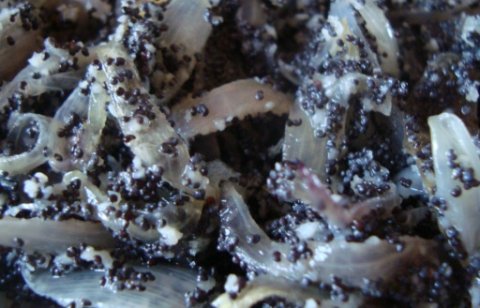 I used a 3 rope braid.  To fill two braided loaves -  roll each section into 3 to 4 inch wide strips and carefully spread the filling down the center leaving about a one inch margin of dough all the way around.  Fold over the edges and pinch them together, encasing the filling.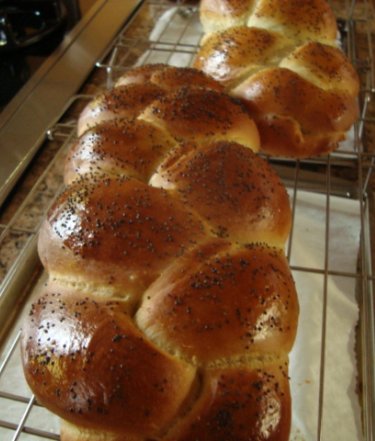 Savory and very delicious with all kinds of good flavors going on and even a little added crunch.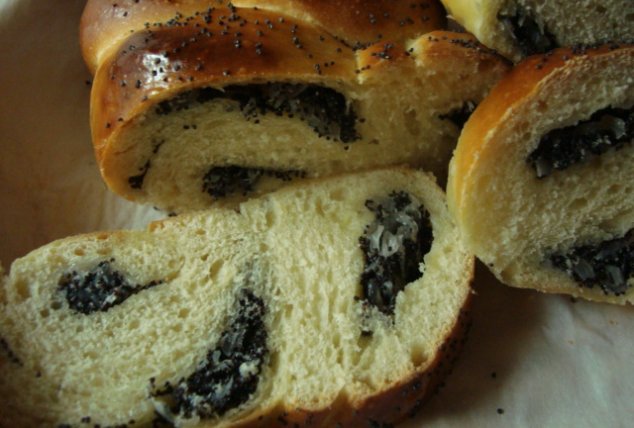 Beth Hensperger has a 'Picnic Menu' to go with her bread..it would be fabulous with this sourdough version.
                  Beet, apple, and endive salad
                  Cold roast Cornish hens stuffed with grapes and garlic
                  Pecan tartlets
                  Chilled sparkling wine 
                                                                  Submitted to Yeastspotting  
Sylvia