San Joaquin Sourdough - Still a favorite
It has been a few weeks since I last made my San Joaquin Sourdough. I had become so enamored of breads made with the Gérard Rubaud flour mix, I was starting to wonder if I would still like the flavor of the San Joaquin Sourdough as much as I had. Well, I do.
Yesterday, I made the breads with a 73% hydration dough and divided it into two 250 gm ficelles and one (approximately) 500 gm bâtard.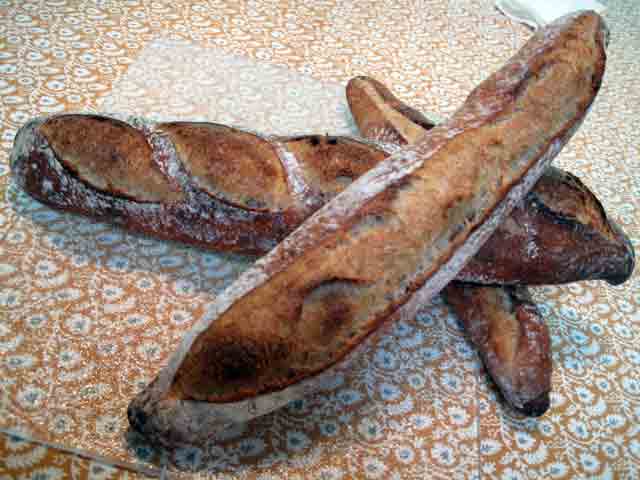 | | | |
| --- | --- | --- |
| Ingredient | Wt. (gms) | Baker's % |
| Active starter (75% hydration | 100 | 20 |
| WFM 365 Organic AP flour | 450 | 90 |
| BRM Dark Rye flour | 50 | 10 |
| Water | 363 | 72.6 |
| Salt | 10 | 2 |
Procedure
The night before baking, feed the starter at 1:3:4 ratio of seed starter: water: flour.
Mix all the ingredients and allow to rest, covered for 20-60 minutes.
Stretch and fold in the bowl for 30 strokes, three times at 30 minute intervals.
Transfer the dough to a clean, lightly oiled bowl and cover.
After another 30 minute rest, stretch and fold on a lightly floured board. Replace in the bowl and cover.
Rest for 30 minutes, then repeat the stretch and fold, and replace the dough in the bowl.
Refrigerate the dough for 21hours.
Take the dough out of the refrigerator and immediately divide and pre-shape it. Cover the dough with plasti-crap or a towel and let it rest for 60 minutes.
One hour before baking, preheat the oven to 500ºF, with a baking stone and steaming apparatus in place.
Shape the loaves as desired and place on a floured couche. Cover the loaves.
Proof for 45 minutes.
Pre-steam the oven. Transfer the loaves to a peel. Score them as desired and transfer them to the baking stone. Steam the oven.
Turn down the oven to 460ºF and bake for 12 minutes. Then remove the steam source.
Continue to bake until the loaves are done. (20 minutes for the ficelles. 30 minutes for the bâtard.)
Transfer the loaves to a cooling rack and cool completely before slicing.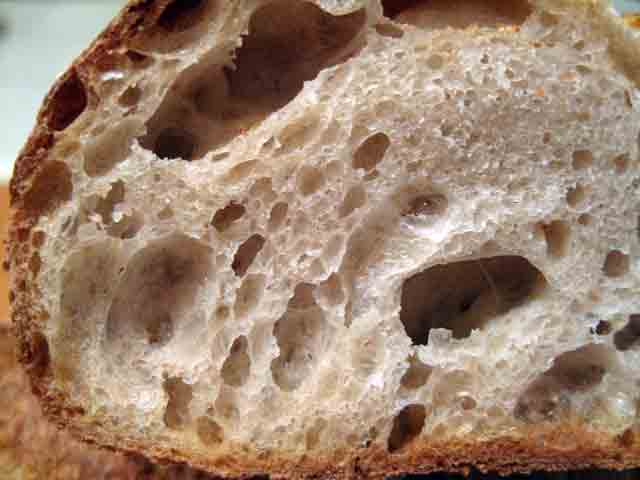 The crust was nice and crunchy, and the crumb was pleasantly chewy. The flavor was wonderful, as always. There is no perceptible rye flavor, but the rye adds to the overall flavor complexity. This batch had more of a sourdough tang than usual, which we like.
David
Submitted to YeastSpotting