Artisan Bread Five Minutes A Day first loafs
This morning I made two batards from the recipe, tweaked a bit.  One of the things I did was replace 100 gr of AP with semolina. I like the taste of semolina and it comes thru.  One I put a little rice/AP mixture and slashed, the other after putting the mix on, brushed with egg white/water and put sesame seeds on, right before putting in the oven. Both rose OK, the sesame one collapsed a little in the middle, and either the cut was off which is what I think, or the egg wash being very cold deflated it a bit, as once before happened to me with a different formula.  On that one it deflated the dough a lot.
I used the pre-heated stove/stone, put dough on stone and covered with a warmed only by hot water SS bowl method.  Baked for 10 minutes, covered and then baked for 14 minutes more.  It worked OK, well better than that probably. I'll know more tomorrow after I've eaten more. I just wonder how much better it would taste, if at all, with the water in the hot pan to make steam method ? This was only my second time baking bread with no steam and the first time doesn't count......

I am hesitant to commit to the "magic" bowl method forever.  I like the idea of creating steam, its feels like a science thing to me.  AND I am hesitant, as good as the bread tastes, to stop mixing and working extra (as opposed to the no mix method) making formulas.   After all, isn't the doing that gives us as much pleasure as the eating ?  It tastes good now, however I always wait a day for a final taste judgment as it seems a lot of breads get more flavorful in a @24 hour period.
Having said all that, it is absolutely extraordinary to me that no mixing, except to minimally incorporate the ingredients together could turn out such a...such a..uh uh....BREAD !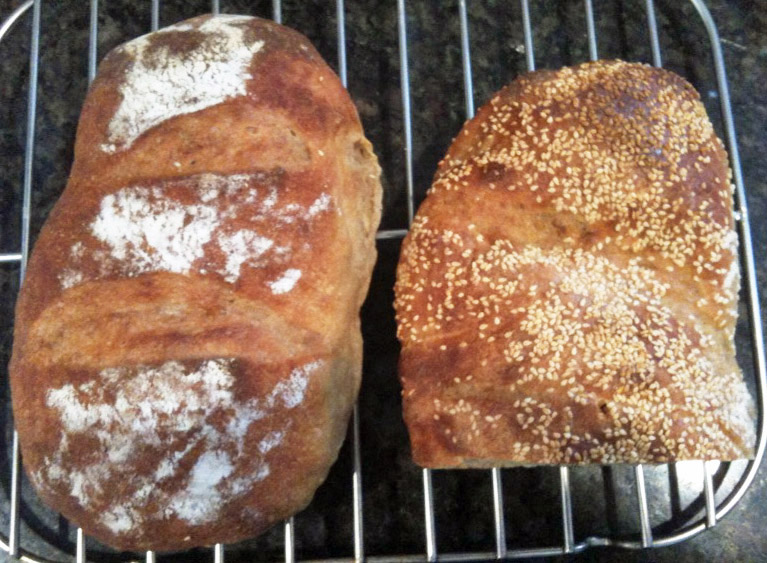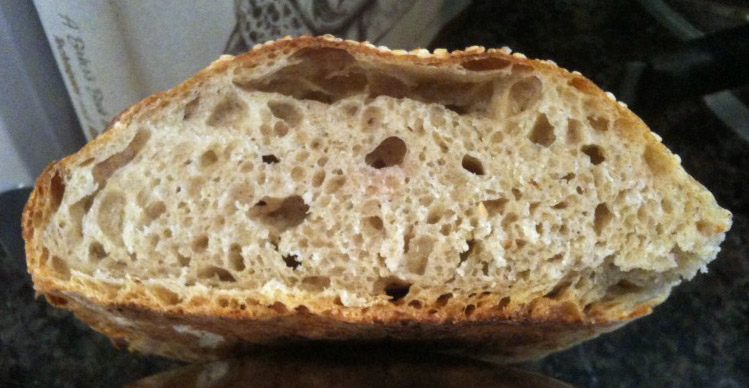 Note, it DOES taste good even though it looks like it does.....I'm still a novice.