January 19, 2010 - 2:31pm
I don't want to hijack Kathleen's thread any further so I will Blog about my first attempt at at sourdough starter.
It's day four about 4hours before I was scheduled to discard all but 1/4 cup and start feeding 1/4 cup water & 1/4 cup A.P. flour. Two TFL members who's advice I respect felt that the starter had already peaked so I fed Slow Moe early. On a whim I used the discard in a formula for white bread I have been making regularly. We will see how it turns out. Here is Slow Moe two hours after his first white flour feeding He is growing nicely! I will give him a stir before bed and feed him tomorrow.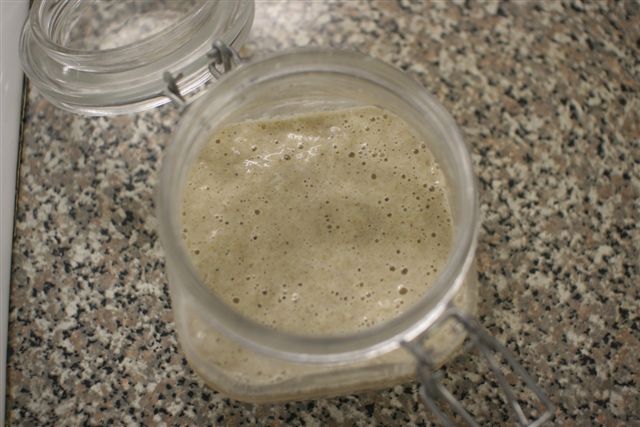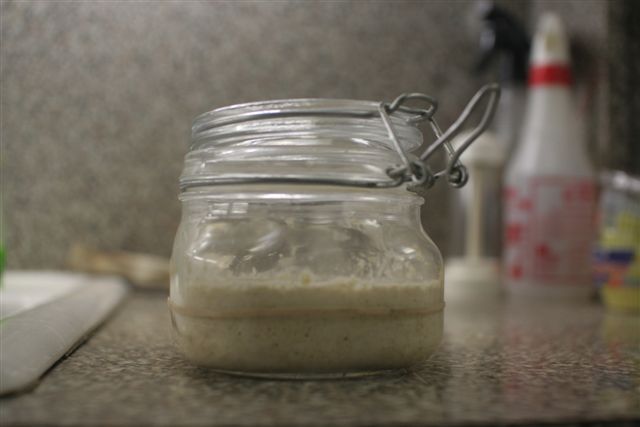 I checked on slow Moe at around 7:00P.M. Last night To my surprise the bubbles were gone and he went completely flat. Oh my! I gave him a stir he smelled pretty much the same. Not a bad smell at all but hard for me to describe. I gave him another stir at 10:00P.M. At 8:00A.M. this morning There was no change, smell was not unpleasant. No activity at all the mixture looked very thin. I decided to go on my gut and feed slow Moe again. Happy right after his second white four & water feeding Slow Moe was bubbling once again. I was so perplexed that slow Moe was inactive I did not take any photos. Here he is at 10:20A.M. today. That's my boy!
DAY 5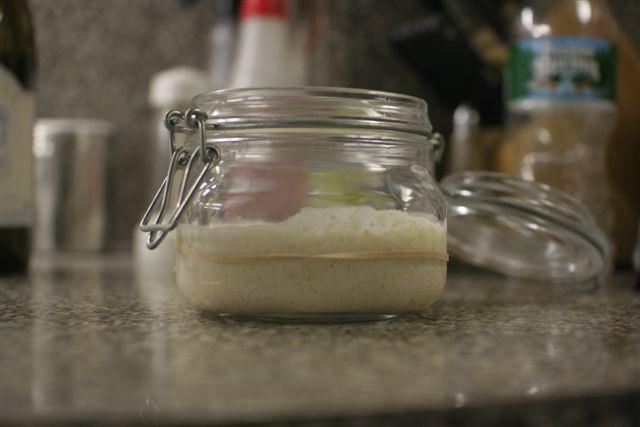 DAY 5 TOP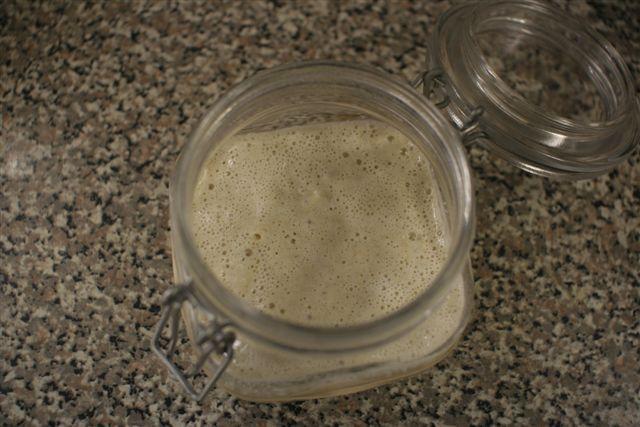 Here is aside by side crumb shot of the bead I made using the discard from Slow Moe before his first white flour feeding, and whats left of a bread I made Sunday. I used the exact same procedure on both. Except I used only 1/2 teaspoon of yeast on the slow Moe bread. After setting aside 1/4 cup of slow Moe I weighed the rest at 64grams. I assumed a 100% hydration so I add 32g less water and 32grams less flour in the finale dough. You can see that the Slow Moe bread has a more open crumb. Nice! I would not expect a very open crumb this being a very low hydration dough. I can not say for sure if it was Slow Moe that made the difference, But I can not say it was not.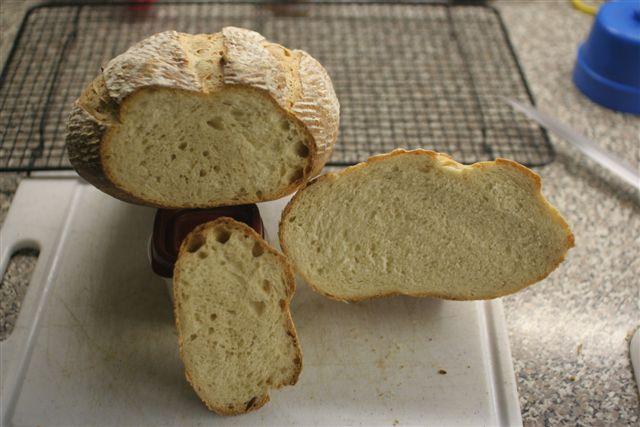 New entry 4:00PM 01-20-10
I was busy most of the afternoon today, work sometimes gets in the way of my hobbies. Slow Moe looks like he needs a feeding. Very liquidity and not as many bubbles. discard all but a 1/4 cup and fed a 1/4 cup flour and a 1/4 cup spring water. At the next feeding in 8hours I am going to use grams instead of volume. I am going to a three times a day feeding. Seems to me Moe is going though his meals quite fast!
 Here's a photo before his 4P.M. feeding.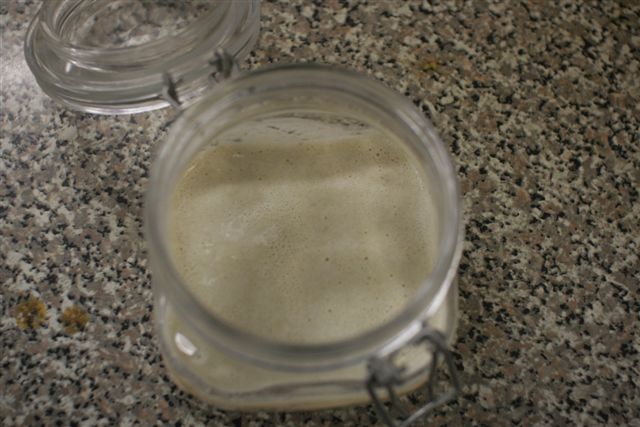 New Entry 01-21-10 Day six
Last night at 11:00 P.M. It looked to me like slow Moe had peaked again, and began to reseed. Remember This is my first try at this so I have no idea how it should smell or look like I am going on my gut. Moe had a nice smell but I could not put my finger on it. So I asked my wife to take a whiff. It took a min. to convince her then she did. She said right away it smelt like beer. This made me very happy. OK so now I took about 58 grams of Mow mixed with 58grams of water and 58 grams of flour. Mini help! right after I mixed it up it lost that nice smell. It just had a faint smell of flour. I checked in on Slow Moe before I went to bed some small bubbles he had  no smell. Boo Hoo. So now Moe is a lot thicker I was using 120% Hydration without knowing it. ( Thanks Mini) I think I may have slowed the process down with my enthusiasm. Its been 12 hours now and there are bubbles but not near as much as yesterday and still no nice aroma. I am going to stir him once or twice till tonight then feed him in another 12hours.
Here's what he looks like today