January 18, 2010 - 8:24am
It has been so hot that I am taking a break from baking.  I went out the other day for a walk and when I spotted these birds (below), I turned back to get my camera.  As I moved closer to the birds to take my shots, I noticed the color of the green became whiter and whiter because of the scorching sun.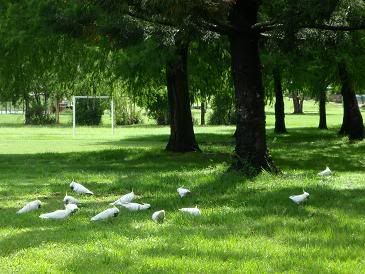 We've had so much rain that everything is luscious looking, especially the grass.  I have never known my street has so many fruit trees (mango mostly).  My husband called me to the yard where he was doing the hedges.  He wanted to show me that a branch of our neighbour's fully-loaded fruit tree was on our side of the fence.  We never knew that their fruit tree existed.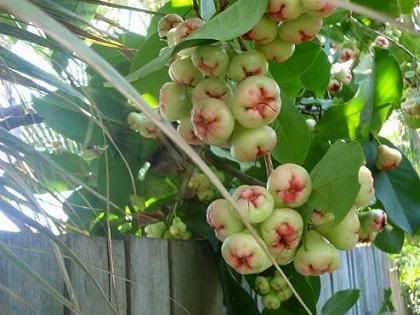 It is very strange.  This fruit is popular in Taiwan and is one of my favourite fruits over there, but I had never seen it before over here in Brisbane.  I don't know why my neighbour has this fruit tree... unless ... I have a Taiwanese countryman right next door??
We never knew our hedges would flower either; if not for the rain....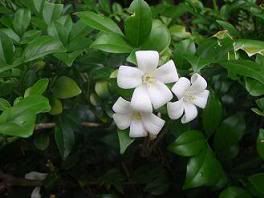 Have you ever had the experience of searching for something high and low when it's right before your eyes? 
Well, there is a new French-style village bakery right in my neighbourhood now.  Open just two weeks ago, it is only a stone-throw away from my house.  A lovely big tree provides a shady area for their car park, enough for 6 to 7 cars.  A couple of deck chairs are outside their shop door.  What a lovely spot.   The owner-baker is a young chap from the French Riviera.  He is a cyclist.  Fifteen minutes from my house is a popular mountainous area for cyclists, so he moved to my neighbourhood.  (Every other weekend, we hear the ambulance siren going on loud because some motorcyclists had been riding too fast and had accidents.)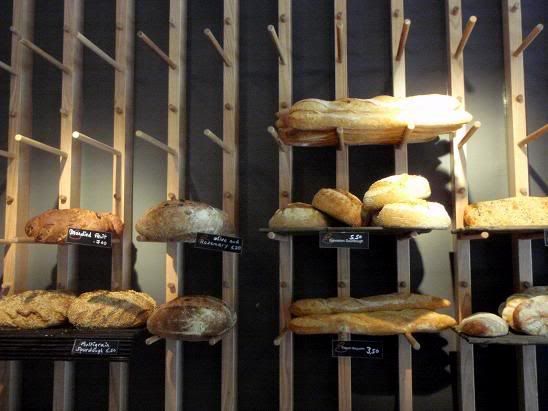 bread display at Banneton Bakery
I brought my own bread board, bread knife and butter this morning and went with my son to Banneton Bakery to have breakfast.  He had hot cocoa and chocolate croissant while I had my flat white coffee with a slice of this pain au levain: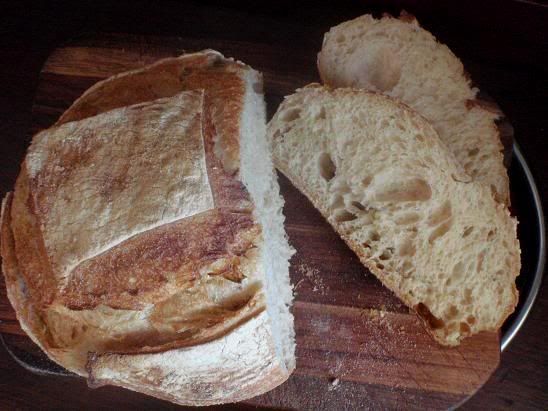 Plain Sourdough, Banneton Bakery
The bread tastes wonderfully "creamy," if that is possible.  The sourness is almost undistinguishable, or should I say, almost all lactic acidity.   I have never had a bought-one that is so much to my taste.  What a lovely bread that is. 
Recently, MC's Gérard Rubaud story is stirring up a lot of interest in the man and baker's specially prepared levain in search for a delicately balanced and yet full-flavored French-style pain au levain.  Good bread cannot be made in a hurry.  When you bite into a bread, if the aroma and flavor continue to unfold and linger about you as you chew, this is got to be a special bread.  But good bread cannot exist in a vacuum.   Good bread exists because of bread connoisseurs.  Gourmet food exists because of gourmets.  One cannot exist without the other.  Two thousand and five hundred years ago, Chinese poet-musician, Bo-Yia, played qin for his friend Chong Tse-Chi because Chong understood his music.  When Chong Tse-Chi died, Bo-Yia destroyed his qin and never played again.
Back home I enjoyed a pot of Oolong tea with my husband.  A couple of birds came to visit outside my tea room.  The mid-morning sun cast beautiful shadows over our backyard.
                                                                                  Where is Waldo?
Shiao-Ping