January 14, 2010 - 6:30am
Pure Sourdough Rye, year 1939
With this basket of assorted pure rye breads I wish to tantalize your taste buds and tease you with these pure sourdough rye: 
                                                                      Assorted pure rye breads
Centre bottom: Sour Rye, year 1939 (recipe from Mariana-aga's most informative and beautiful post on Russian rye here)
Right: Jan Hedh's Sour 100% Rye Bread (recipe from Dan Lepard's The handmade loaf, page 31) 
Top: Detmolder Three-Stage 90% Sourdough Rye (recipe from Hamelman's Bread, page 201)
Like most Asians, I have not grown up with rye, an acquired taste, many would admit.  I am from an area of the Chinese world where "fish and rice, and other luscious colors of food exist," as the saying goes.  My parents would think very little of rye.  You may have already been a convert but it took me a lot of efforts.  As Dan Lepard says of rye bread, "What was once the bread of the poor has become the staple of the rich man's table" (The handmande loaf, page 66), I am excited that finally I have had a glimpse into what some bakers are passionate about.  I hope that, with the following photos taken from my kitchen table, you will share my enthusiasm.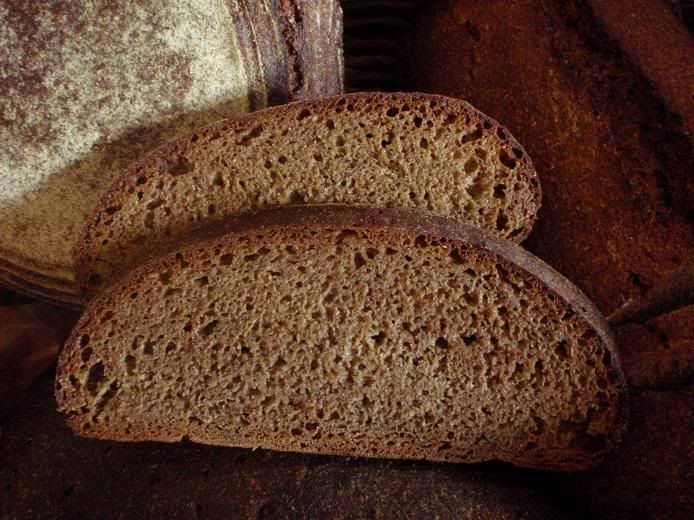 A close-up shot of Sour Rye, year 1939, a lot of soul....  I must be imagining.
(1) Sour Rye, year 1939, from Mariana-aga's blog post here.
350 g ripe 100%-hydration rye levain
420 g medium rye flour
308

warm

water
14 g salt
Rye starter: 83% baker's percentage
Prefermented flour: 29% of total flour
Overall hydration: 81%
Fermentation: 2 hours bulk + 35 - 50 minutes proof
Total dough weight: 1,090 grams
Refer to Mariana-aga's link above for method.   I used Google to translate Russian to English.  The translation does not always make sense, but does the job alright.  Where you find gaps, you can fill them in with your own imaginations.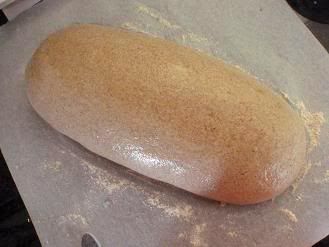 The instruction says you smooth out the surface of the dough with wet fingers "frequently."  Whenever I saw "cracks" developing on the crust, I smoothed them out with wet fingers and/or my plastic scraper dipped in water.  I ended up doing this every 20 minutes or so throughout the fermentation.  I covered the dough with a big roasting pan.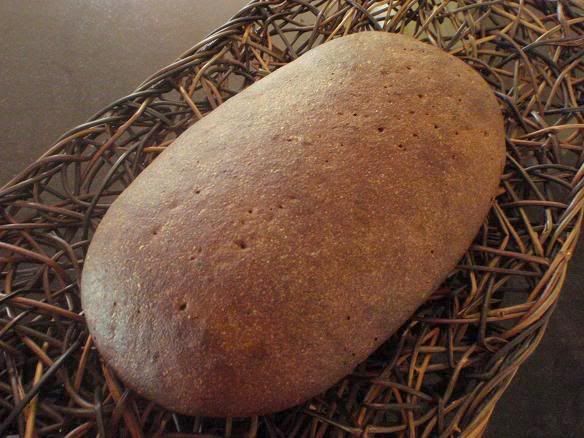 The style of this bread is unlike anything I've made before.  I asked my son how he liked the bread in the picture.  Instead of saying he finds it unattractive, he politely asked where I got this strange looking basket.  I said from a garden and plants nursery.  I used to do a lot of flower arrangements and I have my fair share of strange looking vessels.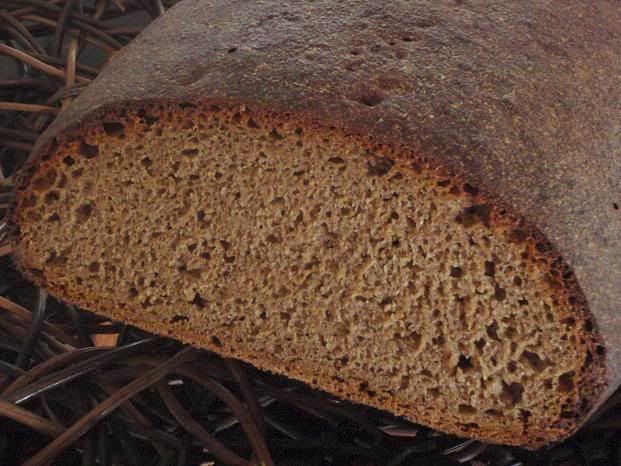 A mate of my husbands, who comes regularly for morning coffee, was here the day before yesterday when I was slicing this bread after it had rested for 24 hours.  The first thing he said after having a piece was, "This sourdough rye is sour and tangy!"  AND, he liked it very much.   I had a couple of thin slices myself with butter.  Very tasty and moist.  I surprised myself.  It is medium strength sourness, very pleasant.   I think that the flavourfulness comes through in the crumb shots above and below quite well.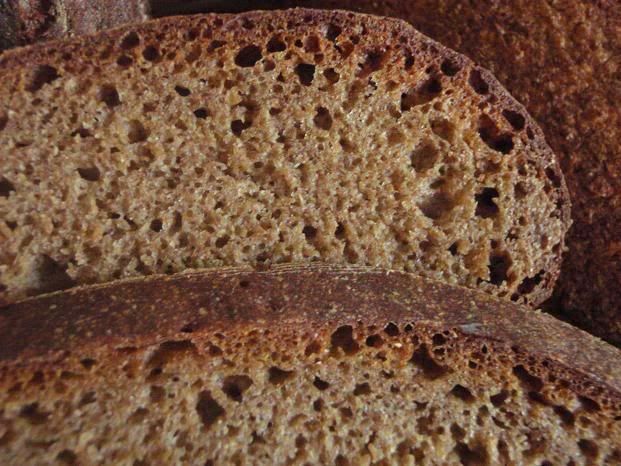 I like this bread the most out of the three pure rye breads pictured in the basket above.  The reason why this is so is because this bread was the last one out of more than half a dozen pure rye breads that I made over the last two weeks - my rye starter up to that point was full of vigour and had developed a lot of flavors when I used it to make the bread.
(2) Jan Hedh's Sour 100% Rye Bread, from Dan Lepard's The handmade loaf, page 31. 
Rye starter: 67% baker's percentage
Prefermented flour: 35% of total flour
Overall hydration: 85%
Fermentation: no bulk + 5 hours proof
Total dough weight: 850 grams
According to Dan Lepard, Jan Hedh has inspired the new generation of artisan bakers in Sweden.  Dan's book has lots of wonderful formulas and stories, but the book's unassuming appearance and colorful pictures are perhaps too easy going for the serious home bakers.  I don't seem to see a lot of his recipes being used here.  I find his book a seriously good book.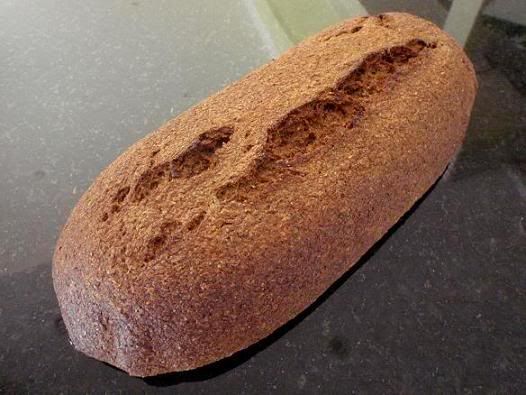 This formula is interesting in that it uses a gelatinized rye mix (4 parts boiling water to 1 part rye flour).  Not just it gives elasticity to the crumb, it also makes the bread very moist and as a result, the bread has even a better keeping quality than the other two breads.  Chinese use a similar gelatinized flour mix called "65 degree C dough" with similar flour to hot water ratio and for similar purposes.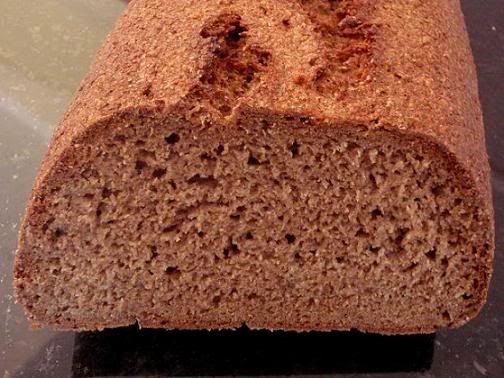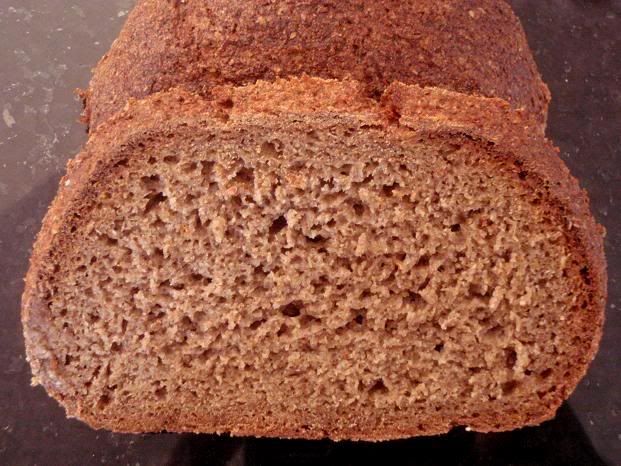 (Note: the above two shots were taken at night time.  The reddish tone is due to the yellow spot light in my kitchen and is not reflective of the real color.) 
(3) Detmolder Three-Stage 90% Sourdough Rye, from Hamelman's Bread, page 201.
Rye starter: 119% baker's percentage
Prefermented flour: 38% of total flour
Overall hydration: 79%
Fermentation: 20 minutes bulk + 1 hour proof
Total dough weight: 1,640 grams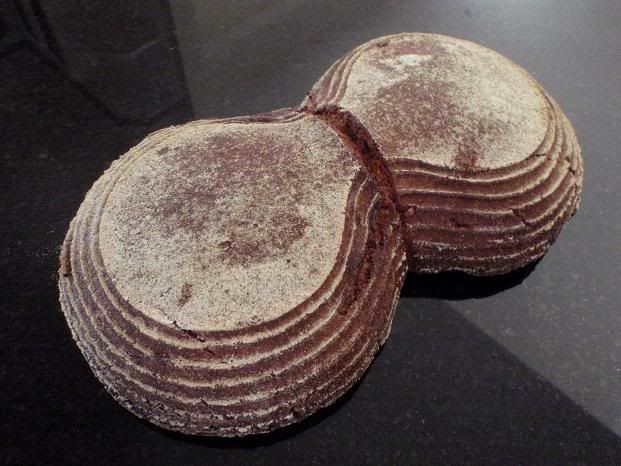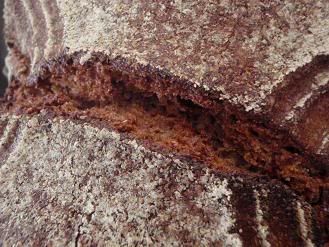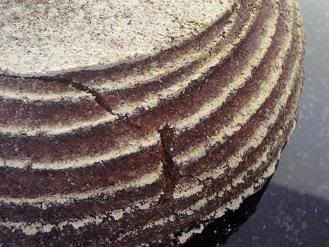 This was my second try on the Detmolder formula.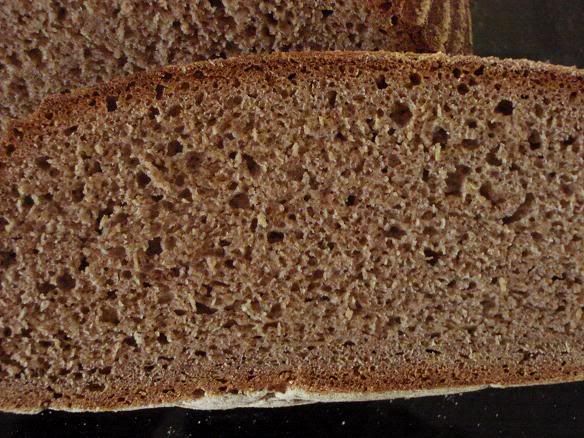 My Detmolder sour rye was made before the first two breads in this post above and is not as tasty as those two breads.  One possible explanation is that my rye starter used in this bread was not as robust to start with. 
Two days after I made this Detmolder bread, I made it again - my third try in five days.  Talk about a keen baker!  I did it again not because I wanted to see how I could improve on this bread, but more because I wanted to keep feeding my rye levain and I didn't want to throw the excess out.  You wouldn't believe what happened - as I tried to turn the proved dough onto my peel, half of the dough fell out while the other half stuck to the banneton.  A disaster!  I told myself, Calm Down.  I gathered the dough fragments together, reshaped it, and put it back to the banneton.  An hour later, when I tried to turn it out again, the exact same thing happened!  At that point I was in two minds about whether I chuck it or bake it.  In the end I decided that either way it is a goner, and so why not do an experiment with it and watch the show.  I recalculated my ratios and added some more water to change the dough to a 100%-hydration dough.  I put it into a loaf tin this time.  I wanted to see what would happen to the dough with this much hydration and supported by a loaf tin.  Well, I had the most spectacular oven spring ever with pure rye dough (well, 90%, almost pure)!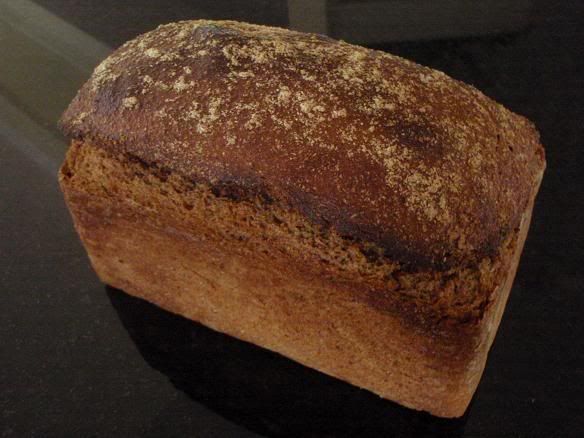 Detmolder 90% Rye @100% hydration and 6 hr fermentation (not pictured in the bread basket above)  
By the time the dough was in the oven, what was supposed to be fermented for only one hour and 20 minutes had gone through a six-hour fermentation.  I was amazed at the amount of oven spring.  I am sure this has to do with the 100% hydration.  It had risen about 30% before it went into the oven, then in the oven it rose another 70 - 80%.  The crumb was quite open - you cannot not have an open cell structure with this much oven spring.  The gumminess on the top and bottom edges of the slice pictured below is the "starch attack" due to excessive amylase activity that caused the break down of the dough structure during the bake, I guess.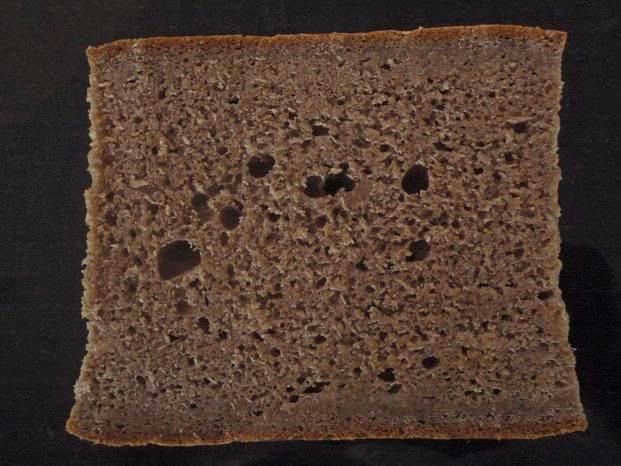 The dark, almost chocolate, color in the crumb is natural.  It is achieved through the long fermentation.  I haven't seen a natural dark rye color like this before!    
And the taste?  Well, unpleasant, to say the least!  It has a pungent pickled sour taste, almost like when the pickle is off.  Neverthelss, this experiment has got me excited about an idea for my next pure rye bread experiment along these lines: 
30% prefermented flour
Rye starter 80% bakers percentage
100% overall dough hydration
3 hours (or shorter) fermentation, assisted with, say, 05% IDY
To recap: the 1939 Sour Rye is the most flavorful because the rye starter was at its best condition when the dough was mixed and also because I took more care with the dough.   Jan Hedh's Sour Rye is the most moist because of the gelatinized rye mix that is incorporated in the dough.  Overall, I like all three breads pictured in the basket above.  
I have but one complaint:  that their crusts are too tough to cut; you need a chain sword to slice the bread.  The tough crusts are a result of the long bake which I am told that you need for this particular type of flour.  The average baking time for a 1 kg dough according to both Mariana-aga and Hamelman is one hour at initial high heat of 250 - 260 C for 10 - 15 minutes, then gradually lowering the heat to 200 - 210C.  My Thiezac pure rye bread, on the other hand, was 1.8 kg and I baked it for only one hour and it was perfectly cooked.  So I don't know.  The Thiezac bread was far easier to slice. 
I am ending this post with another bread basket but this time with the breads all wrapped up in thick tea towels: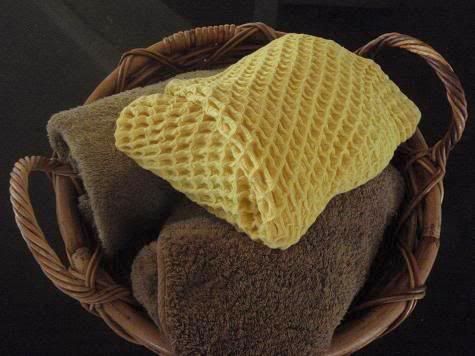 I am going to enjoy these three breads over the next week or two and observe the changes in tastes and flavors.  Rye enthusiasts would be familiar with Hamelman's story where, as a young man in the 1970s, hiking the Long Trail through Vermont, he picked up the last of his food provision from a post office, a five-week old Detmolder Three-Stage 90% Sourdough Rye where the bread still "had a crisp tang, a moist crumb, delicious flavor, and not a hint of mold."  How extraordinary is that!  I am not sure mine would stay like that after one week, or, rather, are like that to begin with, let alone after five weeks! 
Shiao-Ping