Le Pain de Seigle de Thiézac (The Rye Bread of Thiézac)
Thiézac, a village 30 km from Aurillac (260 km north-east of Toulouse, France) has a reputation of pure rye bread.  Just the sound of it is beautiful to me.  When I read about it in Mouette Barboff's Pains d'hier et d'aujourd'hui (page 64 - 67), I felt that had to try it.  I am mesmerized by the rye bread photo and crumb shot in the book, full of soul.  The book has the most beautiful bread photos I have seen anywhere.
What struck me about the crumb of the Thiézac pure rye sourdough bread is its deep caramelized color.  A forum post by Danubian at Sourdough Companion, entitled "Dark" or "Black" colour to rye bread in June 2007 says that the dark rye bread "colour is achieved by method rather than adding an ingredient that imparts 'colour'."   
I had to consult several on-line French translators to get some sense out of the Thiézac recipe and even then I still have puzzles.  For instance, about "5 à 6 kg de levain de 3 jours," to build up the levain over 3 days to 5 - 6 kg?  I guess so; but how many feedings a day, and, more importantly, what is the flour to water ratio for refreshing the starter?  And, stand the levain at room temperature for the whole time?  
There is a knowledge bank at TFL regarding rye sour and rye flour in general, but I am really not interested enough on the subject to study.  My family and myself are not rye enthusiasts.  But anything "pure," as in the case here, I am all for it.  A pure rye bread makes me want to try it and ... dream about it.
So, here it is... the result of my dream: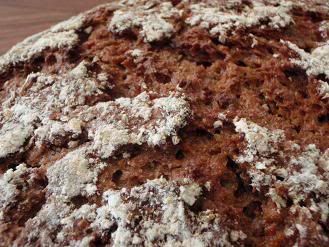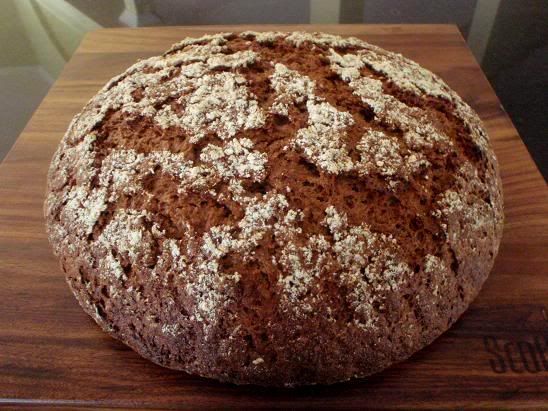 Now, I have to warn you that my result is quite different from what was in Mouette Barboff's book that inspired me.  For a start, from what I can ascertain accurately from the formula figures, the overall dough hydration in the Thiézac recipe is only 53%!  I cannot work on a dough with that hydration!  I kept adding water until a medium soft consistency was obtained and reached 76% hydration.  Further, the Thiézac rye bread has diamond scoring (3 cut on one direction and another 3 cut on another direction).  My dough was too wet to attempt at any scoring.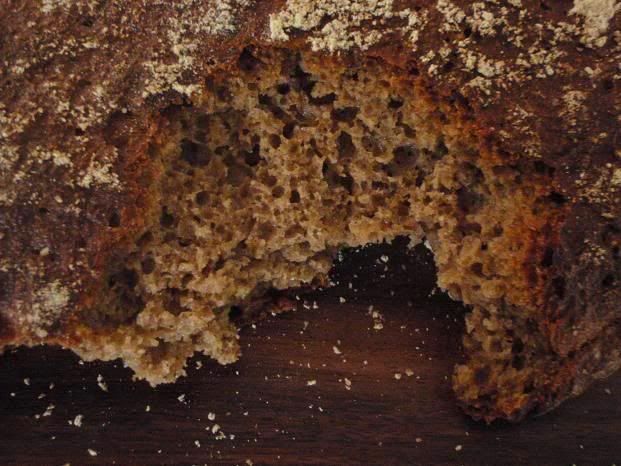 This bread is sour, too sour for my family.  Because of the whole rye flour used, it also has a very nutty flavour.  The aroma is simply amazing when it came out of the oven.
My crumb looked similar to the one in the book.  To my way of thinking, if I had done the dough at 53% hydration, the crumb would have been much denser.  I can only surmise that the village bakers' formula is only a guide - they would add water on the spot if they think the dough needs more water irrespective of the formula.  But I don't know for sure.
Well, as nice as the bread is, my family is not the slightest interested in it.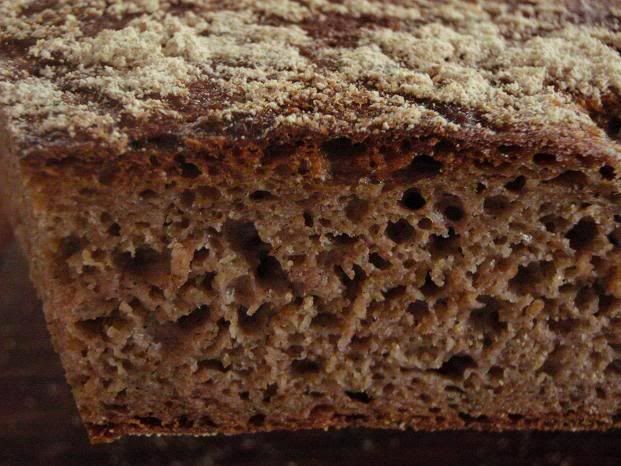 I have to pile up with something else that they like for them to eat it.  And here it is: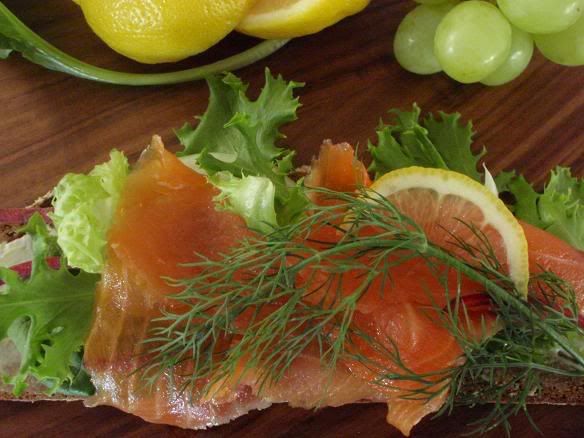 Smoke Salmon & Salad with a Dill Sour Cream Spread on Pure Rye Bread
For any one who is interested, my formula of this rye sourdough follows:
Day 1
10 g any ripe starter at any hydration
35 g medium rye flour
35 water
Mix and leave it in room temperature until doubled, then move it into the refrigerator.
Day 2
80 g starter (all from Day 1)
80 g medium rye flour
80 g water
Procedure same as Day 1.
Day 3
230 g starter (all but 10 g from Day 2, reserve 10 g for future endeavour)
230 g medium flour
230 g water
Mix and leave in room temperature for 6 hours or until it doubles.  (Note: I cut short one day here.  The Thiézac recipe does this 6 hour feeding one day 4; ie, using "levain de 3 jours.")
Final Dough
690 g starter (all from above)
345 g whole rye flour
345 g medium rye flour
440 g water
20 g salt
2 g instant yeast (or 2 x 1/3 tsp)
Total dough weight was 1842 g and the overall hydration was 76%.
Mix all ingredients and knead for 2 minutes by hand or by plastic scraper.
Oil a clean bowl and place the dough in there.  Cover.
Bulk ferment for 2 hours at a warm spot of your kitchen.  (My room temperature was 28C.)
Upturn the dough onto a well-dusted surface.  Lightly gather the edge of the dough to the centre, turn the dough over, and lightly shape it into a boule.  Sprinkle some flour on the top. 
Sprinke some flour on a piece of baking paper.  Place the dough on the baking paper.  Cover, preferrably with a big bowl, so the surface of the dough remains untouched.
Proof for one hour (and in the mean time, pre-heat the oven).
Bake with steam at 240C for 10 minutes, then turn the heat down to 200 C and bake for a further 40 to 50 minutes.  
Shiao-Ping