December 7, 2009 - 9:41am
I'm happy with my dough, the problem is the shape.  We like lots of filling.  If I shape the Danish as a pocket and be sure that the filling goes all the way into the back of the pocket and out onto the front, then when it bakes the pastry under the filling doesn't rise nearly as much as the rest of the pastry.  We prefer the taste and texture of the pastry when it has fully risen.  Lately I've tried making a roll and slicing it and baking the spirals.  That works well in that there is no filling pressing down on the pastry as it bakes, and there is plenty of filling spiralling around inside the pastry.  The problem is that the jarred lemon filling that I use heats to boiling and pushes the spirals apart.  They look GREAT the moment that they come out of the oven, but after 1 or 2 minutes the filling cools down and shrinks a lot and thre are big holes between the pastry spiraling.  I've tried filling those holes with filling after the pastries have baked, but that feels like cheating.  Any thoughts?  :-Paul 
Here are some photos to demonstrate what I mean: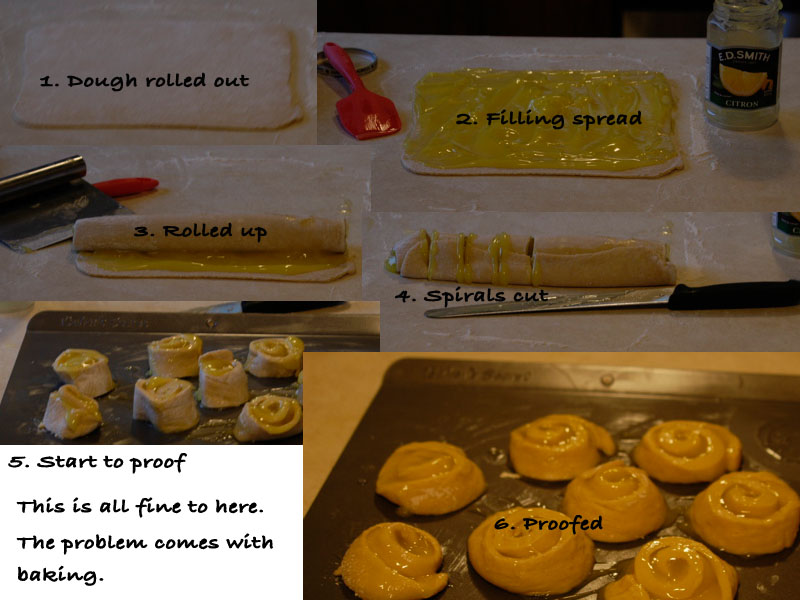 When I bake them they look great at first (on the left), then the filling shrinks and large holes and crevices become apparent.  I think that it shows up particularly well on the pastry in the lower right - both the center and the spiral have obviously lost their filling.  The problem is much more noticeable than in the photograph.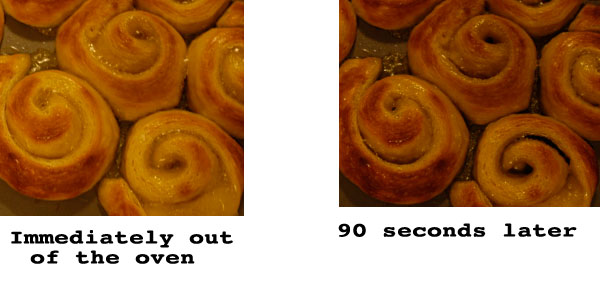 What I end up doing is filling the voids by hand and then frosting them.  They're quite delicious, but I'd like to find a way to get lots of filling AND lots of pastry puffing without having to resort to refilling them after the bake. Any suggestions are welcome.