November 23, 2009 - 10:12am
Auvergne Rye Baguette with Bacon
This one is from "Local Breads", a book I have love/hate relationship with. All 4 recipes I've tried so far from this book have turned out beautifully, however, with so many errors, I have to do extensive research online before trusting a recipe from there, such a shame, I would've loved to bake more from it. This one is super delicious, how can it not be, since bacon makes everything better, not to mention the already delicous baguette!
I followed the recipe closely, except for two things:
1)I kneaded minimally (2 minutes with my KA at speed 4) after autolyse and did a couple of folds during bulk fermentation, while the recipe instructed to knead the dough a lot longer. I like open crumb for my baguette, so I didn't want to over knead.
2)I put in all of the starter build by mistake (195g rather than 125g), luckily I realized it early on, so I adjusted water, everything ended up OK. With the extra starter, I did manage to get 4 baguettes, each about 310g, while some other posters have mentioned that they could only get 3 of 360g ones.
I put the shaped dough in the fridge for 12 hours, took them out and left at room temperature for 75 minutes before slashing and baking. They had great oven spring and the slash opened up well:
And ears one can lift up with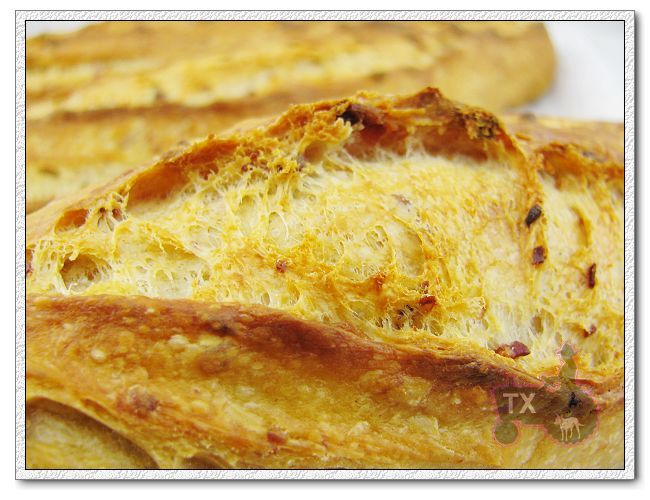 Fairly open crumb with visible bacon bits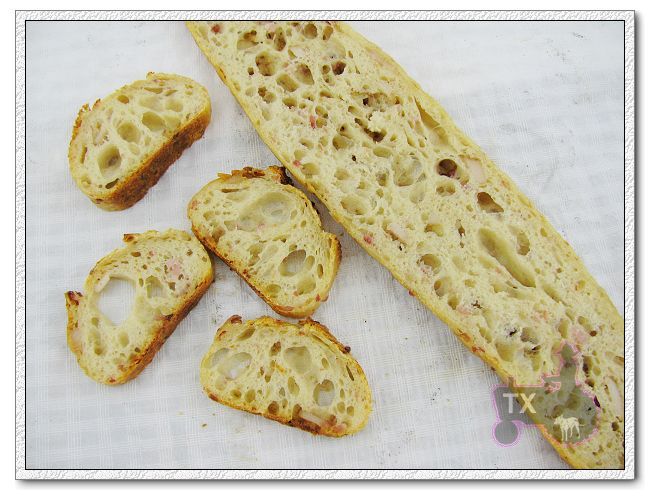 The bacon flavor permeate throughout the bread, the best part is the crust - extra crunch and fragrant with the bacon fat.We ate this one straight without anything else, so yummy!