October 10, 2009 - 9:27pm
Whole-Wheat Bread with a Multigrain Soaker from Hamelman's "Bread"
We were in Portland, OR last week. While I was in meetings, my wife bounced between Powell's (the biggest book store in the US of A) and the Pearl Bakery. I got to taste a number of their breads in sandwiches my wife brought back to the hotel, but I didn't taste their "multigrain roll," which my wife had one day and really liked.
Susan often asks me to make rolls for her lunch sandwiches, so with her description of the Pearl's roll in mind I went looking for a multigrain roll to make. I've made several of Hamelman's multigrain breads and liked them all. I think any of the ones I've made would make good rolls, but I wanted to try something new. Reading through "Bread," I found the "Whole-Wheat Bread with a Multigrain Soaker." (Pg. 126) It is a 50% bread flour/50% whole wheat dough with a soaker of cracked wheat, coarse corn meal, millet and oats. I had all the ingredients but for the millet. I substituted flax seeds.
This is one heavy dough. I added quite a bit of water, which Hamelman says is often needed, to get the consistency I thought was "right." I formed the 4+ lbs of dough into 2 bâtards and a half dozen 3 oz rolls.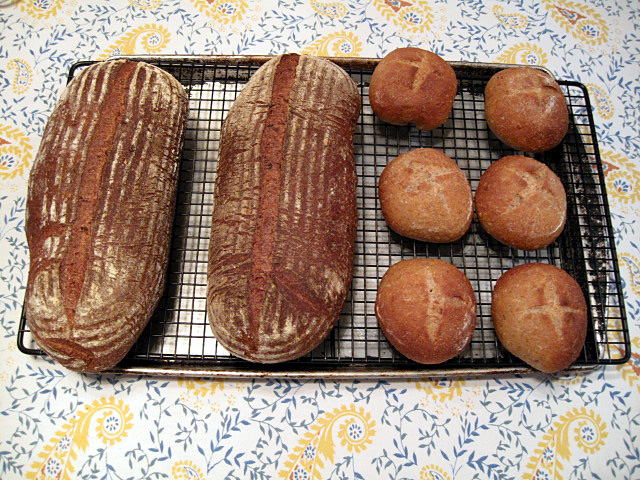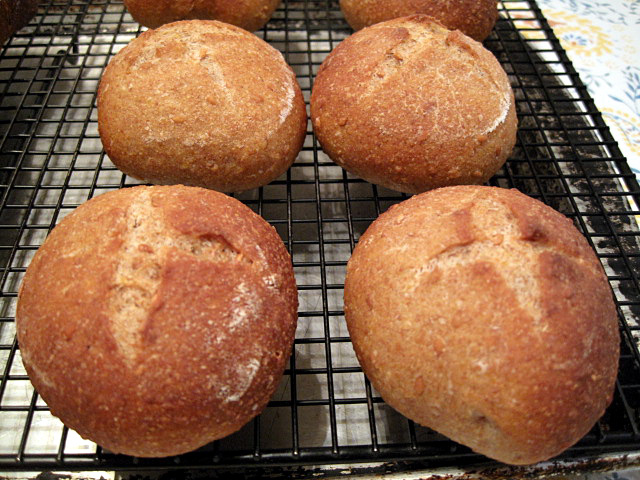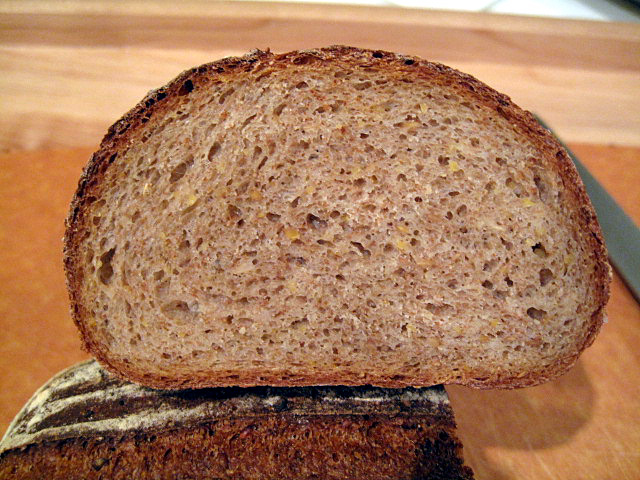 Whole-Wheat Bread with Multigrain Soaker bâtard crumb
I baked the rolls at 450ºF for 15 minutes. The bâtards baked at 450ºF with steam for 12 minutes, then at 440ºF for another 15 minutes followed by 7 minutes in the turned off oven with the door ajar.
The crust was crunchy. The crumb was tender but chewy. The flavor is assertively honey whole wheat, mellowed somewhat by the soaker ingredients. It's outstanding with a thin spread of sweet butter.
My wife liked it but says it's nothing like the Pearl Bakery's multigrain rolls. Hee hee. An excuse to bake more rolls.
David
Submitted to YeastSpotting