September 25, 2009 - 7:04pm
Hamelman's Flax seed rye bread - Thanks, hansjoakim!
Hansjoakim recently showed us a Flax Seed Rye Bread he baked from a formula Jeffrey Hamelman published in Modern Baking in March, 2009.
I have baked a number of Hamelman's rye breads before and a number of his breads with seeds. I have enjoyed them all. This Flax Seed Rye is a new formula that is not in Hamelman's "Bread," however. Yet its components are all familiar to anyone who has baked the ryes and multi-grain breads from that book. The combination of a 40% Sourdough Rye and a seed and "old bread" (altus) soaker sounded like a bread I'd really enjoy.
Hamelman's published formula for this bread is scaled for commercial bakery quantities. I scaled the formula to make a single 1 kg loaf.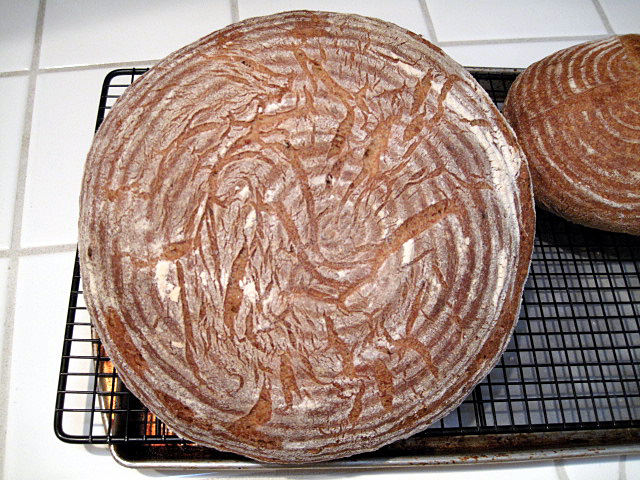 | | | |
| --- | --- | --- |
| Overall Formula |   |   |
| Ingredients | Wt (gms) | Baker's percentage |
| Flour (11.7% protein) | 300 | 60 |
| Whole rye flour | 200 | 40 |
| Water | 402 | 80.3 |
| Salt | 10 | 2 |
| Instant yeast | 6.5 | 1.3 |
| Flax seeds | 50 | 10 |
| Old bread | 40 | 8 |
| Total (approx.) | 1 Kg | 201.5 |
| | | |
| --- | --- | --- |
| Sourdough (rye sour) |   |   |
| Ingredients | Wt (gms) | Baker's percentage |
| Whole rye flour | 200 | 100 |
| Water (cool) | 166 | 83 |
| Rye sour | 24 | 12 |
| Total (approx.) | 390 | 195 |
Method: About 16 hours before the final mix, disperse the mature sourdough culture into the cool water. Add the whole or medium rye flour, and mix until it is incorporated. Sprinkle a layer of rye on top, and cover the bowl with plastic to prevent dehydration. Ripen the sourdough at about 70°F.
| | | |
| --- | --- | --- |
| Soaker |   |   |
| Ingredients | Wt (gms) | Baker's percentage |
| Flax sees | 50 | 100 |
| Old bread | 40 | 80 |
| Water (cool) | 150 | 300 |
| Total | 240 | 480 |
Method: Make the soaker at the same time you make the sourdough. Cut the old bread into cubes, and put it into a bowl along with the flax seed. Add the water and cover overnight.
| | |
| --- | --- |
| Final dough |   |
| Ingredients | Wt (gms) |
| Flour (11.7% protein) | 300 |
| Water | 85.5 |
| Salt | 10 |
| Instant yeast | 6.5 |
| Sourdough | 366 |
| Soaker | 240 |
| Total (approx.) | 1 kg |
Method
Remove a portion of the sourdough to perpetuate the culture.

Dissolve the sourdough in the water, mix in the soaker, then add the rest of the ingredients and mix thoroughly. The dough will be rather loose. You can adjust by adding small amounts of water or flour, but avoid adding too much flour.

Mix at Speed 2 (KitchenAid) to a moderate degree of gluten development. Desired dough temperature is 78F. (This dough, which Hamelman says is "tacky" was extremely sticky for me. I suspect the dough was over-hydrated. I would be inclined to reduce the water, use a more absorbent flour or both next time. I mixed for 25 minutes. There was better than "moderate" gluten development. It was just a very wet dough.)

Bulk ferment in an oiled bowl for 45-60 minutes.

Transfer the dough to the board and pre-shape into a round. Let it rest while you flour your banneton and pre-heat the oven to 480F with a baking stone and your steaming method of choice in place. (Note: Hamelman suggests baking 1.5 lb loaves. I chose to make one larger loaf. Also, you could shape this bread as one or more bâtards, if you choose.)

Shape the dough into a tight boule. Optionally, press the dampened smooth side of the dough into a mix of seeds (Flax seeds 45%, sesame seeds 45%, caraway seeds 10% suggested by Hamelman. I brushed the smooth side of the loaf with water and sprinkled on some caraway seeds only.)

Transfer the boule to a floured banneton. If you used the optional seeds, place it with the seeded side up. If you didn't seed it, place it with the seamed side up. Cover the banneton with a kitchen towel or plasti-crap, or place it in a food-safe plastic bag.

Proof the boule for 45-60 minutes. (Hamelman specifies an ambient temperature of 80F.)

Pre-steam the oven. Load the loaf on your baking stone, and steam the oven again.

Bake at 440F for about 40 minutes with steam for the first third of the bake. (Note: Hamelman specifies about 38 minutes for a 1.5 lb loaf. For larger round loaves, a longer bake is needed, but be prepared to lower the oven temperature as the bake progresses if the crust appears to be getting too dark. Also note that, if you shape the bread as an oval loaf, the baking time may be less than for a round loaf.) The bread is done when the internal temperature reaches 205F and the loaf gives a "hollow" sound when thumped on the bottom.

Cool completely before slicing.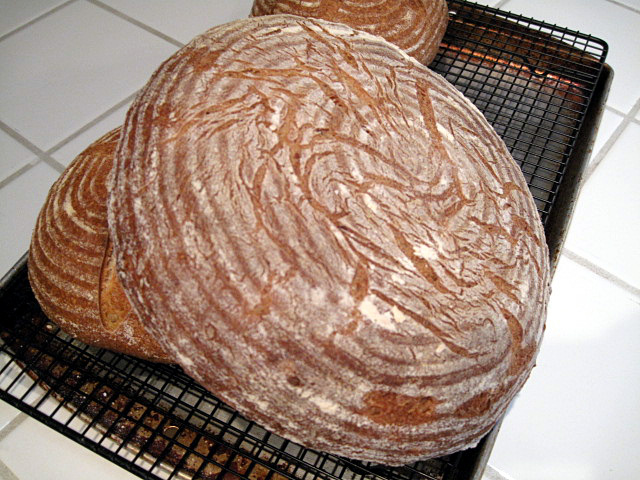 The "supporting cast" is a couple loaves of Susan from San Diego's "Original" favorite sourdough. My timing was a bit off. The sourdough boules needed just enough more time in the oven to result in the rye over-proofing.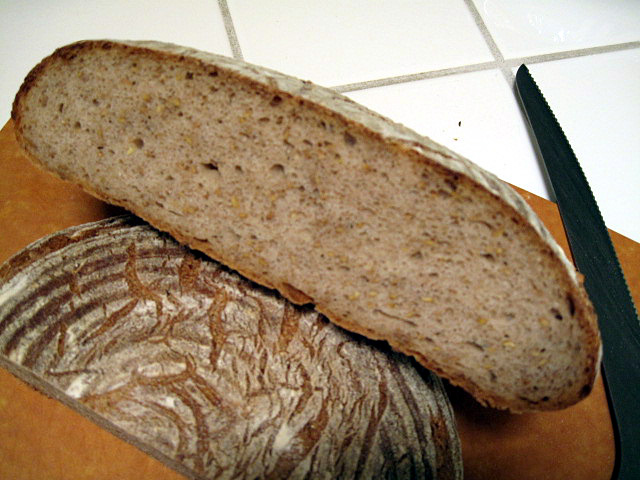 The rye had only modest oven spring and has a lower profile than hansjoakim's bake. In any event, it smells delicious!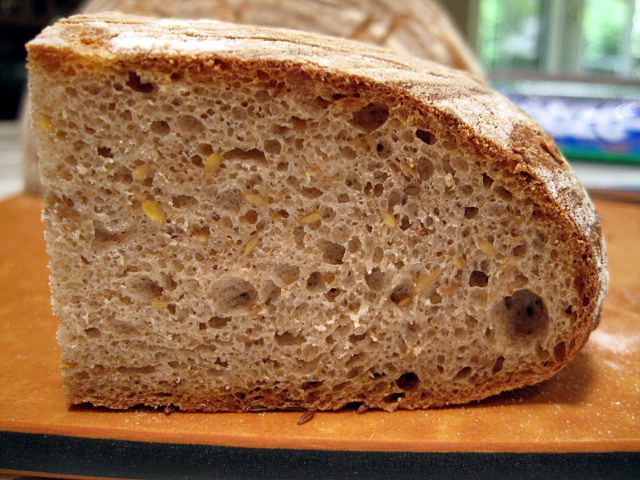 The crust was quite hard when the loaf came out of the oven. By time it had cooled, the crust was soft. I left it on the counter, wrapped in a cotton cloth for about 20 hours. By the time I sliced it, the crust had firmed up again and was chewy. The texture of the crumb is drier than I expected, given the hydration level of the dough. I wonder how much impact my long mixing had on the dough structure and mouth feel.
The flavor of the bread is like that of other 40% sourdough rye breads, which is to say very nice. There is a subtle overtone  from the flax seeds which is not as pronounced as that in some of the other 5-grain breads in "Bread." 
I am thinking of ways I might modify the formula for future bakes. For example, I might use First Clear flour rather than AP. I would make the dough drier - more like what I think Hamelman describes. I might make Hamelman's "5-grain sourdough rye" with some old bread added to the soaker. 
Thanks again, hansjoakim, for bringing this bread to our attention!
David
Submitted to Yeast Spotting